Rich Chinese People Are Slaughtering Tigers For Fun
As part of a gruesome social "ritual."
China's state-run Xinhua News is reporting that at least 10 tigers were illegally slaughtered in recent months for a ritualistic mass killing, meant as a display of wealth and status.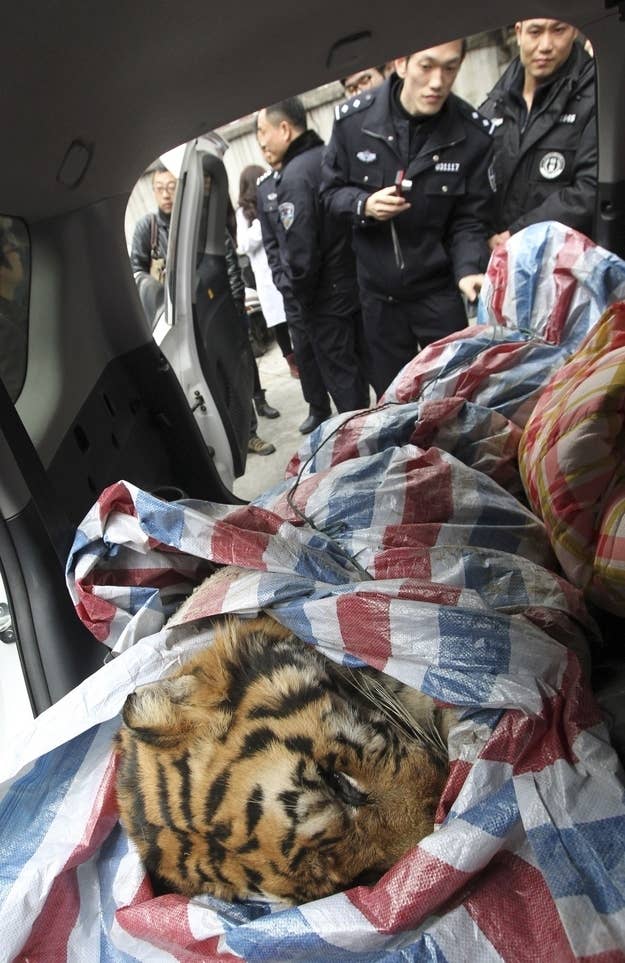 Last week, local police busted a smuggling ring in Guangdong province, where they found more than 10 tigers had been captured and killed. 15 suspects were arrested in the operation; the 16th suspect jumped to his death while attempting to flee.
The killings have been tied to "visual feasts," or public electrocutions, to entertain extremely wealthy officials and businessmen.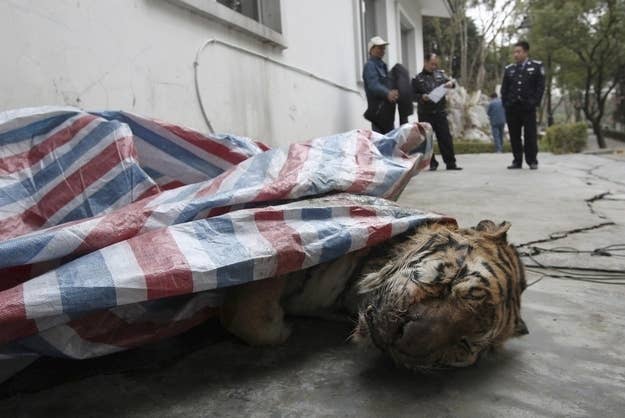 The reports also suggest local public figures and affluent businessmen gathered to watch the mass tiger killings to flaunt their social status. Two years ago, video footage of the "ritual" showed tigers being kept in iron cages and prodded with an electrified piece of iron until it passed out.
In recent years, tiger meat and bones have become a rare and pricey commodity.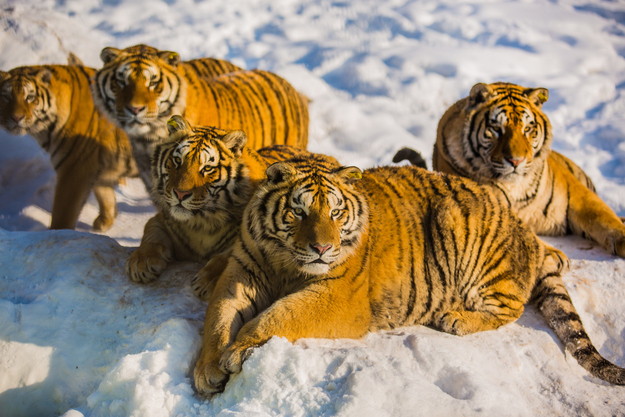 Their bones can be sold for an average of 14,000 yuan (nearly $2,254) per kilo while the meat is valued at over 1,000 yuan (nearly $161) a kilo.
..which means they're often given as gifts by the rich.
Tiger bones and genitalia are also used in traditional Chinese medicine and are believed to have great healing properties.
A trade ban in 1993 attempted to curb its demand, but the tiger remains are still seen as a social status marker.
Even though wild tigers are on a dangerously rapid decline, China still has one of the biggest markets for tiger products.
According to Wild Aid, there were over 100,000 tigers in the wild at the turn of the 20th century, and fewer than 3,200 remain today across 13 countries. That's a 97% decline that saw an extinction of 3 sub-species.