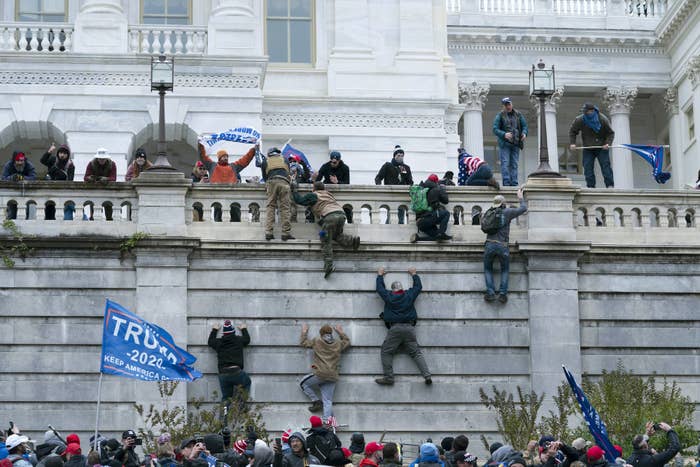 Republicans on Wednesday called on Trump supporters trying to stage a coup at the US Capitol to stand down and protest peacefully, but only after spending weeks provoking dissent over the president's electoral loss.
President Donald Trump was among those who appealed for peace after insurrectionists stormed the Capitol, although he did so while continuing to peddle lies about the election.
After mobs of MAGA rioters entered the Capitol, absolute chaos ensued: Lawmakers' offices were occupied and vandalized, and at least one person was shot.
Amid the violence, Republicans said they were "shocked" by what they saw, despite having played a role in the movement trying to overturn the election results.
"I am asking for everyone at the US Capitol to remain peaceful. No violence!" Trump tweeted.
Since Joe Biden's election, Trump has refused to concede, instead spending weeks lying about voter fraud while calling on his supporters to march on the Capitol.
After they did and stormed the building, though, Trump's children — Ivanka, Don Jr., and Eric — tweeted their condemnation of the violence. Ivanka's first tweet appeared to refer to the insurrectionists as "American Patriots" before deleting it. She later clarified in a second tweet: "Peaceful protest is patriotic. Violence is unacceptable and must be condemned in the strongest terms."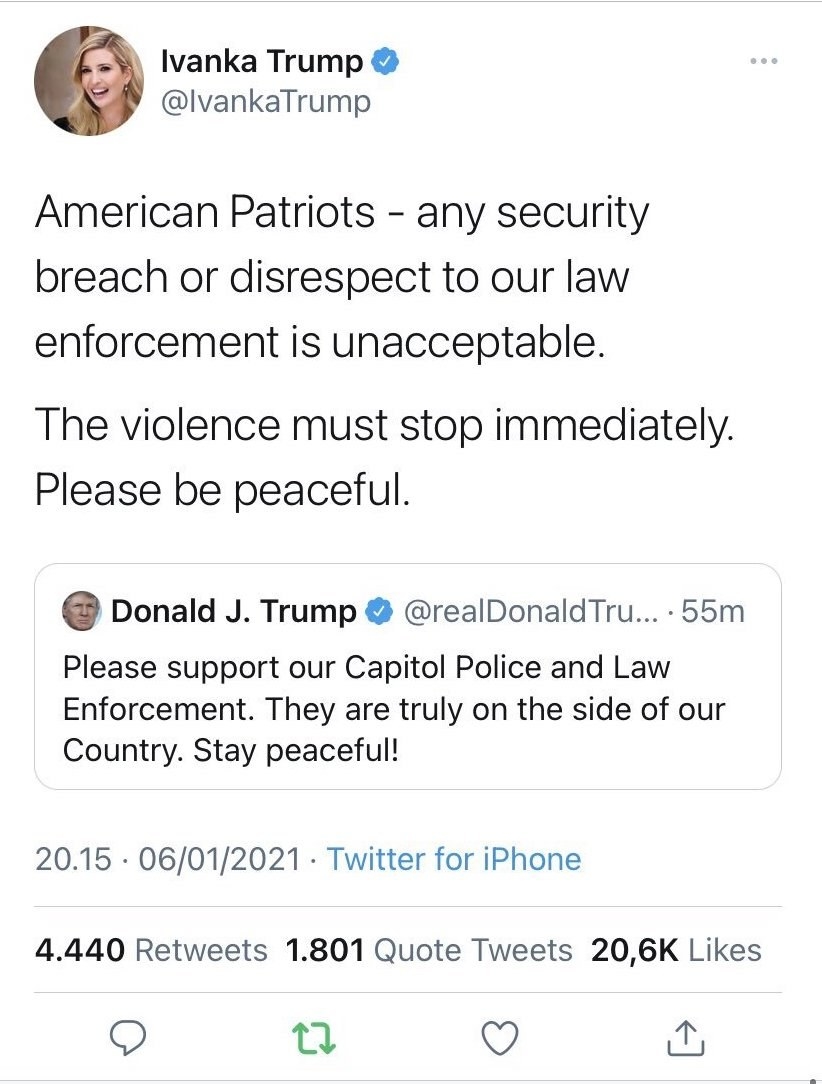 Vice President Mike Pence also asked rioters to leave.

One after another, a chorus of Republicans on Twitter also urged the mob to act "peacefully." But many of them were GOP members who signed a failed amicus brief that would have allowed Texas to file a lawsuit to invalidate election results in four states that Trump lost, including Rep. Dan Crenshaw who called on rioters to "stop this bullshit right now."
Ohio's Rep. Bill Johnson, who's also actively denied Biden's presidential win, tweeted that he was "shocked and dismayed" by what he saw at the Capitol today.

Other Republicans called the storming of the Capitol a "disgrace" and "national embarrassment."
And Republican Rep. Madison Cawthorn of North Carolina tweeted that "we must let Congress work and uphold law and order."