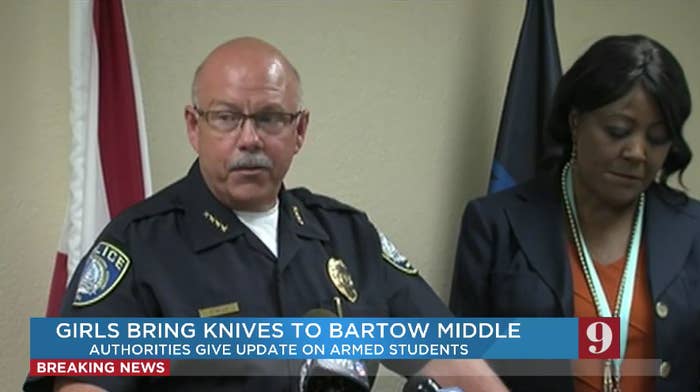 Two young girls at Bartow Middle School in Bartow, Florida, are in custody after they were discovered in the bathroom of the school with several knives on them, Bartow Chief of Police Joe Hall announced during a press conference on Wednesday.

Police say the girls — ages 11 and 12 — admitted they were plotting to kill at least 15 of their peers and then "leave body parts at the entrance" of the school.

A spokesperson for Polk County Public Schools confirmed the reports to BuzzFeed News, and said the girls were in sixth and seventh grade.

According to police, they were alerted of a potential threat when one of the student suspects allegedly told another student at school to avoid a part of the middle school on the day of the planned attack because "something bad was going to happen."

The student reported the disturbing remark to a teacher at the school, who then reported it to the principal, police said. When teachers realized one of the two student suspects was not in class that morning, the principal organized a search of the entire school. The two girls were then discovered in the bathroom, where they were also found with "a goblet or glass in their possession," Hall said.

The two girls were then asked to empty their pockets, at which point school officials discovered they had been carrying knives and a sharpener. Officials later discovered several other knives in their possession, including a butcher knife.

Police say the girls admitted they'd been planning an attack over the last few days to kill "as many students as possible" — as many as 15 students.
"They were waiting in the bathroom for the opportunity to find small kids they could overpower to be their victims," Hall said during the press conference.

The girls claimed they were practicing Satanism and made comments to police that they "were willing to drink blood ... and eat flesh." A search of their cellphones showed recent conversations between the two plotting to also "leave body parts at the entrance" of the school before killing themselves, said police.

The students have both been arrested and charged with conspiracy to commit murder, possession of a weapon on school property, and disruption of school function.

In the same conference, superintendent Jacqueline Byrd thanked the school faculty for springing into action when they saw a potentially dangerous situation.

"I want to thank the teachers, the administrators, for when they saw something, they heard something, they said something," Byrd said.

Polk County Public Schools told BuzzFeed News they're working closely with the Bartow Police Department. They do not have any additional information to disclose at this time.

BuzzFeed News has reached out to the police department.