Earlier this week, Purdue Exponent, a student-run paper at Purdue University, shared photos of a "makeshift" dorm on campus that's elicited strong reactions and concerns online.
The photos showed a large officelike space divvied up by standard dorm room furniture. Each segmented space has a desk, bed, and dresser. This room is not currently in use, but ones like it typically house 8 to 10 students.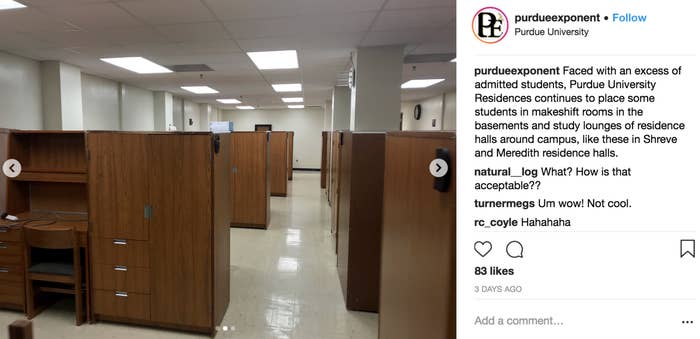 The university creates new dorm spaces, known as "temporary" or "auxiliary housing," when there's an excess of admitted applicants. This year, Purdue saw about five times more students than anticipated, Beth McCuskey, the vice provost for student life at the university, told BuzzFeed News.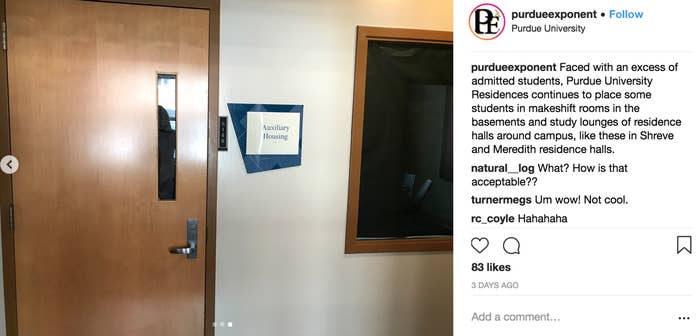 "Every year we arrange for temporary spaces and typically have 100 spaces that are used," McCuskey said.
She explained that there is high demand to live on campus, but every year they see a handful of students who "will say they're coming to Purdue and simply don't show up."
To deal with high and fluctuating volumes of applicants who want to live on campus, the university offers these temporary living spaces until they are reassigned more official housing that opens up.
Students in larger shared spaces will have first priority to move out.
McCuskey said those in the 8- to 10-person temporary dorms are reassigned "within the first few weeks of class." Others who have fewer roommates may live in theirs through most of the semester. All students are free to move into off-campus apartments and complexes whenever they wish, she said.
This year, however, Purdue saw about 500 more admitted students than they were anticipating. "Demand for Purdue this year exceeded what our typical yield projections are," said McCuskey.
The school clarified that the specific makeshift dorm shared by Purdue Exponent is not currently in use, but confirmed that there are others like it that are currently housing students.
People online, like 24-year-old Danielle Render, who is a Purdue alum, are sharing these photos to highlight the problem with over-admitting students. She called the temporary living space "jail"-like and said the photos look like they were taken in "a halfway house."
Render graduated from the College of Engineering in 2017. She told BuzzFeed News, through her years on campus, she's noticed housing has been an "increasing issue," with this type of auxiliary housing being "one of the worst [she's] seen."
"Over-admitting students is problematic," she said. "The reality is we have more students accepted than we have beds."
Render said it's not just a Purdue problem. She said even though temporary housing may be standard for a lot of colleges in the country, she believes it does not justify the situation.
"Universities all over are placing students in situations which seem to be based on greed over the student's experience," she added. Others are echoing her concerns.
Some are joking that these large, shared spaces look like the set of Orange Is the New Black.
One person called it a "dystopian hellscape."
McCuskey said "most [auxiliary dorms] have a window, are lock-able ... all of them are approved by the fire department." She also claimed these photos taken by the student paper did not accurately "reflect the space" of other auxiliary dorms they offer. BuzzFeed News requested to see photos of these other auxiliary dorms.
"Our students are currently participating in orientation activities and we haven't been able to connect with them to see if they're amenable for a photo op of their space," she said in response to the request.
"We will continue to try to make this happen."
McCuskey also clarified that the school charges students "the absolute lowest rate" for the 8–10-person rooms. It's about $1,200 a semester — for as long as they are either resigned or choose to live there.
If and when a student moves into a formal dorm, they will be charged a prorated rate for the semester.
She said while every year the school will hear some complaints of the space from students, she has heard from students living in them express they "are proud of this space."
"While it's not ideal ... it's pretty typical to have some model of temporary housing," McCuskey said. "People won't show up. You want to give [other] people the opportunity to live on campus."