In case you missed it, 158 new emojis were unveiled on Tuesday with the newest iOS 12.1 update.
"With the release of iOS 12.1, iPhone and iPad users have access to six new smileys, redheads, people with curly hair, a softball, skateboard, mango, bagel, and kangaroo emoji for the first time," Emojipedia announced on its blog.
Single human legs of different skin shades, a miniature hippo (aka a House Hippo — that's a nod to you, Canada), a sponge, and a mooncake are also among the new batch.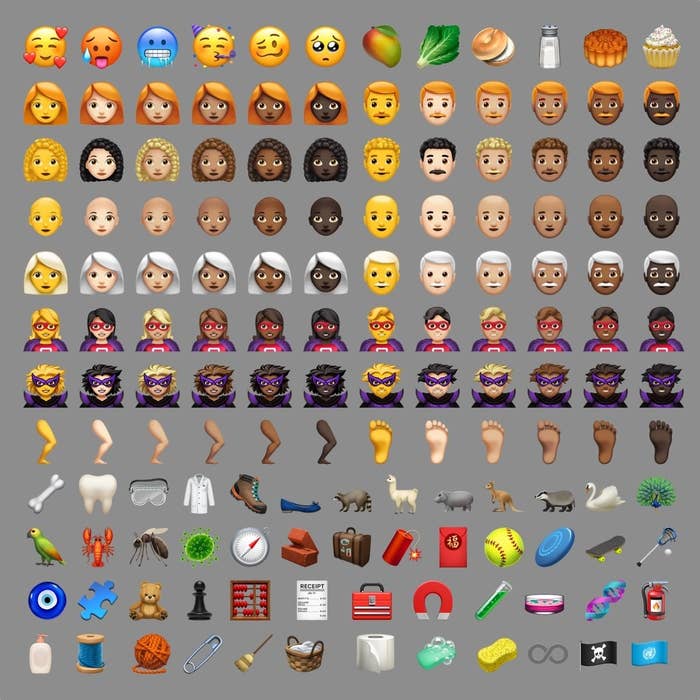 Every emoji seemed fairly self-explanatory in its application. Every emoji but one, that is.
Over the last few days, people on social media have been trying to figure out together what one of the new facial expressions is trying to express.
It's the one dubbed the "Face With Uneven Eyes and Wavy Mouth" emoji, that they're also calling the "Woozy Face."
One eye is closed, an eyebrow is drooping, and the mouth is doing all kinds of inexplicable things.
"Can someone explain this emoji to me," one person tweeted.
"What is this emoji?!?!" someone else asked, using the emoji in a tweet.
"APPLE WHAT IS THIS NEW EMOJI, WHAT EMOTION IS THIS FACE CONVEYING," a frustrated customer tweeted.
According to Emojipedia, it's a "face which may be showing signs of being tired and emotional, i.e. drunk," they explained.
However, people had other (i.e., better) ideas for its application.
"Stroke?" someone guessed.
Or, more adorably, maybe it's the face you make when you start to develop a crush on someone.
Or, finally, we may finally have an emoji for the specific look of agony your face makes after you stub your toe.
(Here's how it may look IRL, courtesy of Dwight Schrute.)
(And the president.)
"This How dudes faces look when they try being sexy by biting their lips for a profile picture," someone tweeted. (Editor's note: lmfao.)
Whatever it is, everyone's guesses are great, and impressively accurate to the emoji. "When the dentist numbs one side of your face to fill cavities."
"When you use a qtip for your ears... it does something."
"Azealia Banks on wild n out."
"When you burp and try and push your breath out the side of ya mouth."
"This how every one be when they get their picture taken at the DMV."
Eli Manning.
In conclusion, the "Woozy Face" emoji is extremely confusing, but also extremely versatile. We're glad to have you.