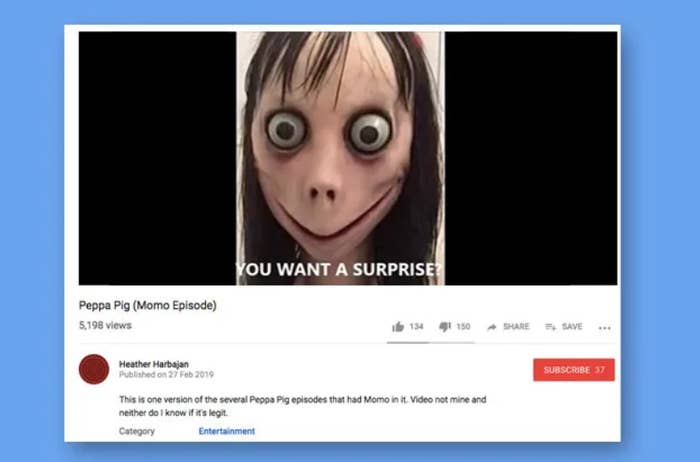 The hysteria surrounding the Momo Challenge, a YouTube hoax that arguably grew more realistic — but not necessarily real — as parents, social media, journalists, and officials heaped attention on it, is just the latest horror to surface on Google's massive video platform.
That the phenomenon inspired as much panic, if not more, as anti-vaxx, child abuse and other disturbing videos featuring children, self-harm, and other controversial videos on the platform is igniting a rampant conversation about parenting in the digital age — along with the now-routine calls for accountability at YouTube.
And though the Momo Challenge became an overblown media panic, experts who spoke to BuzzFeed News said that it should be a wake-up call to parents that YouTube is rife with disturbing content, and that kids' viewing activity should be monitored and addressed.

"If you take kids to the park and you stand three feet away from them, you should stand three feet away while they're on YouTube," Lori Getz, who founded her own cybereducation company, told BuzzFeed News.
Over the past week, a flurry of misguided social media posts and reporting reemerged about a fictional character named Momo. According to these reports, a spindly and creepy creature is spliced into otherwise benign kids YouTube content, encouraging them to self-harm.
"We've not received any recent evidence of videos showing or promoting the Momo challenge on YouTube," YouTube previously told BuzzFeed News.
Naturally, panic ensued. Media coverage — largely from British tabloids, but also from more reputable outlets like BBC and CBS — quickly filled people's Facebook feeds. Parents shared the articles — as well as other viral posts from parents — widely. Soon, many schools were issuing warnings, as did at least one police department. Kim Kardashian West posted about it on her Instagram story.
It's unclear how many of these videos exist, if they've caused kids to take action, and just how widespread a phenomenon it is. But the attention surrounding it created a feedback loop where savvy trolls circulated more Momo videos, causing more confusion and panic among nonsavvy users.

Getz told BuzzFeed News she overheard her son talking about Momo with friends and show them a video on his cellphone. She declined to give more information about her children, such as their ages, due to privacy concerns.
Getz said she was fortunate enough to have accurate context surrounding Momo. In the moment, Getz said she explained where the bizarre-looking creature came from: likely a stand-alone sculpture created by a Japanese art studio.
"I told them to stop and I showed them the piece of art, not the Youtube" video, she said.
Getz believes this helped save her children from digging deeper. Parents need to take a more active role in learning, and engaging with their children about what they're doing online so they don't overreact, forcing their kids to further isolate themselves in these online spaces.

"If we keep overreacting and present false information that the kids know is not true, they won't believe you [and] they will further shut down and not talk to you about it," she said.

The Momo videos are also not the worst things she's seen on YouTube or its kid-friendly, curated app, YouTube Kids. She said she's seen "everything from cartoon characters penetrating each other with random objects" to Logan Paul's infamous suicide forest video.

"While I wish there were better safeguards for kids, there's only one option for parents: Kids do not go online without their parents — period," Getz said.
According to YouTube, videos that promote the Momo Challenge are not allowed on the platform, though it does allow news reports and commentary on the subject. No videos promoting the challenge have been found to date on YouTube Kids, it said.
Leticia Barr blogs as the Tech Savvy Mama and is a member of the YouTube Kids Parent Panel, an unpaid advisory board. She said she was immediately skeptical when her Facebook feed began filling up with parents sharing articles about Momo. Right off the bat, it sounded familiar.

"My first inclination was to go to my kids and ask them, 'The Momo Challenge — have you heard of it?'" she told BuzzFeed News. "And my 15-year-old said, 'Yeah mom, that's really old.'" (Momo first surfaced in 2018 and reemerged recently.)
Barr believes it's more important than ever before "to be active in your use of technology with your kids."
"You really need to know as a parent what's out there, what your kids are watching, and how they're accessing that content," she said. "We love technology when it works, but at the same time, we can't let it do our job as a parent."
Barr believes YouTube Kids is "incredibly concerned about kids and safety" and that it makes regulating kids usage "incredibly easy."
"Am I going to trust a brand to do the parenting I'm supposed to do? I'm not," she said. "At the end of the day, YouTube isn't responsible for my kids — I am."
She added, "This is parenting in the digital age."