This is 20-year-old Emily Seawright. She and her family live in California. Every year around the holidays, the Seawrights brainstorm a new Christmas card for the whole family.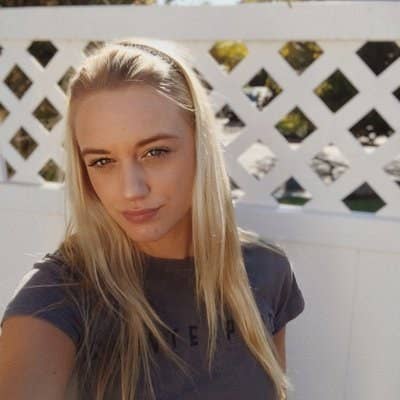 Seawright told BuzzFeed News this year's inspiration came after they found user @kbobby_22's old family photo in which he held up an "egg salad" sign.
And given that she was the solo single member of the family this year...it worked out perfectly.
"We all have the same sense of humor and thought it would be a funny idea to do," she said. "We thought it would be funny to just put my name."
And so, the Seawright 2017 Holiday Card was conceived. From left to right: The "Excited" couple are her parents; the "Engaged" couple are her sister and her fiancé; the "Expecting" couple are her older sister and her husband...and "Emily" is Emily.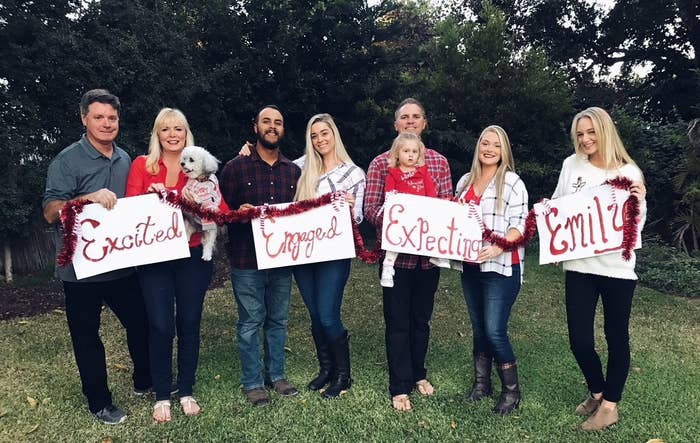 When Seawright shared the photo online, it went viral. But there was one overwhelming reaction. In the words of Tyler Oakley: "We are all Emily."
Others who've already had to take their respective family photos could really, really relate.
And as the Seawrights photos continued to be shared everywhere (and by every outlet), #IAmEmily was born.
And single people are standing in solidarity.
Seawright said her family is well aware of how far the photo has spread on the internet, and they're "shocked" by it.
What's perhaps even more shocking is how many users (mostly men) are using the opportunity to shoot their shot with Emily.
She told BuzzFeed News she's receiving slick DM-sliding requests from all of her social media accounts at this point. To these guys, she says: "No response ... but I do find it flattering! And also really funny."