Meet 23-year-old Jesse DeStefano, 23-year-old Justinne, and 25-year-old Charissa Harris. They are new friends among a group of seven women, who were all strangers only a week ago, they told BuzzFeed News.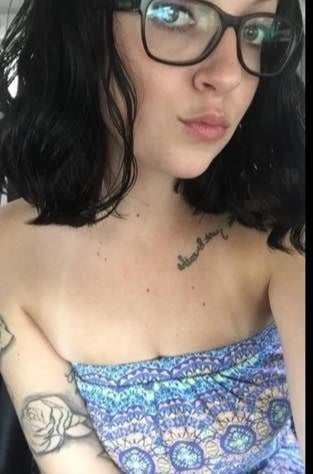 Jesse, Justinne, and Charissa say they serendipitously met each other when a man they believed they were each exclusively dating accidentally messaged them in a group Snapchat last Friday. "Hey beautiful," he wrote to a group of seven people.
"When I got the group message I had no idea there were so many of us," Jesse added. "He made me feel like I was the only one." The seven women all simultaneously realized this as well, and began comparing notes.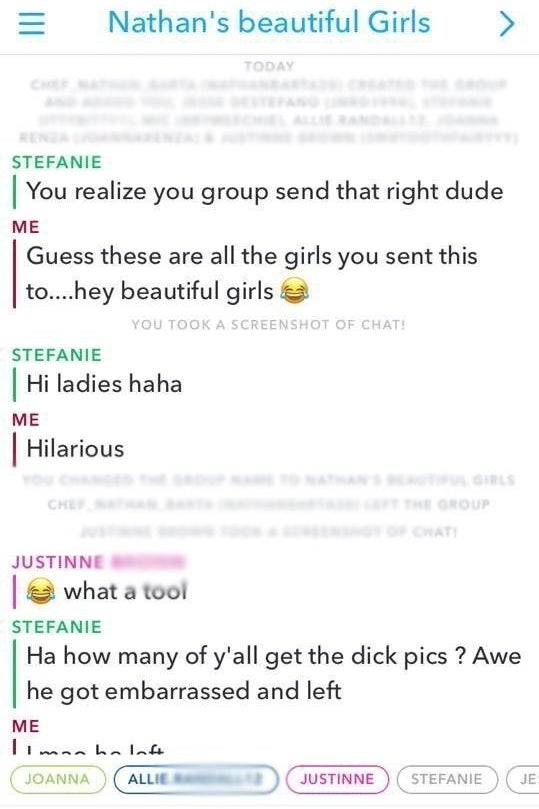 Jesse, who lives in Jacksonville, Florida, is apparently one of the few women in the group chat who did not meet "Nathan" online. She said she they attended the same grade school together, but began dating as adults.
"We talked for awhile a few years back and then he just cut me off," she explained. "We just reconnected a few months ago."
Charissa said "Nathan" quickly fled the chat. She then named the chat "Nathan's Beautiful Girls" and the seven carried on a conversation among themselves.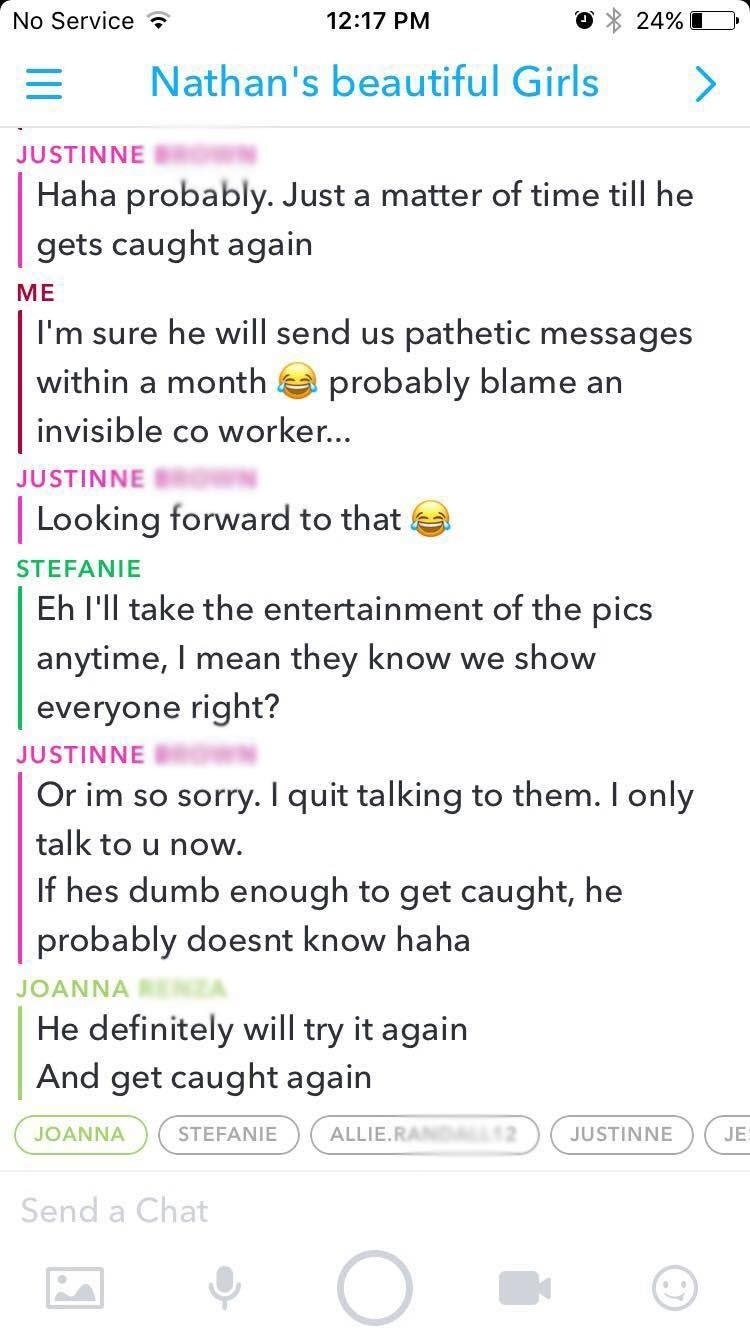 Jesse, Justinne, and Charissa individually told BuzzFeed News they believed their relationships with "Nathan" were exclusive, and had progressed very seriously very quickly, despite some having never met him IRL.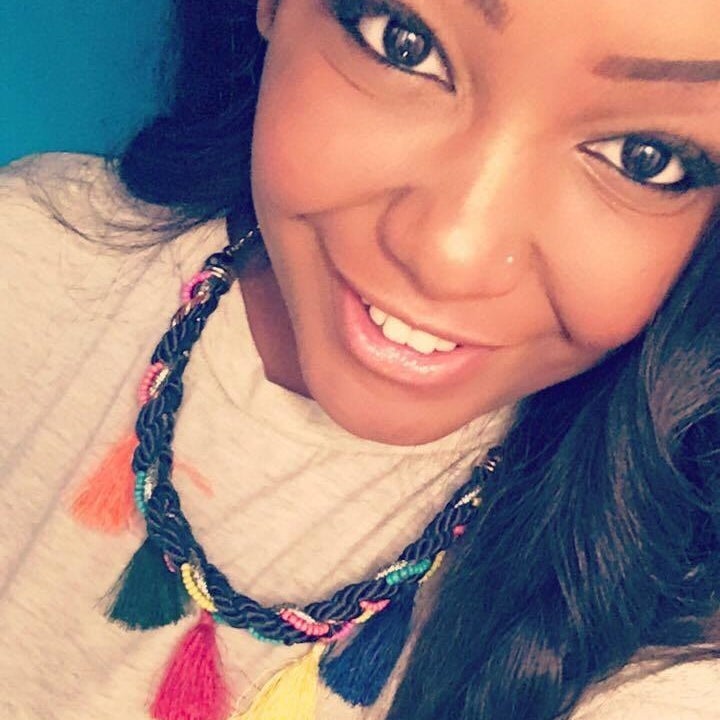 According to Charissa, after they had matched on Tinder near the Jacksonville area three years ago, their flirty texts soon turned sincere.
"He told me he deleted his Tinder profile. He was trying to convince me he's interested in me and he will do anything to prove it," Charissa said. "It felt like he wanted something serious. He was telling me, 'you should fly to New York and you can stay with me.'" ("Nathan" had told them he had a home in New York, although many of them aren't entirely sure where he's based).
Justinne matched with "Nathan" on Tinder in 2015, but they actually met each other in real life and began a serious relationship soon after. "He was the perfect boyfriend," Justinne said, recounting countless romantic gestures and times spent together.
"He also invited me to NYC with him for two weeks," she added.
They also all claimed "Nathan" would disappear on them, and then reappear without much of an explanation. When BuzzFeed News reached "Nathan" on the phone, he denied knowing Charissa. Before BuzzFeed News was able to confirm the names of the other women, he abruptly hung up.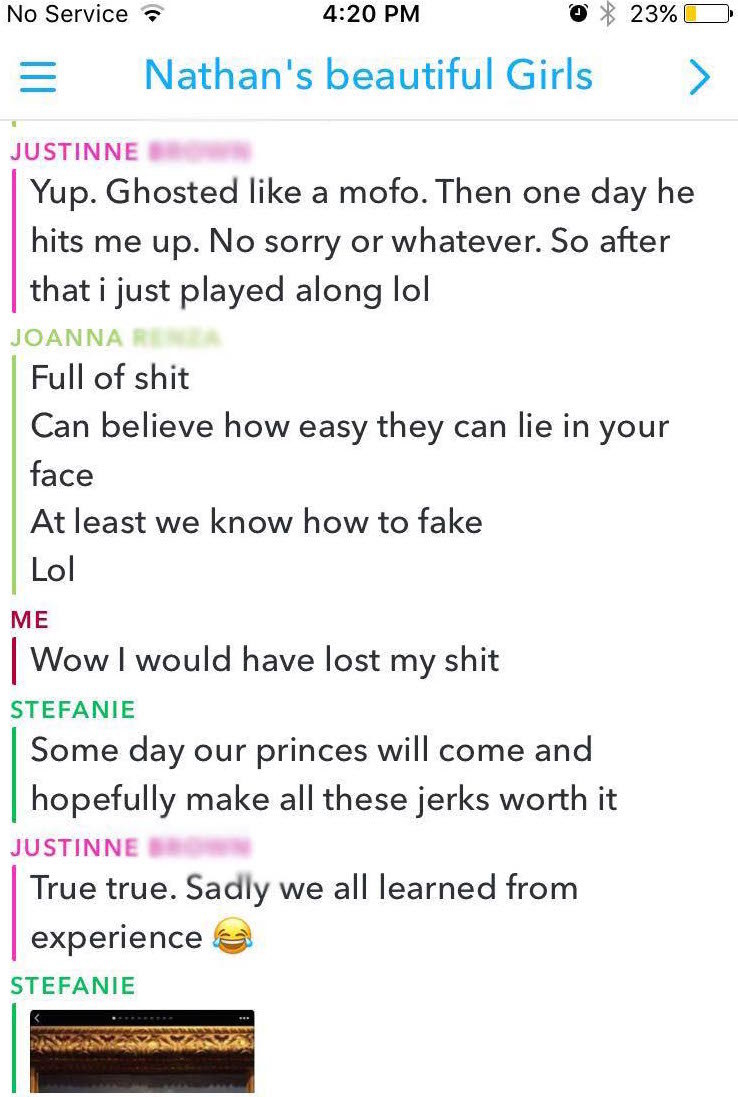 Despite what a lot of the women have described as an embarrassing dating experience, they've all been able to laugh about it. And have forged real friendships in the "Nathan's Beautiful Girls" group chat.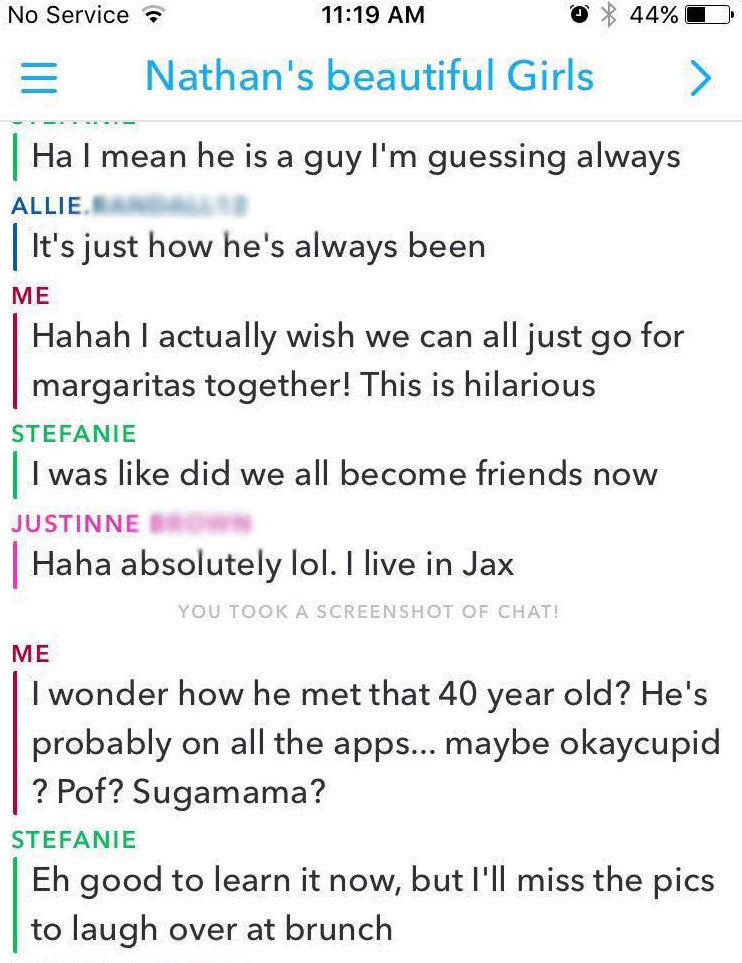 Charissa said to this day Nathan's Beautiful Girls will chat and check in with each other, sending each other funny "fuckboy" memes. "At least you know he has great taste in girls!" she said, laughing.