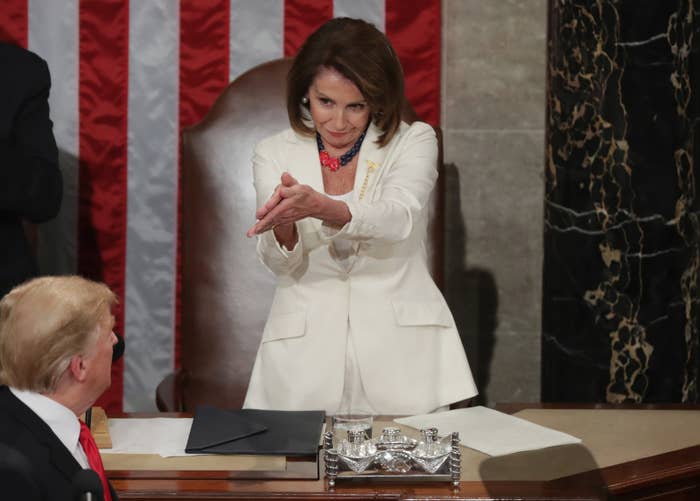 Even though she did not utter a single word during President Trump's State of the Union address on Tuesday, Speaker Nancy Pelosi's body language seemed to speak volumes.
Pelosi became the topic of internet ~discourse~ and memeing when she rose out of her seat to clap vigorously at the president when he talked about diplomacy and "cooperation, compromise, and the common good."
"We must reject the politics of revenge, resistance, and retribution and embrace the boundless potential of cooperation, compromise and the common good," Trump said during his address.
This diplomacy came just hours after Trump reportedly called Senate Minority Leader Chuck Schumer a "nasty son of a bitch," and Pelosi seemed to have reacted accordingly.
While there were some discussion about whether Pelosi was genuinely or sarcastically clapping to Trump's statement, Pelosi's daughter, Christine Pelosi, seemed to have set the record straight by Wednesday.
"Oh yes that clap took me back to the teen years. She knows. And she knows that you know. And frankly she's disappointed that you thought this would work. But here's a clap," Christine tweeted while hashtagging it "#youtriedit."
Pelosi's clap reminded some of a few other notable shady moments.
Whatever was actually going on in Speaker Pelosi's mind, the moment was very relatable and delicious for many people.
And, best of all, it proved to be a very versatile meme — one that doesn't even need to be political! Here are only some of the best ones.
It's even usable for niche Twitterverses, like #MedTwitter.
(I do not know intimately what the following meme means but I bet it's very good.)
It's just a very good meme.