CHICAGO — The murder trial for the white Chicago police officer who fatally shot a black teenager 16 times in 2014 turned into a battle over bullets Monday, with attorneys going back and forth over which were more significant.
Officer Jason Van Dyke is facing first-degree murder and aggravated battery charges in the shooting death of 17-year-old Laquan McDonald, which sparked massive protests. A dashcam video that was released later showed the officer begin to shoot at McDonald, who was seen walking while wielding a knife, and then continue to shoot when the teen was on the ground.
Shaku Teas, a pathologist for the defense who reviewed autopsies and documents prepared by the medical examiner of McDonald's gunshot wounds, disputed nearly every one of them.
Teas testified that she believed almost every shot was taken while McDonald was still standing, or "rotating," and that only one bullet wound was significant enough to actually kill him on the night of Oct. 20, 2014. The rest of the injuries on his body were "superficial," she said.
However, the medical examiner, Ponni Arunkumar, testified last week that she believed all 16 shots contributed to the teen's death — and that two of them proved fatal. And so the defense and prosecution got into a contentious battle over which gunshots were the most notable, discussing them one by one.
At one point, prosecutor Jody Gleason rhetorically asked Teas, "Are we back to 'None of the wounds matter'?"
(Warning: The video footage of the shooting is graphic.)
The defense had Teas talk through all 16 shots, each of them with a graphic photo shown to the jury.
Despite what can be seen in the video, Teas said she believed McDonald was either standing completely upright, walking, facing Van Dyke, and/or "rotating" when he was hit with all but one of the bullets, based on how she observed the wounds and the bullets' entry and exit locations.
Teas testified that she believed the gunshot wound referred to as "number four," which pierced through the upper lung, was the one that actually killed him.
The remainder of her testimony was dedicated to arguing that the other 15 shots resulted in insignificant blood loss, did not contribute to McDonald's "rapid death," and that the medical examiner's documentation was shoddy.
In her cross-examination, Gleason asserted it would be difficult if not impossible for her to determine McDonald's body position at every shot, and that the dashcam footage contests if McDonald had ever faced Van Dyke directly during the entire encounter.
"His torso is facing the defendant," Teas argued back. "He wasn't straight on. He didn't have to be straight on."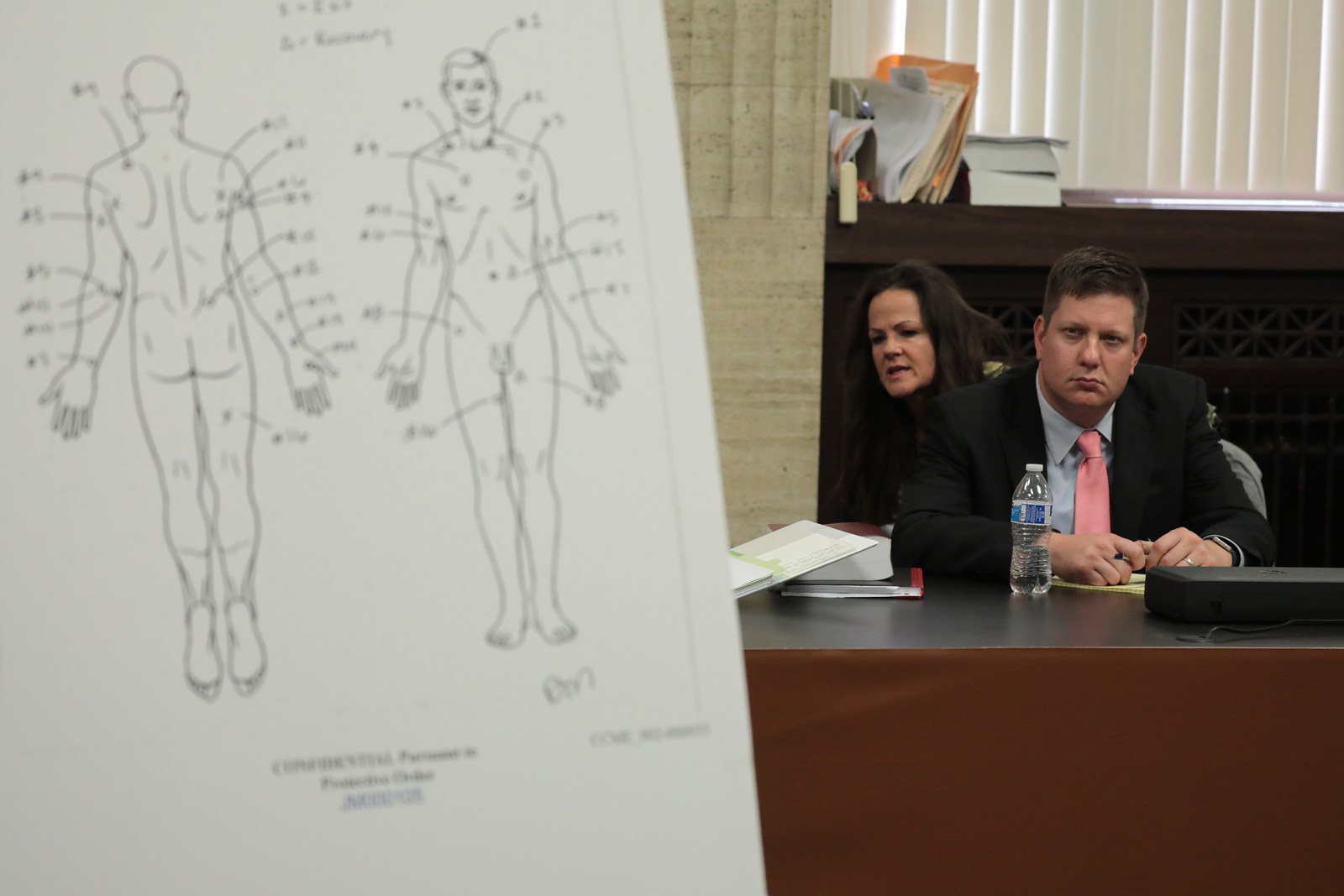 Gleason then asked Teas if she could agree with the assertion that "all gunshots cause bleeding" and "all gunshots cause injury." Teas agreed, and conceded that every wound did result in injury and bleeding.
She then pressed the pathologist again about her claims that the majority of shots were fired as McDonald was upright or "rotating."
"Do you know how long he was standing before he was on the ground?" Gleason asked Teas.
"It was seconds?" the doctor estimated. "I can't make sense of it. It's difficult to see bullets."
Gleason asked if she could see any bullets "actually strike" McDonald.
"No," Teas said.
Gleason then continued to press her on a range of details about the sequence of shots, and eventually about the actual range from Van Dyke's gun to McDonald's body.
"It doesn't matter if it was 10 feet, 12 feet ... it will be the same," Teas said.
"Why doesn't it matter?" Gleason asked.
"The wounds would look the same," Teas fired back.
CORRECTION
Shaku Teas' name was misspelled in an earlier version of this post..