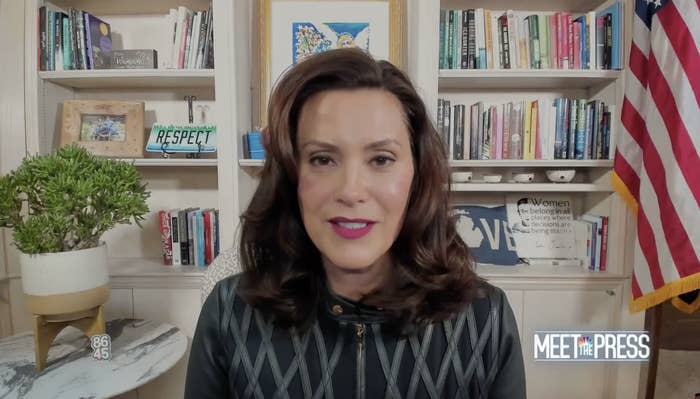 Michigan Gov. Gretchen Whitmer accused President Donald Trump of "inciting domestic terrorism" for encouraging his supporters to chant "lock her up" at his rally on Saturday, days after the FBI busted a domestic terror plot to kidnap and potentially kill her.
Whitmer appeared on NBC's Meet the Press on Sunday, telling host Chuck Todd that she found the president's actions "incredibly disturbing" and "dangerous."
"It's incredibly disturbing that the president of the United States — 10 days after a plot to kidnap, put me on trial, and execute me...10 days after that plot was uncovered — the president is at it again, inspiring and incentivizing and inciting this kind of domestic terrorism," Whitmer said.
"It is wrong. It has got to end. It is dangerous, not just for me and my family, but for public servants everywhere who are doing their jobs and trying to protect their fellow Americans," she added.
In a statement to BuzzFeed News, the Trump campaign said that while the plot against the governor was "reprehensible," it was "also true that the people of Michigan want their economy opened back up."
Trump, who has frequently taken aim at Whitmer's policies to help contain the spread of the coronavirus in her state, targeted her again at his rally in Muskegon, Michigan, on Saturday.
"You've got to get your governor to open up your state and get your schools open," he told his supporters.

This prompted the crowd to chant the phrase "lock her up"; in response, Trump smiled and said, "Lock them all up."

"This is exactly the rhetoric that has put me, my family, and other government officials' lives in danger while we try to save the lives of our fellow Americans. It needs to stop," Whitmer tweeted in response to the "lock her up" chants.
One of the governor's aides, Tori Saylor, also tweeted about the danger of Trump's rhetoric against Whitmer.
"Every single time the President does this at a rally, the violent rhetoric towards her immediately escalates on social media," Saylor said.

Less than two weeks ago, the FBI foiled a plot by a right-wing militant group to kidnap Whitmer at gunpoint, with threats to "cap her," ahead of the Nov. 3 election.

Trump and his supporters have frequently riled the nation against science-based guidelines to prevent the spread of the coronavirus and have portrayed those who violate the guidelines as "patriots." The president has also embraced and encouraged violent far-right groups who are against the racial justice movement and coronavirus lockdowns. "LIBERATE MICHIGAN!" Trump tweeted in April.
Whitmer on Sunday urged Americans to have zero tolerance for this kind of behavior and rhetoric, asking people to "bring the heat down."
She noted that even as the president criticized her for the coronavirus lockdown, Michigan has not had a stay-at-home order since late spring.
"Every moment we are not focused on the fact that there are 220,000 Americans who have died from this virus is good for him," Whitmer said on Meet the Press. "So in that sense, as he incites additional violence against people who are just trying to save one another's lives, that's good for him."
Ken Farnaso, the deputy press secretary for the president's reelection campaign, defended Trump and his supporters' rhetoric against the governor at the rally.
"The plot against the governor was reprehensible and it's great that the Department of Justice apprehended those responsible and is holding them accountable," Farnaso said in a statement to BuzzFeed News. "It's also true that the people of Michigan want their economy opened back up so that they can get back to work like other parts of the country," he said.
Lara Trump dismissed her father-in-law's actions of riling up his supporters against Whitmer as him "having fun" at his rally.
"People are frustrated and look the president was at a rally," she told CNN on Sunday. "It's a fun, light atmosphere. Of course, he wasn't encouraging people to threaten this woman. That's ridiculous."
BuzzFeed News has reached out to Whitmer's office for comment.