It's Monday, but here is some enriching, delicious Chicken Soup for the Messy Soul: First wife to the POTUS, Ivana Trump, and his current wife, Melania Trump, are publicly feuding over the title of "first lady."
You see, while promoting her forthcoming memoir Raising Trump on Good Morning America, Ivana said she is "basically Trump's first wife" and that therefore she is the first lady.
Well, that proclamation did not sit well with Melania, Trump's current wife and sitting first lady. She fired back Monday afternoon with some sharp and deliberate words to Ivana via her communications director, Stephanie Grisham. (We'll highlight the particularly poignant and shady retorts.)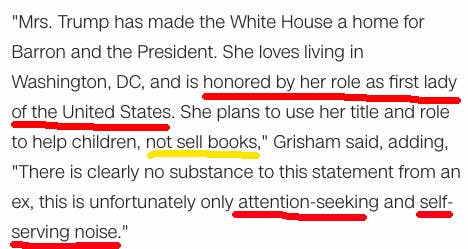 So much diplomatic shade strewn into one very fast response. Ivana's publicist told BuzzFeed News in response to Melania's shade-strewn remarks, Ivana said, "No comment."
In the meantime, people are calling the ~feud~ over who is the ~real~ first lady a literal reality show story line.
And giving it all kinds of Real Housewives titles. "Real Housewives of POTUS," one suggested.
"Real Housewives [of] DC," another chimed in.
"Real Housewives of Pennsylvania Avenue."
"Real Housewives of Trumpland."
People are even picking sides and trying to mediate the drama themselves.
Some are reveling in the absurdity and pettiness...
While others have deemed this their personal hell.
Even Andy Cohen, the executive producer of Bravo's Real Housewives franchises, weighed in. "All the wives are fighting. Even I AM SPEECHLESS," he tweeted.
He's officially invited Ivana, Melania, and Marla Maples (Trump's second wife) to join him in a special Housewives Reunion episode to duke it all out.
BuzzFeed News has also reached out to Maples — because why the hell not.