A Brazilian jiujitsu trainer and NYC resident named Loiba was heading into Manhattan on the E train a week ago when she looked up and saw an "unbelievably gorgeous" man sitting across from her, she told BuzzFeed News.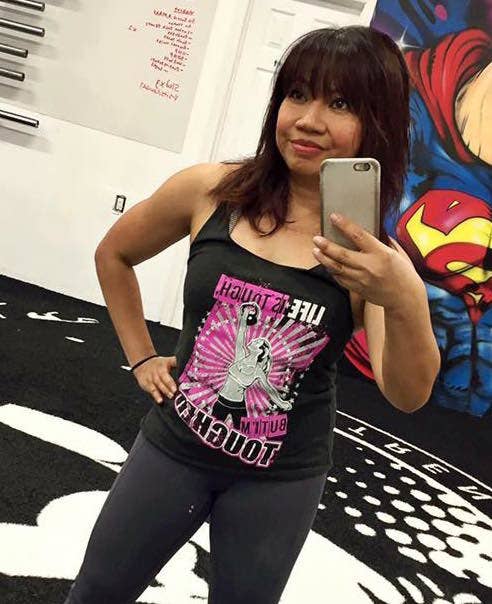 "Rarely do you see a supermodel ride the subway train," Loiba said. "I can tell he's a fashion model because of what he was wearing."
She admitted that she was blatantly staring at him for the duration of the subway ride — mostly because he was so physically attractive, she said, but she also thought he looked very familiar.
"I was trying to figure out who he was," she said.
So she attempted to discreetly take some photos of the guy to try to figure it out later.
Loiba sent BuzzFeed News a whole camera roll of shots of the model — it seems like she really wanted to call upon her memory. LOL.
Then, over the weekend, Loiba said she scrolled past an article on her Facebook feed and it featured this same guy! He was the Cycle 22 winner of America's Next Top Model and Deaf activist Nyle DiMarco. And Loiba remembered watching the season he was on.
DiMarco also won Season 22 of Dancing With the Stars when he was partnered with Peta Murgatroyd.
To make sure it was him, Loiba posted her photos of him to his official Facebook fan page. "If this is you, you are very handsome in person!" she wrote.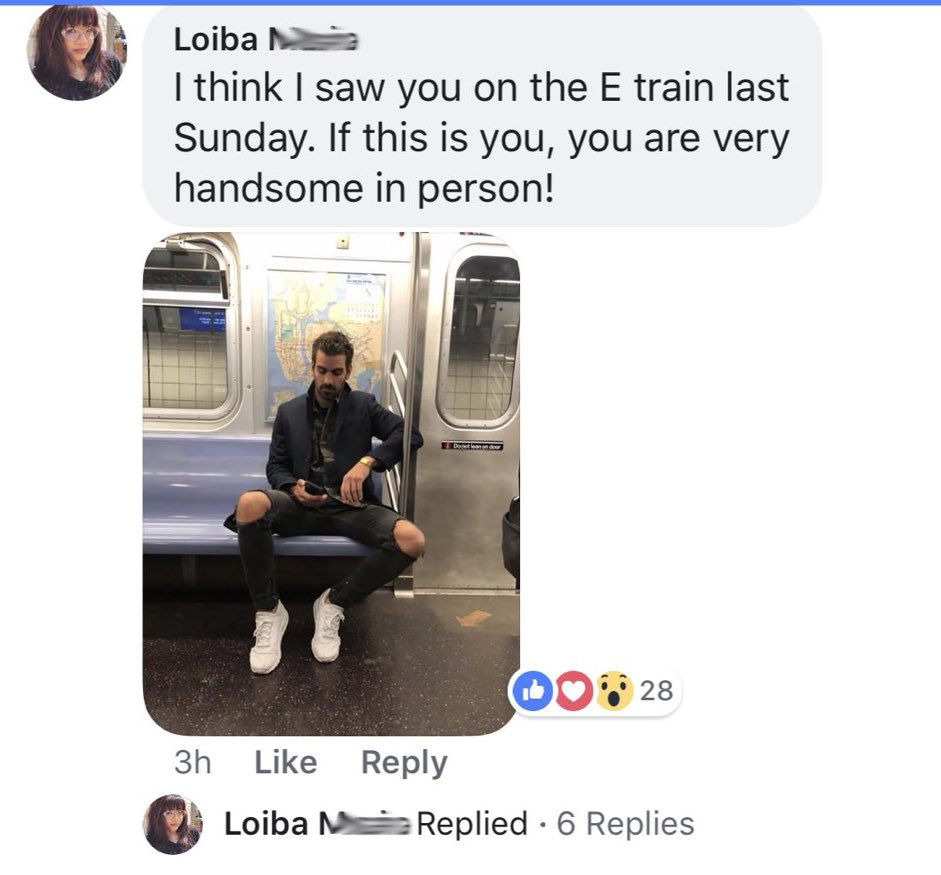 To her surprise, not only did DiMarco respond and confirm it was him, he posted a photo of her on the subway that day catching her taking photos of him.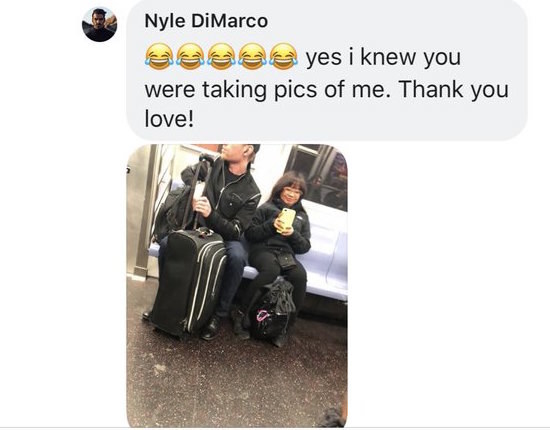 "Yes I knew you were taking pics of me. Thank you love!" DiMarco wrote back with crying-laughing emojis.
He attached a photo of Loiba smiling to herself as she was taking photos of him on the E train.
"I wasn't aware he took pics of me as well," Loiba said.
The model shared the whole hilarious encounter with Loiba on Twitter, where it's gone viral. People are cracking up.
Especially about the self-satisfied look on Loiba's face at the time (because same).
It was all very relatable.
"Imagine being so attractive you assume people are taking pictures of you cos they probs are."
DiMarco told BuzzFeed News he has "deaf eyes" so "they're very alert and I immediate spotted her camera towards me." He said he only wished they could have taken a photo together before he had to get off the subway.
"I thought of Cole Sprouse always doing the same to people not discreetly taking pictures so I decided to pull a Cole Sprouse move," he said.
"I love this story so much and wish we had the chance to take a selfie!"
"We had a good laugh," DiMarco's management team added.