This is an excerpt from Please Like Me, BuzzFeed News' newsletter about how influencers are battling for your attention. You can sign up here.
This major travel influencer family is adjusting to ~the new normal~...but is it enough?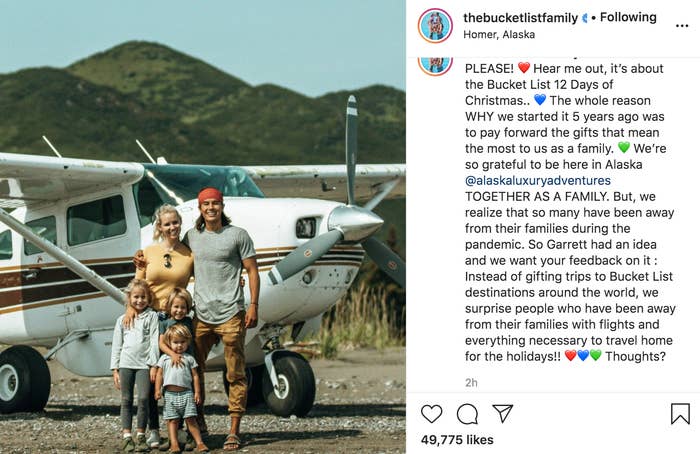 The Bucket List Family is one of the most popular family travel accounts on Instagram. As much as the concept and lifestyle bewilder me, 2.5 million fans closely follow parents Garrett and Jessica Gee as they tote their young kids around the world for their wanderlusty business. If there's any glamorous industry that's taken a hit due to COVID, it's the travel industry.
In March, as the world began to quite literally shut down because of the virus, I wrote about the immediate and profound impact that had on travel influencers. Many of them told me big sponsorship deals fell through, an itinerary of trips were canceled, and some were stuck in remote locations. I know it's hard to sympathize with people privileged enough to travel for a living, but it sounded like their lives and incomes changed overnight.
I've been generally curious about how travel influencers have been adjusting, or not, to ~the new normal~.
This is why, seven months later, I was struck by the latest Instagram from the Bucket List Family announcing that they're doing things differently this year...kind of. The family has become both famous and infamous for their annual grandiose giveaway spree where they ask people to follow their account in order to enter a raffle for free international trips. Last year, their stunt got dicey when people accused them of hiding details about how to enter the giveaway. Essentially, the giveaway had already ended and the Gee family continued to advertise it on their socials. I interviewed a lawyer at the time who delineated key details and timelines that weren't matching up, and were the reasons why she and others called it "shady."
Anyway, this year, the family's not embroiled in the same kind of controversy. But their giveaway has changed — and raised more questions. In a post tagging a luxury staycation house in Alaska, the Bucket List Family said they want to continue their annual tradition, by instead gifting people free trips home to see their families.
"Instead of gifting trips to Bucket List destinations around the world, we surprise people who have been away from their families with flights and everything necessary to travel home for the holidays!! ❤️💙💚 Thoughts?" Jessica wrote in the Instagram caption.
Most of their adoring fans reacted enthusiastically — I mean, hey, sounds so wholesome and wonderful, right? But, as some others in the comments have already pointed out, our new realities are complicated. With the CDC updating its mandates and recommendations, and as countries are assessing their coronavirus case numbers and opening and closing their borders, traveling is tenuous, to say the least. We'd all love to see our families and friends during the holidays, but we have to responsibly assess our risks. And, in a lot of cases, perhaps not traveling to see your elderly loved ones is the best decision you can make right now.
Acknowledgment of that was glaringly missing in the Bucket List Family's latest post. It made me wonder if they and other travel influencers are attuned to these realities we commoners are facing every day. While it's nice for them to consider that people are missing their families, and for them to offer free trips to reunite loved ones, there is a major reason why people are hesitant to travel that is not related to finances. (The reason is a deadly novel virus that still has no vaccine. That's the reason.)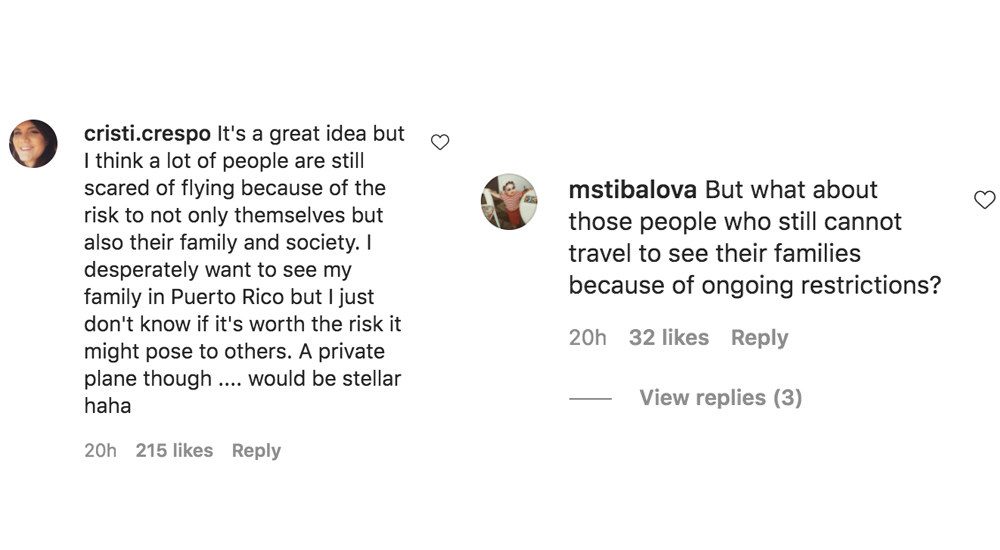 I reached out to Jessica and Garrett to ask if they're at all aware of these complexities during a pandemic. And how they're planning to adapt. So far, I have not heard back.
I think this shows me that we're still facing a similar dilemma in the travel influencer economy. Big travel accounts need to maintain their brand by continuing to travel, but we can no longer live that norm, at least responsibly. It seems like there is an attempt by influencers like Jessica and Garrett to adjust to the changing reality, but to ethically commit to that adjustment is to forgo the brand and the business altogether for some time. This is not to say that traveling should be entirely discouraged. There are relatively safe ways to travel, but of all influencers, travel influencers should be more mindful about the precedent that they're setting by committing to their brand.
Perhaps, this year, the Bucket List Family can put a pause on their travel giveaway. And if they really have an altruistic itch to give, perhaps drop some money in people's Cash Apps then.

Ma'am, you are an (aspiring) influencer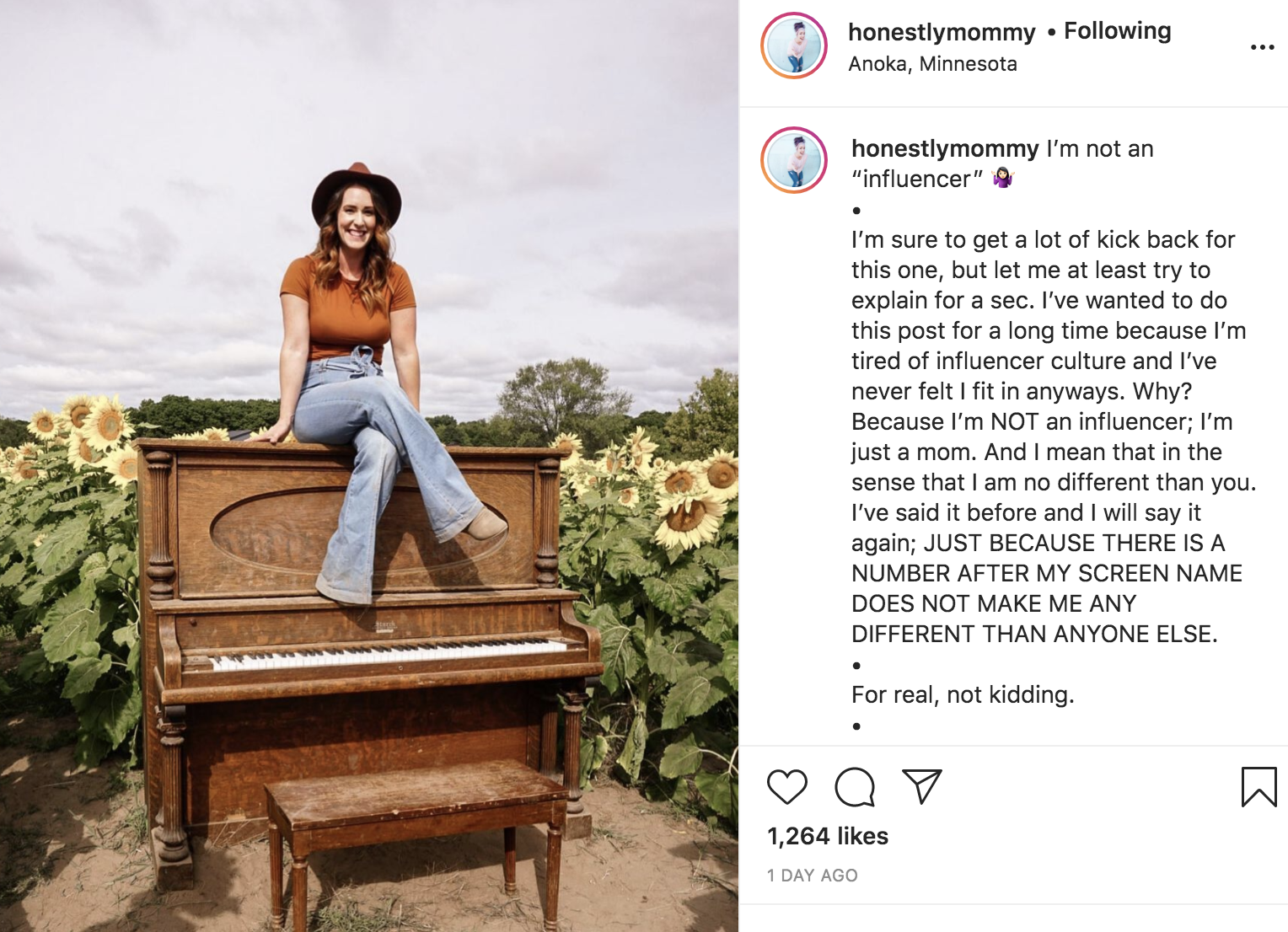 On Wednesday, mom blogger @honestlymommy wrote a long, self-assured caption about how she is NOT an influencer. The caption begins, "I'm not an 'influencer.'" I was curious about this very specific soapbox she pulled out in this economy, so I read on.
@honestlymommy, aka Stephanie, wrote that she is "NOT an influencer" because she's "just a mom."
"JUST BECAUSE THERE IS A NUMBER AFTER MY SCREEN NAME DOES NOT MAKE ME ANY DIFFERENT THAN ANYONE ELSE," she exclaimed.
"I -personally- see influencer culture as someone trying to sway you to think a certain way. Influencer culture is POWERFUL and DANGEROUS," she goes on, adding, "I'm going to continue to try and do my best to share in a way that hopefully encourages you to go out and search for the truth, to think freely, and make up your own mind." You can read the whole thing for yourself.
So the first thing I'll say on a technicality is that, no, Stephanie is arguably not an influencer. She has a little over 71,000 followers, and based on the metrics we use to measure influence in the professional sense, an "influencer" would have a follower count higher than that. She is what we may call an aspiring influencer or microinfluencer.
But I don't think that's the point of Stephanie's Instagram caption. What she's saying has merit: She doesn't like to self-identify as an "influencer" because she does not want to compel her followers to blindly adopt her opinions on things; she wants her followers to form their own ideologies. At least that's my best reading of this very random but passionate social justice campaign.
Sure, great. I can get on board with that idealistically. But I think this logic is a bit shortsighted and does the influencer–follower dichotomy a disservice overall.
Whether or not you choose to identify with being an influencer or microinfluencer, and the connotations that come with it, Stephanie, you are one. To deny that is denying what's naturally a part of the job. It sounds like you want to maintain your relatability with your followers as a mom blogger, and that's noble. But by pursuing the career you chose to pursue, you are no longer ~relatable~. Yes, you are a mom just like other moms, but being a mom is now corporately your job. You get paid to espouse mommy teachings and share your private life on a public platform the way that other moms don't. You have a significant audience, and an influence, that other moms don't have. You are actively pursuing this platform and influence. That's exceptionalism.
To say you're "NOT an influencer" is not acknowledging this exceptionalism. It would be like if I were to declare in this newsletter that I am NOT a writer who wishes to share my personal thoughts and compel you, my reader, to engage with them. I'm just any person BuzzFeed News has plucked off the street to ruminate and write, without pay, and with no responsibility to my job or audience. My title does make me different than the average person — I'm paid to share my musings. And to tell my newsletter subscribers that I don't have some authority or privilege about the things that I'm writing is denying the power dynamic naturally embedded in the writer–reader relationship.
The first step in pursuing a career in the influencer space is to admit that you are pursuing a career in the influencer space, and it comes with a set of principles and criticisms, good and bad, that you take on. Now, what you do as an influencer with your compulsion to influence is entirely up to you.
Until next time,
Tanya