On Sunday, Bryan Fischer, a conservative radio host on the American Family Radio network, tweeted that the LGBTQ community's symbolic rainbow was cultural appropriation. "LGBTs stole the rainbow from God," he wrote, citing a Bible verse. "Give it back."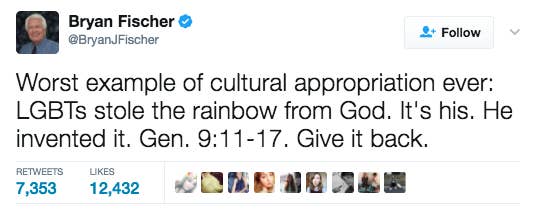 Fischer's "cultural appropriation" comment is not a totally uncommon sentiment either. There are people who've also publicly shared this belief.
But it was the way that Fischer voiced his convictions that really made it easy for people to troll.
People threw their hands in the air, and said, "You caught us!" And vowed to return the refracted water droplets they "stole."
"Here ya go," someone said, happily giving it back.
And soon Fischer's tweet became a new meme — and inspired a lot of people to come forth to EXPOSE the LGBT community for ALL they've stolen. "LGBTs stole the rainbow from Mario. It's his. He invented it. Super Mario Kart. Give it back."
They also allegedly stole from the Rainbow Monkeys.
And/or Cheer Bear.
Or was it Lucky the Leprechaun?
Perhaps the LJN Toys logo.
No, it was definitely the Power Rangers. Or did they steal from God...?
In fact, they also snatched the word "gay" straight out of the 1890s.
There are so many bad examples of "cultural appropriation." I mean, where do we even begin?
"People forget that Steve Jobs appropriated the apple. Satan was the original disruptor IMO."
People are still in line at customer service to return the rainbow to Fischer.
UPDATE: In a statement to BuzzFeed News, Fischer said he's seen the memes and responses to his tweet. And blocked the "vulgar, obscene, F-bomb laced" ones — those that he feels "reveals the hypocrisy of the left."
"Sure, I disagree with the homosexual agenda, including the theft of the rainbow, but disagreement is not hatred, and the truth is not hate speech," Fischer said. "But apparently the left sees things differently."