Nigerian musician Kcee is a big-time star, both in his home country and around the world. But his recent introduction and breakout to some Americans is an embarrassingly sad one. People are claiming the musician is cropping his body onto variously lavish backgrounds.
With 1.4 million followers, Kcee's Instagram is filled with shots like these: the singer, dressed in über-stylish outfits, posted up next to an expensive car or in front of a bougie background.
But some of his 'grams look a little more...contrived than the others. For example, in this photo there appears to be a faint edge and border around Kcee's body that's been superimposed on a photo of a back of a Lincoln Navigator.
And commenters are starting to take notice.
This photo from last week is one of the more incriminating ones, especially near Kcee's legs. There is a clear white border around the ankles of his pants, and the edge of his bag strap is visibly blurred.
People are not only calling out the potential photoshop, but jokingly advising the musician to improve on the quality of photo-editing.
Although a lot of his 'grams do portray the singer in an authentic environment...
Based on detailing around his figure, and the contrast to the background, there are several questionable shots sprinkled throughout his account.

But perhaps the most extraordinarily hilarious one (that appears to be deleted, or in an older archive) dates back to 2014. A Nigerian entertainment site that first called out several photos of Kcee's allegedly "dubious photoshop fails" included this photo "with" Cristiano Ronaldo. As you can see, Kcee is missing a left arm and Ronaldo is missing his right one.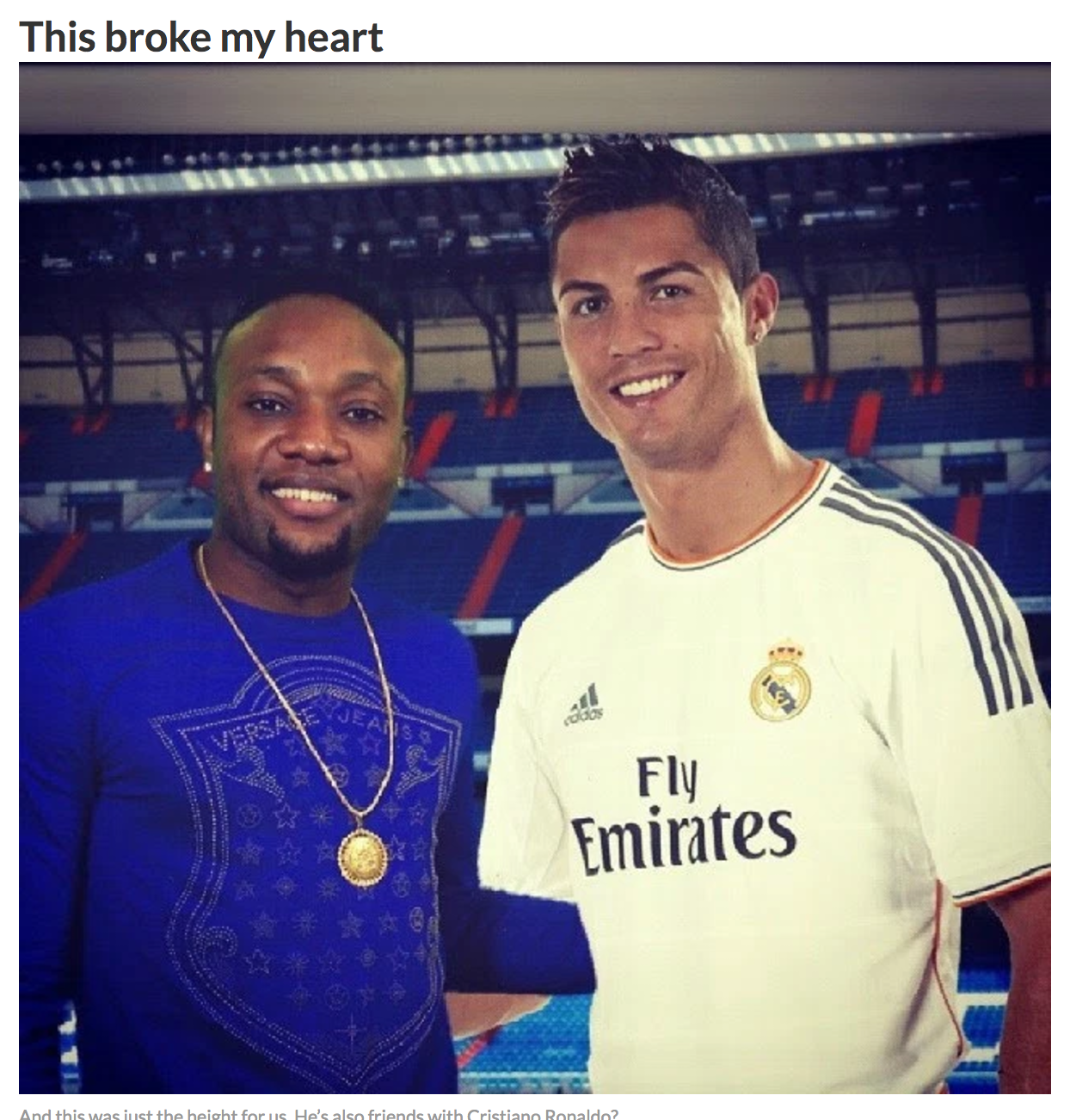 Tweets and screenshots from 2014 showed that fans were quick to call him out.
BuzzFeed News has reached out to Kcee and his team for comment.