As Houston attempts to recover from the devastation of Tropical Storm Harvey, people are criticizing celebrity pastor Joel Osteen and his Houston-area Lakewood Church for their response to the disaster.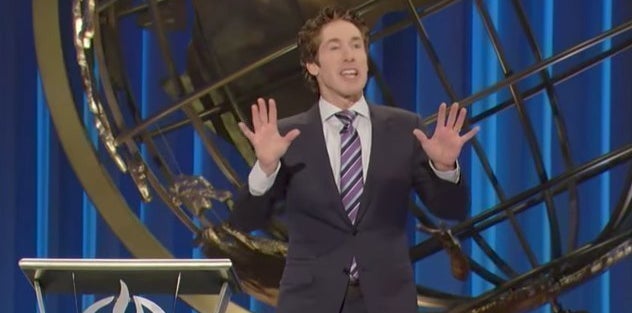 Osteen is perhaps one of the most well-recognized faces of the Christian faith in the United States.
He leads televised sermons to an audience of about 7 million.
Lakewood Church, a staple in Houston that Osteen's father founded, holds up to 16,000 people. On Sunday the megachurch announced that the building was "inaccessible due to severe flooding."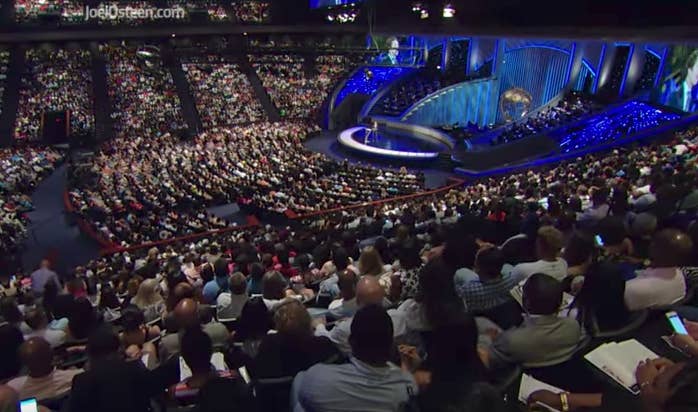 However, people online grew increasingly frustrated with Osteen and Lakewood for not initially opening their doors to the thousands who are stranded in the Houston area.
Many were angry and confused, citing the size of the church and the resources it has access to. They noted that many much smaller venues have become hurricane shelters.
While some followers of Osteen and his church defended him, others continued to raise questions and concerns over the church's response to the disaster.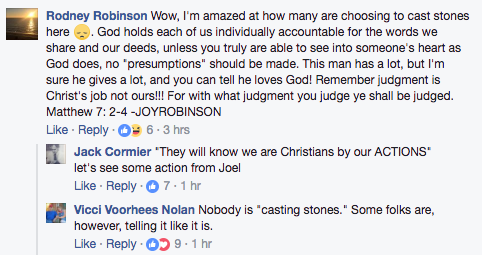 They also questioned whether the church was actually "inaccessible" and flooded, as the initial statement read. Defenders of the church quickly claimed the church was "underwater" and not suitable to house anyone.

However, eyewitnesses who claim they've since seen the church IRL said it appeared the church had not been flooded.
Although eyewitness and photo accounts did show the lower parking and below-ground levels of the church had been struck by massive flooding.
On Monday evening, Osteen finally responded to the growing backlash. In a statement to CNN, he claimed neither he nor the church ever closed their doors.
He said they are "prepared to shelter people once the cities and county shelters reach capacity."
"We have never closed our doors. We will continue to be a distribution center for those in need," church spokesman and Osteen's father-in-law Donald Iloff said.
"We are prepared to shelter people once the cities and county shelters reach capacity. Lakewood will be a value to the community in the aftermath of this storm in helping our fellow citizens rebuild their lives."
However, people raised an eyebrow to his "once ... shelters were full" statement.
They also called him out on the confusion over whether the church was flooded and inhospitable or not. BuzzFeed News has reached out again about these inquiries.
The frustrations have now turned into meme material.
Other Christians are starting to publicly distance themselves from Osteen.
"What would Jesus do?" one person retorted.
After all this pressure, on Tuesday, Lakewood Church announced that it is now "receiving people who need shelter."
BuzzFeed News reporter Albert Samaha, who arrived at Lakewood Church shortly after they announced they will house evacuees, observed long lines of cars waiting to get into the church.
Heaps of donations had also come pouring in shortly after Osteen and the church officially opened their doors to the public.
Tall piles of clothing, blankets, dog food, diapers, and bedding filled the lobby of Lakewood. Groups of volunteers also quickly arrived to offer their services.
Local residents and Lakewood Church go-ers, who were informed of the church's opening through social media, told Samaha they wished the church had open its doors sooner.
If you've been impacted by the storm in Texas or have a tip about rescue, relief, government, or aid efforts, call the BuzzFeed News tipline at (646) 589-8598. Find us on Signal, email, SecureDrop, and more here.