On Wednesdays's episode of The View, former vice president Joe Biden comforted a tearful Meghan McCain as she began talk about her father's brain cancer diagnosis. Her father, Arizona Sen. John McCain, has glioblastoma — the same cancer that killed Biden's son, Beau, in 2015.
Holding her hand, Biden told McCain that it was her father, John McCain, who gave Beau courage during the hard times.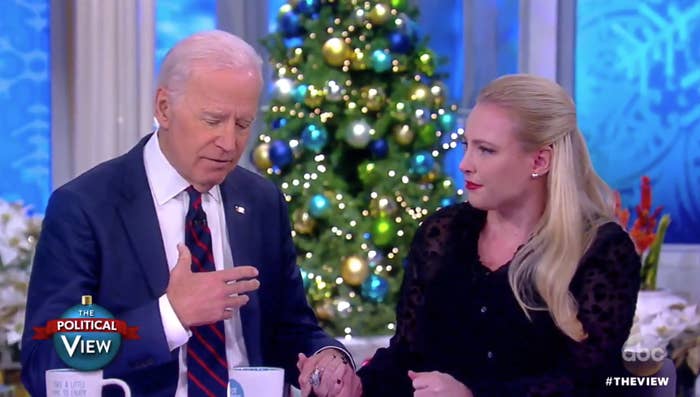 "So there is hope. And if anyone can make it, your dad — her dad is one of my best friends," he said.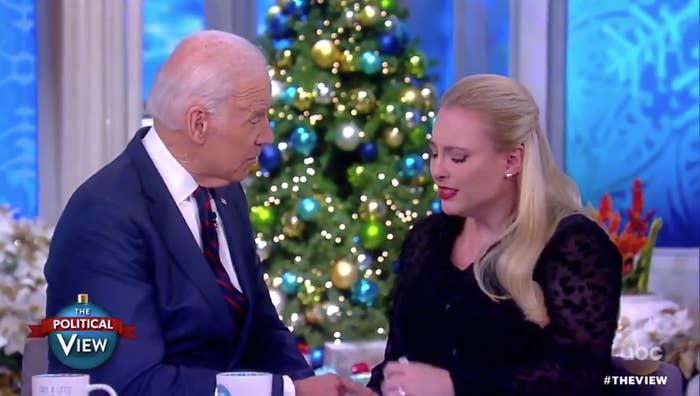 The clip has already been shared far and wide, and it's had a powerful and emotional effect on people.
People were particularly struck by the compassion and respect that the two prominent members of opposing political parties showed each other.
And viewers, who may agree or disagree with Biden's politics, commended him for how he carried himself.
The moment is being called an exhibit of "non-partisan humanity," as one person tweeted.
But some people stuck to their political talking points and attacks (one of the more popular ones has been on Sen. McCain's own health care treatment versus his vote on the potential Obamacare repeal mandate in the tax bill).
After the moment aired, McCain took to Twitter to publicly thank Biden for his own "strength, hope and fortitude."
Sen. McCain responded to the moment online as well. "Thank you @JoeBiden & the entire Biden family for serving as an example & source of strength for my own family."