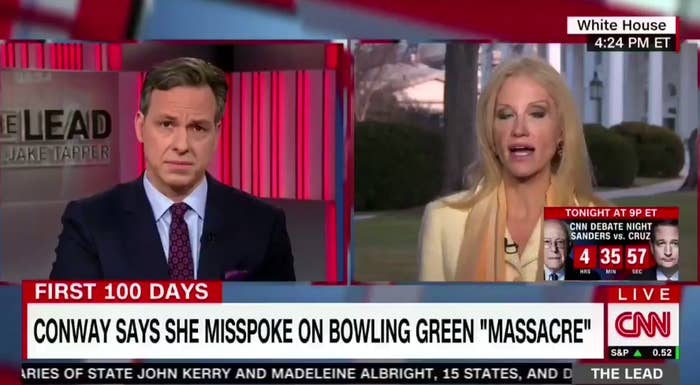 The interview was more of a back-and-forth conversation. Tapper was deliberate in his questioning, and offered some memorable lines. For example, on Trump's lack-of-response to the deadly Quebec City mosque shooting:
And on the fabricated "Bowling Green Massacre":
People quickly picked up on Tapper's tone during the interview.
But what was even more noticeable to people, was his quietly miffed, are-you-fucking-kidding-me face as Conway spoke.
It appears a lot of the country could viscerally relate to it. It's been called a "resting bitch face."
A "come the fuck on" face.
A "this is some bullshit" face.
And a "I'm fed the fuck up" face.
People seem pretty familiar with this expression. It's "the look you give your mom when she brings up stuff from your past," someone said.
Or the one "your dad makes when he knows you're lying."
Or the face you make when you catch someone lying straight to your face.
So if you catch these looks, you should now understand what you've done.