Teens Are Laughing At People Pissed With Teens For Using The Term "Waist Chokers" For Belts
"I remember old people getting mad at people saying 'omg,'" a teen told BuzzFeed News. "It was the same thing."
OK, so: At the height of the choker trend hype/lunacy in December 2016, 16-year-old Cole Smith-Walter tweeted this joke in response. He included pictures of belts but instead referred to them as "waist chokers."
For some reason, this week — four months later — Smith-Walter's tweet resurfaced. And went viral again. But this time a lot of people were confused and even flat-out pissed.
"I swear the next generation gets dumber by the day."
The response from user @DeeCarr_ on Wednesday has been retweeted over 23,000 times, and it officially put the original tweet back in front of everyone's attention.
And it started a bit of a panic among more ~adult~ circles.
Some people thought maybe kids were trying to rebrand the term. "Back in my day, we called 'em 'belts.'"
"I can't believe I'm alive to witness someone calling a belt a waist choker."
But Cole Smith-Walter wants to assure these concerned and offended folks that he was merely "trolling" — and not at them. "I was making fun of stores like Urban Outfitters that try and call everything a trendy name," he explained to BuzzFeed News. "Nobody seemed to get the joke."
His tweet has now not only fueled more snarky responses...
...and more trolling...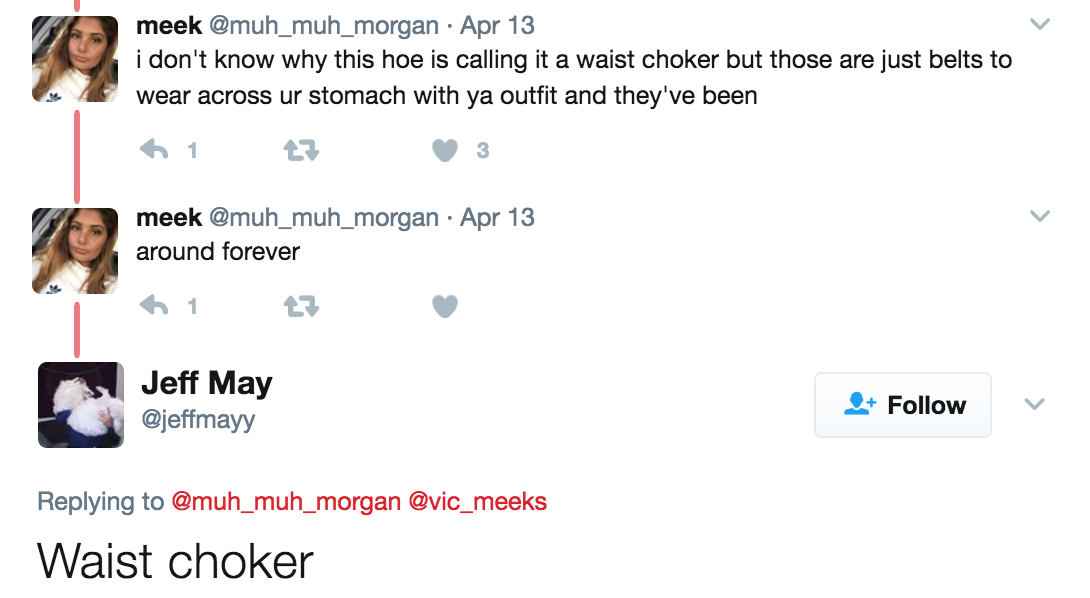 It's inspired some, who got the joke, to use the term ubiquitously.
One of them, 19-year-old William Jongeward, told BuzzFeed News he finds this generational confusion and outrage hilarious. "I remember old people getting mad at people saying 'omg,'" he said. "It was the same thing."
He believes the anger is a product of "people [being] frustrated that they didn't think of something first."
Although Jongeward admits that when he hears or sees other kids use the term, he's not entirely sure they're using it ironically.