Officials at the Indiana Department of Homeland Security (IDHS) are looking into Purdue University's temporary student housing after students complained of subpar and potentially unsafe living situations and photos of the dorms went viral.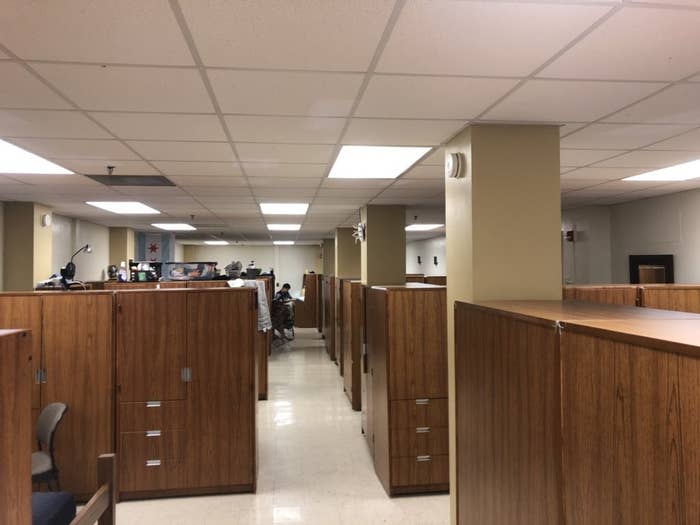 After multiple freshmen currently housed in Purdue's makeshift dorms complained to BuzzFeed News of "unjust" living situations on campus, IDHS's Building Safety & Services department told BuzzFeed News they're officially investigating the matter to ensure students feel safe in their dorms.
Earlier this month, photos of the university's 10-person temporary dorms went viral after people online felt they were "jail"-like.
Auxiliary housing is offered to students at random when there is an over-admission of applicants. Freshmen are placed on a waiting list and can move out if or when other students drop out, and more official dorm space opens up.
Purdue saw about five times more students admitted to the school who applied for on-campus housing this year than average, so temporary housing became more dire.
In response, Purdue told BuzzFeed News that these dorms are "pretty typical" of other makeshift dorms on campuses in the US. They also said not all dorms are laid out like the ones in the photo.
Students from two basement, 10-person auxiliary dorms told BuzzFeed News they are most worried about the lack of windows and exits and entrances in their rooms.
The dorms are referred to as "bunkers," "barracks," and "storage rooms" on campus.
Two students from different 10-person dorms said they both applied and accepted their offer to Purdue University on time, but were assigned to temporary housing.
"It's a basement conference room divided up into cubiclelike spaces with furniture," one of the students, who wished to remain anonymous, told BuzzFeed News. "There is no window. There is no privacy or anything else."
The freshman said the lack of windows and electrical outlets— which prompted his roommates to plug in several intertwined strings of extension cords through the room — felt like "a death trap."
Furthermore, he said there was only one exit, or "fire escape" in this large room. IDHS told BuzzFeed News an official has inspected this specific makeshift dorm and checked that "all fire safety codes are being met."
Outside of immediate safety concerns, students also complained of not being able to get any sleep, having to share one bathroom among 10 people, and leaky ceilings and cockroaches in their space.
"My biggest problem is sleeping," one of the students said, adding that he can only get a few hours a night. "[At midnight] they'll be making noise, then there are alarms starting to go off at 6:00 in the morning."
Another student, who wished to remain anonymous for fear the school might retaliate, agreed. "We're all staying up late, but I would get about 2–3 hours a night. I'm not sleeping very much," he said.
Since these dorms are temporary, students said no one feels secure fully unpacking their suitcases because they don't know how long they will be there.
"You have to make sure valuables are locked up all the time because it's all out in the open," one student said.
He said he's not afraid any of his roommates will steal his things, but of the multiple people coming in and out of the room.
"I feel like we are paying a lot of money for this — it's kinda like, 'what's going on?'" he said.
Freshman assigned to the largest shared auxiliary housing pay the least for housing tuition until they're reassigned, in which case their housing gets prorated.
These students said they're aware it's not actually comparable to being in "jail" or in army "barracks," but they feel frustrated that Purdue is admitting too many students and not improving housing.
"It irks us. We're paying to be here," one of the students said. "Not everyone is living the same. At the end of the day, we're not getting what we paid for. It's a little unjust."
"If you're going to admit as many kids, you got to build more dorms, or not have more upperclassmen staying in dorms," he went on.
"It's frustrating when you spend that much money ... even charging $1,200 [for the temporary dorm] you put us in a storage room. People aren't meant to live there."
As far as any more serious conditions are concerned, IDHS "will continue to look into this and work with Purdue University to ensure that all safety measures are being followed," a government rep told BuzzFeed News.