Caroline Enterfeldt is the 27-year-old mother of two children: a boy named Maximilian, 4, and a baby girl named Jayden, 1. She also runs an Instagram page that primarily features cute photos of Jayden, with occasional 'grams of the entire family.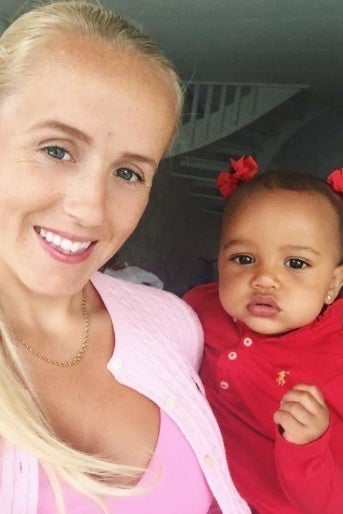 Caroline's account for Jayden (@Lilcocooo) has already gained a following of over 10,000, with a handful of close, enamored followers.
Nearly every photo of the 1-year-old is flooded with heart-eye emojis and gushy comments.
Jayden's photos are frequently reposted to aggregator accounts by strangers. After she shared this photo a few weeks ago, Caroline told BuzzFeed News she noticed several photoshopped images of her daughter cropping up over and over on different accounts.
Caroline said the account @chrysusbitch was the first to tag Jayden's account with an alteration of her eye color from brown to blue. The account also posted the original image. "First, I didn't think so much about the edit," Caroline said.
Caroline grew concerned when she saw that she'd been tagged in numerous random accounts with the same altered version of Jayden's eye color. "I've been tagged many times on the pic," she explained. "When it turned out to be this big, I'm starting to think why they edited it and for what purpose."
The photoshopping eventually gained the attention of YouTuber Laila Loves, who criticized the accounts for what she believed were attempts to make babies "cuter" online.
Her tweet inspired conversations of "fetishization" and systemic "colorism," drawing arguments that some people believe certain features are more desirable than others.
Mostly, the practice has creeped a lot of people out.
Caroline told BuzzFeed News she does not take too much offense to the photoshopping, but she is irked by how much the blue-eyed edit of her daughter has been posted. "I'm just annoyed that the photo is everywhere," she admitted.
The Instagram account that Loves called out eventually removed the edited picture of Jayden, and re-uploaded the original. (But they've since deleted their account). When contacted, the woman who ran the account told BuzzFeed News she was "shocked" to see all of the backlash, but she understood the criticisms and tried to rectify the issue.
Jayden's photo seems to be one example of a growing community of Instagram users who search for cute photos of people's children, alter certain facial features, and then lead public voting on the different features.
Lafricaine pointed BuzzFeed News to another Instagram account called @dailyshqip, where she said she stumbled upon the photoshopped image of Jayden. The account, which has over 7,000 followers, appears to be a curated page of altered images of strangers — and their children.

This account takes on the same model as the others, often lightening the color of children's eyes. In the caption, the account encourages people to choose between the different versions.
People are engaging in the choice and comparison game, typing "1" and/or "2" in the comments.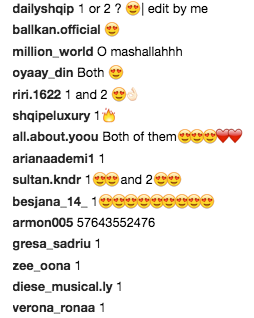 People also are expressing concern over the editing in the comments. "Why would you edit a picture of a baby who's beautiful just the way she is?" one person asked.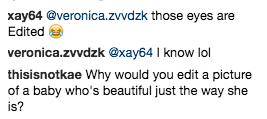 The edits also seem to extend beyond eye color. This series of edits from @chrysusbitch also include a version in which freckles are added to a child named Maya (who does not have freckles).
"These type of comparisons contribute to the self-esteem issues we see plaguing many young girls today," Maya's mom adds. "There are real, every day people behind these photos."
Some users claim this image of a child has both been photoshopped with a new eye color and had eye makeup layered on.

The comment section of this photo, like others, show people completely unfazed, casually commenting, and submitting their votes...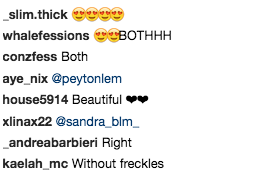 And those calling the entire trend into serious question.

One account called @exquistebae has tried to retaliate against the naysayers, writing in a heated caption that they see nothing wrong with the practice. "HATERS WILL GET BLOCKED," they wrote alongside one photo of a child.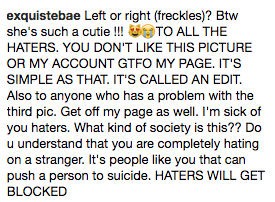 The debate in some ways has only begun, and it will wage on.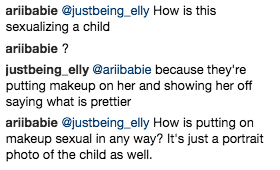 UPDATE
The post has been updated to include responses from the mother of a child whose image had been stolen and photoshopped by the Instagram account @chrysusbitch.