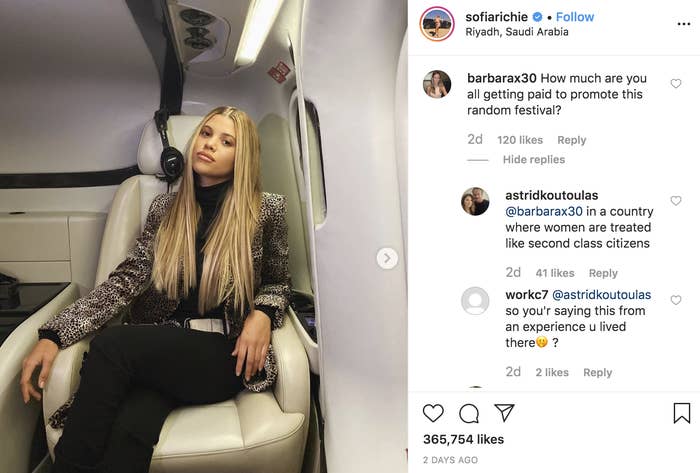 A large influencer and celebrity campaign that sent big names like Sofia Richie, Armie Hammer, and Winnie Harlow to Saudi Arabia to post about a popular music festival is drawing heavy criticism online, including from other top influencers who said they turned the deal down.
MDL Beast, an electronic music festival held in Riyadh, Saudi Arabia, over the weekend, allegedly flew in famous people from around the world to attend and post about the event.

Influencers who oppose the effort say it's an attempt by the Saudi government to "positively promote travel" to the country. They and many others online felt the government was making an attempt for some positive PR amid the country's recent and historic human rights violations. Some of the incidents people are citing against the regime include the death of journalist Jamal Khashoggi, two journalists who were outed as gay and detained, and the Saudi government's history of oppression of women and other marginalized groups.
The timing of the influx of posts promoting the music festival is interesting, as five men were sentenced to death on Monday for their roles in Khashoggi's death. Many outside observers, however, have claimed that Saudi Crown Prince Mohammed bin Salman was ultimately responsible for ordering Khashoggi's murder. He has denied these accusations.
People are now criticizing the music festival attendees in comment sections of their social media posts, telling the influencers and celebrities that they should be more responsible about what they're supporting. After Hammer posted an Instagram about the "cultural revolution" he said was happening in the country because of the music festival, a debate began in the comment section.

"Maybe he didn't know about the news ... he just there because he want to have fun," one defender wrote.
"In his position as a celebrity, he cant just afford to have a fun in a country that is oppressive to women like no other," someone responded.

"He's a smart educated well travelled man who i can guarantee knows what's happening in saudi Arabia," they added. "I just think his people asked him to post & he didnt think twice about it. Its irresponsible because He has a fan base."
Influencers like Emily Ratajkowski and fellow model Teddy Quinlivan were some of the most prominent people who criticized the campaign.
"If you're been thinking you're seeing a lot of influencers in Saudi Arabia you're not wrong...The Saudi Arabian Government is paying influencers to positively promote travel and events in Saudi Arabia. To save face after the brutal assassination of Journalis[t] Jamal Kashoggi," Quinlivan wrote in an Instagram story.
She called any influencer who accepted the deal "a fucking sell out."
Quinlivan told BuzzFeed News she "felt a duty to bring awareness to this issue" because she was afraid influencers "were being used as tools by the government."
"Many of these influencers I know personally and are amazing people. I assumed many of them had no idea what they were promoting because maybe they'd been misinformed or hadn't been paying attention to current events," she said. "I was shocked to see no one talking about it and I felt I needed to speak up."
Ratajkowski shared her own Instagram story over the weekend, saying she declined the offer.
"It is very important to me to make clear my support for the rights of women, the LGBTQ community, freedom of expression and the right to a free press. I hope coming forward on this brings more attention to the injustices happening there," she said. BuzzFeed News has reached out to Ratajkowski for comment.
Some famous people who were attacked for their Saudi Arabia posts responded in kind.
Actor Ryan Phillippe has aggressively defended himself and his decisions to share many posts of his travels in the country.

"i had a magical day with wonderful people," he wrote in an Instagram comment. "i love travel. i love different cultures. i love how we can find ways to connect through our human oneness, the pure desire for love and freedom. no matter where in the world. hoping those connections help to bring even more positive change and progress."
Phillippe argued in the Instagram comments that all countries have "issues" and "faults." He said he believes that Saudi Arabia is "changing and progressing rapidly."
He also called his dissenters "ignorant to truth" and "wrong."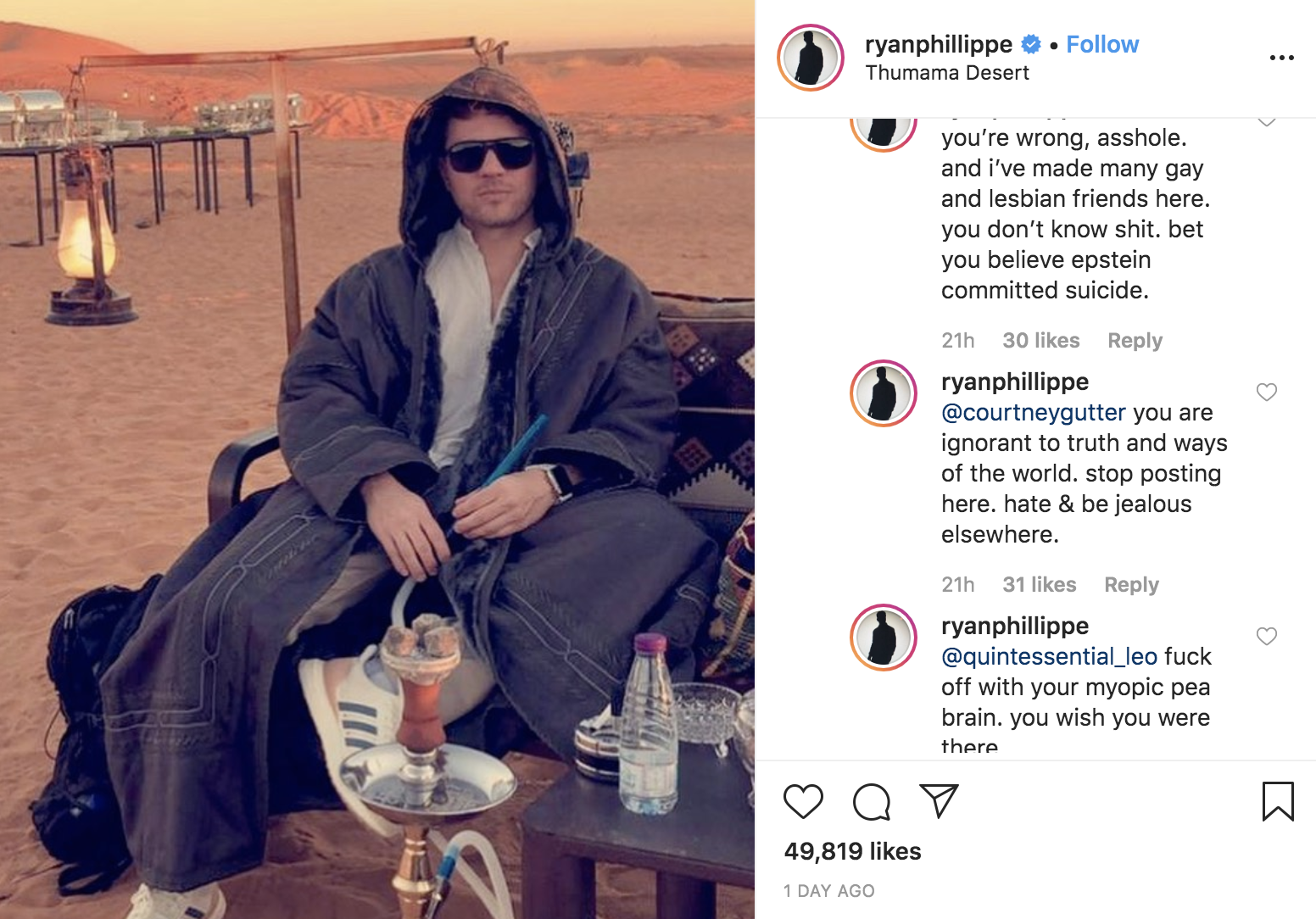 Unfortunately for Phillippe and other influencers, people are continuing to put pressure on them about what's wrong and right to post online when it comes to being paid.
"Hundreds of thousands of innocent children/women/men killed by Saudi Arabia in Yemen. Many other instances of human rights abuses included the brutal torture and murder of a United States legal resident/journalist. Does Mr. Phillippe need money this badly that he associates himself with such abhorrent people?" one commenter wrote.
"Shouldn't there be a time in rich peoples lives when they say 'I'm fine, I've got plenty and my kids will inherit millions. I'm going to ensure I lead a righteous life.'"
BuzzFeed News has reached out to MDL Beast, Hammer, and Phillippe for comment.
"As influencers and Public Figures who stand for progressive values it's important to know where our money and jobs are coming from," Quinlivan wrote to BuzzFeed News.
"Our platforms bring validity to what we promote and they reach massive audiences. It's clear that along with social media becoming a tool for propaganda, influencers are being weaponized as well."