On Friday, in a tweet that has since been deleted, the New York Observer's Dana Schwartz claimed a photo of President Donald Trump and former President Barack Obama had been photoshopped to enlarge Trump's left hand.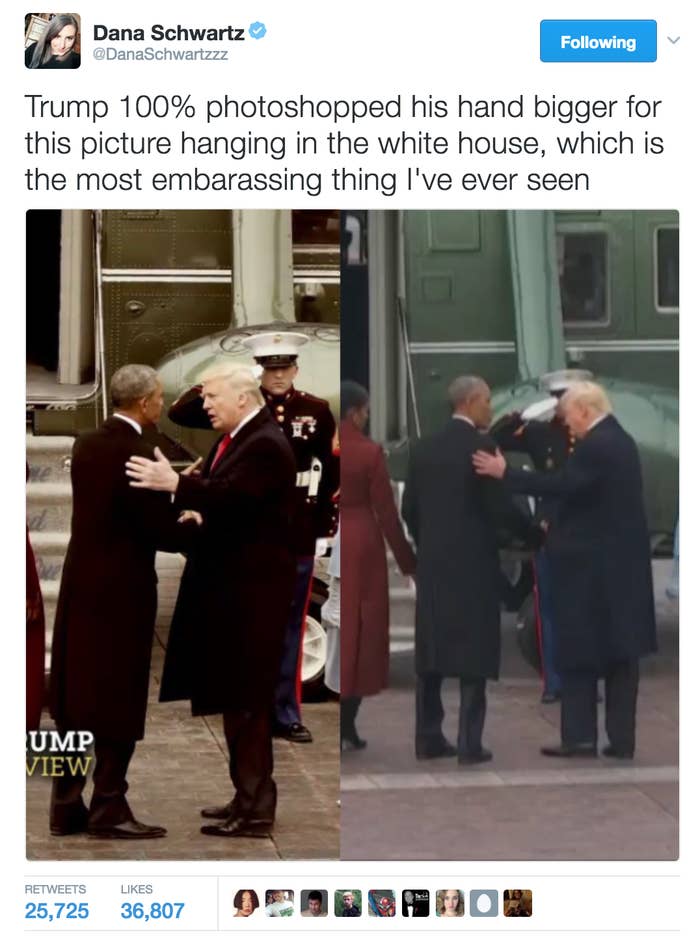 Her tweet was immediately picked up, with a flurry of jokes and shocked responses.
The only issue was that Schwartz had put two different photos next to each other in her original tweet. She then went to Getty to download a similar photo and juxtaposed them to prove the photoshopping. But they were still different photos.
People online didn't just take her word though. They did their own photo forensics with these two photos — all to prove Trump's hand was enlarged. And by a great deal.
There were circles.
There was isolated hand-cropping.
GIFs were even created to show the difference in hand size.
Neither Getty nor ABC News have commented on the photoshopping allegations. But people online have already started debunking the claims, and those who believed them have started backpedaling.
There were then GIFs to disprove the Photoshop allegations, and to prove the hands are the same size in the ABC News screenshot and the Getty wire image.
Soon, and expectedly, #handgate became a trending hashtag. And people started mocking the internet detectives.
And, of course, the jokes rolled in.
"Trump CLEARLY replaced his wife Melania with this photo of Peter Dinklage holding a laser cannon."
In a series of tweets, Schwartz has apologized for making the claim and "inadvertently contributing to a culture of not knowing which facts are legitimate."
This all just ultimately proves everyone is in need of a lot of sleep after this week.