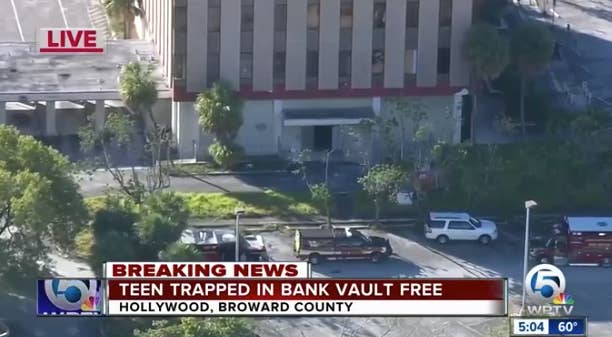 A teen in Hollywood, Florida, had to be rescued after authorities were notified he was trapped inside an old bank vault, according to local reports.
Fire officials told Miami Fox affiliate WSVN that a 17-year-old teen wandered into the vault, which measured 14 feet by 14 feet with 2-feet thick concrete walls, Wednesday afternoon when the door closed behind him.
A friend reportedly called police hours later when the teen couldn't get himself out.
BuzzFeed News attempted to reach the Hollywood Police Department but was told all officers were still out on the scene. The dispatcher said she'd been following the local news' live feed of the incident as it was unfolding.
Brian Entin, a reporter for WSVN, said "bank vault experts" were even called to assist with the rescue efforts of the teen.
"Vault specialists are now on scene to help get teen out of the bank vault," Entin tweeted. "Steel rebar is preventing their saws from cutting through the concrete."
The rescue effort took several hours before the teen was finally out. Surrounded by city officials, cameras captured him walking out of the vault covering his face with his shirt.
How the teen got himself trapped inside the vault, and why he was there in the first place, remains unknown. The teen dodged these very questions by reporters as he got into a car to leave the scene with his parents after he was rescued.