A conspiracy that was started by right-wing sites and amplified by online trolls suggests that the Florida student activists demanding gun restrictions are actually actors pushing a liberal agenda. (This is a false claim. The students are not actors — they lived through the most recent school shooting.)
In fact, on Tuesday, Donald Trump Jr. liked two tweets that pushed the theory that one of the Parkland, Florida, shooting survivors, 17-year-old David Hogg, was "coached" in his efforts to advocate for gun control legislation.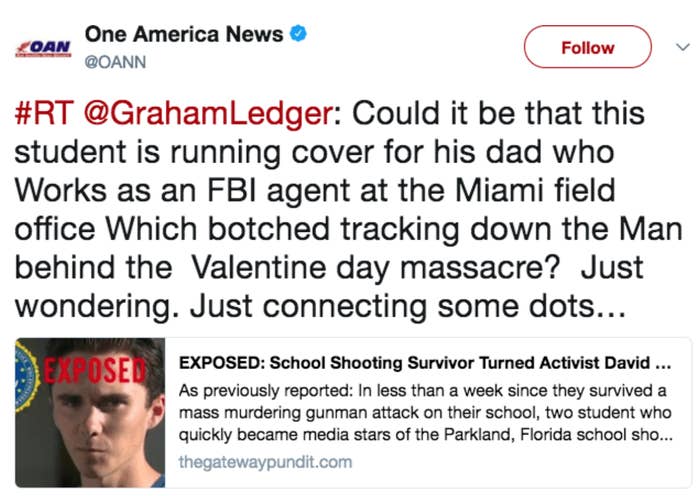 Conspiracy theorists are even going through old tweets and memes by some of the Florida students to raise similar skepticisms.
The students are now responding in a way that teens fluent in social media could probably be expected to: They're trolling back. Cameron Kasky, a 17-year-old survivor and organizer who came up with the name of their movement, "Never Again," poked fun at the fake claims against Hogg in a tweet.
His dad, Jeff Kasky, is even joining in with his own sense of humor. He shared an old photo of his son reading the New York Times, and mockingly wrote, "What EIGHT YEAR OLD kid reads @nytimes on vacation?"
Cameron tweeted his dad back with trolly banter. "What father doesn't force his EIGHT YEAR OLD to cut his hair?" before tagging the the tweet with the main hashtags of their movement.
"Never Again" member Sarah Chadwick also came to the defense of Hogg — facetiously.
One student put his hands up and finally admitted to the conspiracy — and with an impressive résumé: "I'm a Crisis Actor brainwashed by the left. They chose me because I played lago, Mr. Potato Head, and King Triton in camp musicals as a kid."
Despite the trolling back, in a statement to BuzzFeed News, Hogg called the conspiracies and smear campaigns waged against him and his colleagues "immature, rude, and inhumane."
Marjory Stoneman Douglas High School senior Emma González said she and other students literally laughed out loud at the notion of being paid actors. "I'm thankful that there are people out there finding doppelgängers for me," she quipped.
Read more about how the Parkland students are proving to be a foil for the pro-Trump media's trolling tactics here.