Several viral Facebook posts and tweets are warning people of a deceptively potent drink called Capriccio Bubbly Sangria.
Although not a whole lot is known about the exact make and contents of the bottled sangria, its national sales director once described it as "full-bodied," "sweet," and that it "over-delivers on the alcohol content."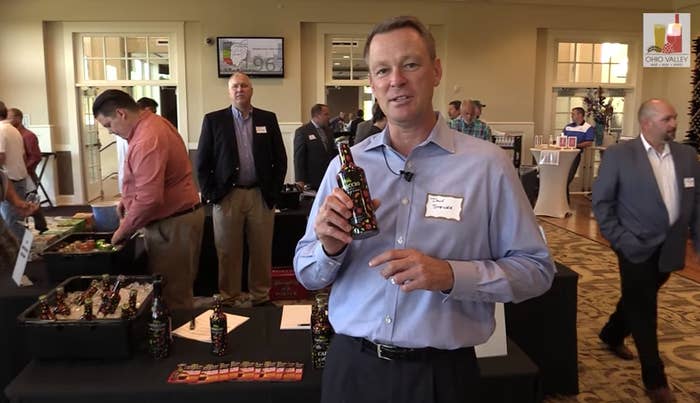 Capriccio Bubbly Sangria is a product that was launched in 2014 by a Florida-based company with distilleries in Puerto Rico.
The company's national sales director, Dave Steiner, introduced the drink at an event in Ohio as a "100% natural product," and said a bottle "is equivalent to two glasses of wine."
Over the weekend, Twitter user @TheStateOf__ shared several different social media posts about the drink. People claimed only a small amount of the drink, which has 13.9% alcohol content, made them heavily intoxicated — or, as one person put it, "drunk fuck lit."
Others who apparently tried it for the first time over the weekend shared their experiences with very descriptive language.
Someone who supposedly drank it on Mother's Day said it had her rekt.
BuzzFeed News has reached out to a handful of these users/reviewers/victims.
Many others said they couldn't even finish one bottle, and warned folks to not try it for themselves.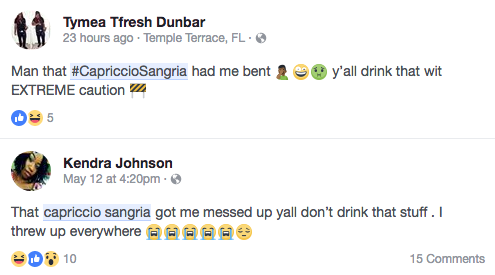 People then emphasized the warnings. "This shit right here is no joke...they are not exaggerating."
Their descriptions of what the drink is like were somehow both entertaining and unnerving.
"Capriccio is IN NO WAY sangria, is the devil' blood. I really can't remember how my nights ended when I drank it."
It's been touted as the new Four Loko (RIP).
However, these tweets haven't really turned people off. In fact, it's spiked curiosity online.
This has some people speculating that the hype could all be a large, elaborate marketing campaign.
BuzzFeed News has reached out to the company, as well as a handful of users who've posted about the product.
Although some said they, or people they know, are really getting shitfaced off of it.
Most people, it seems, don't care either way.
They're ready to risk it all.
But seriously — this is the lame but important part of the post where we tell you to please not be stupid and drink responsibly.