About two minutes in, a cartoon image of a crying West in a MAGA hat is seen being embraced by a cartoon Obama.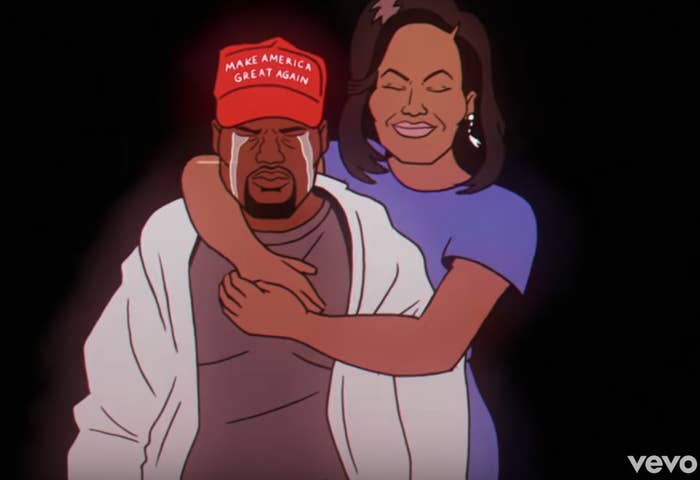 Obama smiles as West sheepishly looks over to her. The image seems to be a response to West's growing support of Trump and far-right politics, which culminated in the infamous moment on TMZ in May where he proclaimed that slavery was "a choice."
The embrace is being interpreted in all kinds of ways. Some people appreciated it and kept it as simple as that.
Others said they found it problematic that a black woman was being portrayed to "fix" the problems created by a man, as the narrative commonly gets written this way.
The Root even called attention to the criticisms with a quippy tweet. "According to Childish Gambino, Kanye West needs a black woman to save him. Also related, water is wet," the magazine wrote.
Soon people reacted to and countered the initial reading of the moment, and said they read it as "a strong mother figure" giving Kanye much-needed love and guidance after his own mother died in 2007.
The different interpretations of a few seconds of the video have become their own moment. Some are telling critics to "chill."
It even prompted the Root to issue a follow-up tweet on Monday clarifying that its initial criticisms were its own, not Gambino's.
People are baffled that a cartoon image has caused such an uproar. But isn't that what hashtag l'art is made for?