Prominent YouTuber David Dobrik is sparking mixed reactions to a video of a prank he pulled on a friend's younger brother. With the help of their entire family, he aimed to convince the kid that he was made instantly invisible.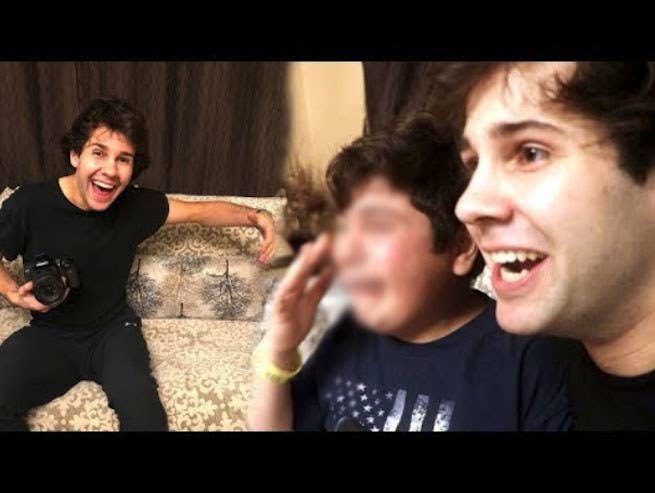 Dobrik, who has a fanbase of nearly 9 million subscribers, shared the video titled "CONVINCED BROTHER HE IS INVISIBLE!! (EMOTIONAL)" last week. It's already garnered over 5.2 million views.
The YouTuber explains on camera that he and his friend's family are all conspiring to convince his friend's little brother, a kid named Vardan who has his own YouTube channel, that he has actually disappeared.
Vardan appears to be fully convinced he is invisible by the end of the video, and begins crying in distress. Dobrik and the family finally tell the boy it was all pretend. Vardan then seems to be instantly amused and says he's going to "brag" about it at school.
The challenge was inspired by a scene from the Netflix show Magic for Humans, where host and magician Justin Willman successfully convinced a stranger — in this case an adult — that he was turned invisible.
The prank involves a few things to try to convince the child that they're "invisible." These include removing a sheet, the family reacting in shock to the child's "invisibility," and preplanning a photo without the child in it.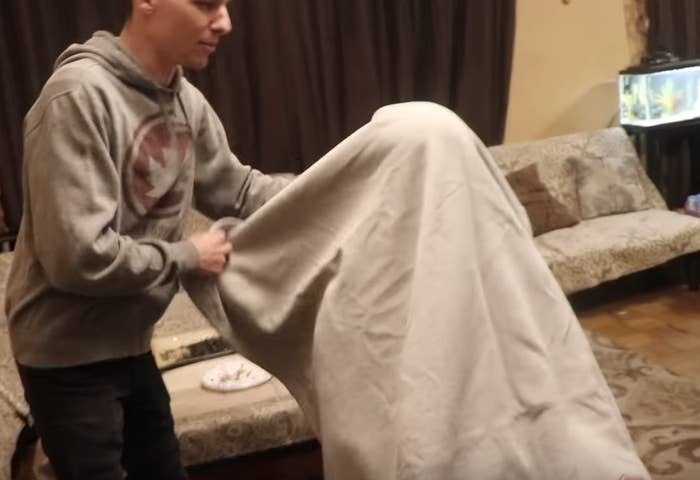 A family member eventually places the sheet back over the child to mimic bringing them back from invisibility.
In the video, Dobrik and Vardan's family say they "felt bad" he was crying, but couldn't help but laugh.
"That was amazing," Vardan says after realizing his family was only pretending he was invisible.
Many commenters were wildly entertained by the video.


Across other social media, people said they couldn't wait to try to pull this on their younger siblings or family members.
Some have already filmed and shared their own versions (that have gone massively viral themselves). Eighteen-year-old Makayla Cunningham told BuzzFeed News she immediately thought to try it on her 11-year-old little sister.
"I saw a video that David Dobrik posted of him doing the same thing to another little boy and my friend sent it to me and said that we should do it to my little sister Ava," Cunningham said.
She then got her entire family "on board" to carry the prank out on Ava.
"Well that escalated quickly," she captioned the video, which showed her little sister screaming, breaking down, and falling to the floor when she believed she was truly invisible.
Cunningham's video from this weekend has been retweeted more than 229,000 times already.
"When she started to get really emotional we stopped the prank immediately, my heart dropped, and we hugged on her and told her it was OK," she said.
According to Cunningham, after Ava realized it was a prank, she began "laughing hysterically" and apparently told her family, "OK, you guys did a great job."
"She is totally fine, and is still her happy energetic self," her older sister added.
Over the last week, it's inspired numerous new videos on YouTube and Twitter. But it's also bringing up criticism and some serious concerns from people. Some said they don't find the prank funny at all.
Some are calling it "abusive" to kids.
The reactions seem to be starkly split between total amusement and total concern over its potential "cruel[ty]."
"Interesting how frightening the life out of a child and laughing about it has become the new 'challenge,'" someone wrote in response to Cunningham's viral video.
In response to the criticisms, Cunningham said she's "sorry" to hear them, but that she doesn't "regret doing it because it was in fact hilarious and made a lot of people smile."
YouTuber Jennyfer Suero, who has a relatively small presence on the platform, filmed and shared her video pulling the stunt on her 8-year-old sister. She told BuzzFeed News "as long as the prank is kept short" and "honest" with the child being pranked, she doesn't have any qualms with it.
"She's very smart and understands what a prank is," Suero said of her younger sister. "After the cameras were off we explained some more and even talked about it as a family."
She said her sister laughed about it afterward and consented to the video being posted.
"Age can also play a very key factor in the making of this prank," she added, acknowledging that she "can see how on a younger child this can cause trauma."
Online, the reactions continue to ping-pong between people debating just how funny and safe the prank actually is.
BuzzFeed News has reached out to Dobrik.