Following an outpouring of support from concerned citizens and celebrities toward Keaton Jones — the young boy who was recorded speaking emotionally about being bullied — new controversy surrounding Keaton's mother has dramatically changed the narrative.
Kimberly Jones has not responded to BuzzFeed News inquiries, and she's deleted or privatized most of her social media presence. However, someone running an Instagram account claiming to be her has been responding to followers of Keaton's story and sharing donation channels for Keaton.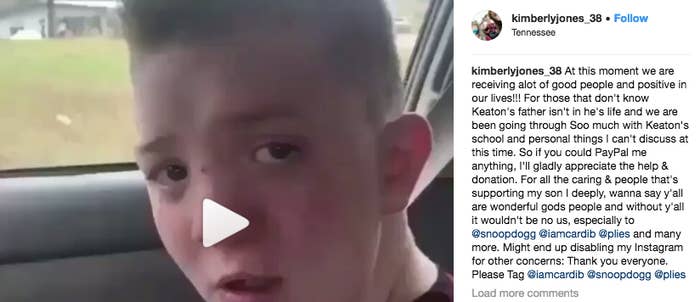 However, drama unfolded in strange and sudden succession on Monday when Kimberly's alleged Instagram account shared its own GoFundMe for Keaton to undercut and spite Lam's initial GoFundMe effort. (The "Give My Son A Good Christmas" campaign has since been deleted.)
People in the comments wondered why "Keaton's mother" would be trying to raise money and what the funds would be used for.


Some cast doubt over whether the Instagram post or account was authentic. They began directing people to another Instagram account claiming to be Kimberly.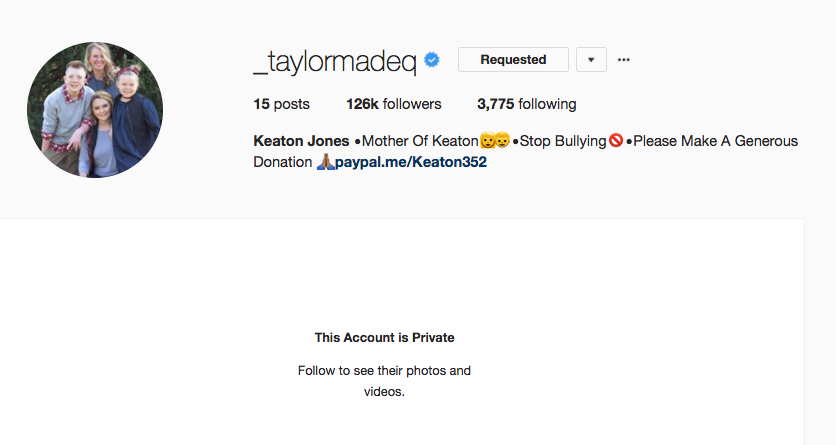 However, the handle @_taylormadeq has had ties to different personalities and photos in the past.
Lakyn Jones, a woman claiming to be Keaton's sister and Kimberly's daughter, told BuzzFeed News the account @kimberlyjones_38 "is not affiliated with me or my family."
The two accounts now seem to be interacting with each other — but the original @kimberlyjones_38 account maintains that they are the real Kimberly Jones and have asked followers to report @_taylormadeq.
And if that's not enough, here's another twist: Before Kimberly's Facebook account was privatized, people claim to have discovered and screenshotted photos of the family holding the Confederate flag, as well as a Facebook post railing against those who protest the Confederate and/or American flag.
Kimberly Jones's alleged posts are being called racist (comments on her alleged Instagram are also flooded with similar labels).
Some quickly clarified to say they are not holding these new revelations against Keaton — but "towards your hypocritical, potentially racist mother who is using this for financial gain," one person wrote.
"My heart goes out to anyone dealing with bullying, but wassup with the racist images on Keaton Jones' mom's facebook page? Wouldn't that kinda make her a bully too?"
While the footage of Keaton and his message about bullying continues to make a powerful impact online, people are questioning his mother's motives for filming him.
Some are saying that if the allegations against Kimberly are true, they hope it could be a teachable moment for her as well.
UPDATE: Kimberly and Keaton appeared on Good Morning America on Tuesday and addressed the controversy. About the Confederate flag photos, Kimberly said they were meant to be "ironic and funny and extreme."