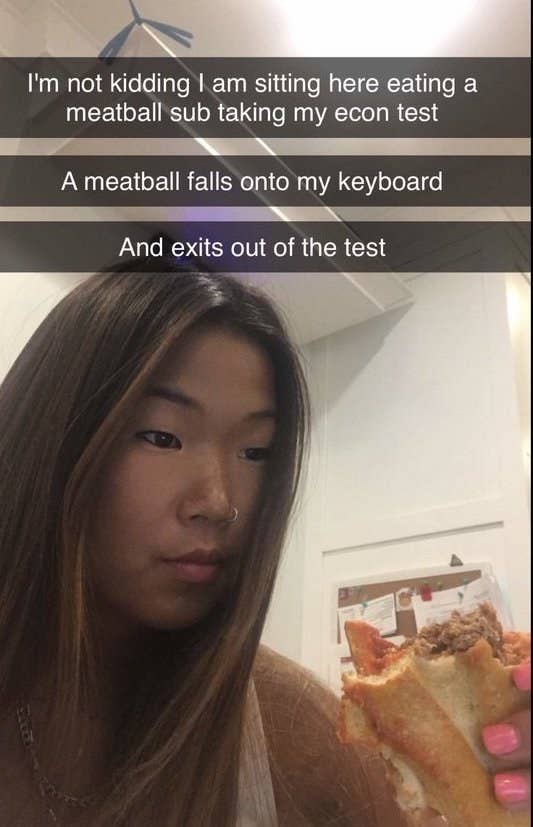 A junior at the University of Georgia said her professor kindly gave her another shot to finish her economics exam after a meatball sub incident logged her out prematurely, giving her a failing grade.
Sam Lee, 20, was eating the sandwich while taking the test when a meatball fell onto her keyboard.
"It hit some sort of escape button and closed the entire browser," she told BuzzFeed News.
Lee said she was initially "more worried about [her] sandwich and computer ... that either one of them would be ruined." But when she realized the screen she was taking the exam on was no longer there, she really began panicking.
"I then took about six hours to write an email to my professor and sent it later that night," she said.
Dear Professor Lastrapes,

I had some technical difficulties and outside distractions during the test today. Something hit my computer and caused it to submit the test when I had less than half of the questions answered. By something, I mean a meatball that had tragically fallen onto my keyboard as I was taking the exam. This said meatball caused some malfunctions with my laptop and caused the test to submit itself.
According to Lee, her test results came back at 39%. So she concluded her email to her professor by asking if she could take the test again.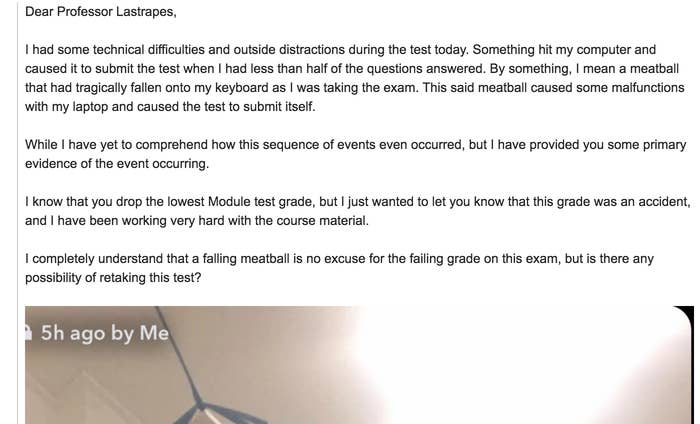 To her surprise, her professor responded the next day, and very empathically.
"Samantha, well, this is certainly a new and unusual excuse for a low score! But for that reason it seems unlikely you've made this up," he wrote in his response. "I've extended your deadline for the module 6 test until midnight tonight."
Her professor then cheekily added, "I would recommend you take the test either before or after dinner. :-)"
BuzzFeed News has reached out to Lastrapes, but Lee warned that he is probably very busy with grading.

"I was overjoyed with his response," she said, and confirmed that she did retake the exam that day, and "did slightly better."
Lee's Twitter post about the meatball incident went viral. And while it has amused people, a lot of the reactions and shares were about her professor's generous gesture. A handful of people said their professors would not have "tolerated" the meatball excuse.
Some people shared adverse and harsher responses from their professors when they were in a predicament.
"I had surgery the same day as a physics test and when I showed my prof the drs note she announced to the class that she doesn't allow makeups or early test taking under any circumstances," one person wrote.
However, there were others who could more positively relate to Lee's situation.
"Honestly, I am extremely surprised that this went viral," Lee said. "It's very ironic to me that my short-lived fame was from a ball of beef, but I wouldn't have it any other way."
"Never trust a meatball no matter how trustworthy it may seem," she added.