This is Please Like Me, BuzzFeed News' newsletter about how influencers are battling for your attention. You can sign up here.
Celebs and influencers are auctioning off their ~time~ for charity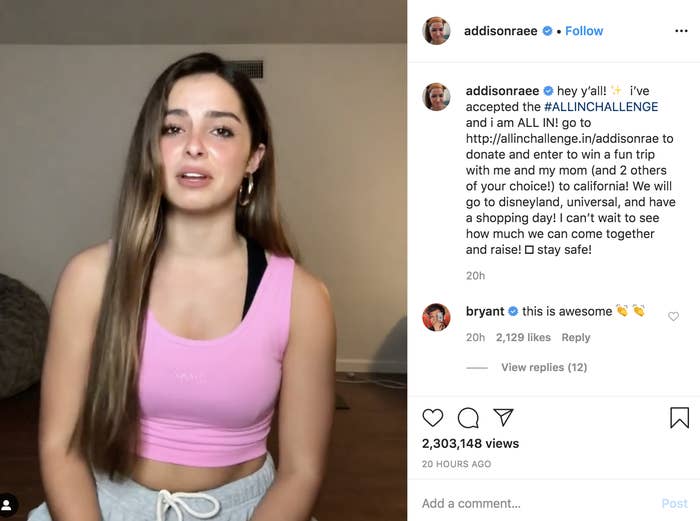 Over the past week, I started to notice a bunch of #AllInChallenge promo posts cropping up on Instagram.
Big-name celebrities and influencers from across industries and social media platforms, like Kim Kardashian West, David Beckham, Shawn Mendes, Addison Rae, Sway House teens, and this doctor influencer, are getting involved. Famous rich people were also nominating each other left and right for the challenge. So I was like, All right I'm all in, but what are we all in for?? What is this #AllInChallenge?

Turns out the All In Challenge is an actual foundation created — extremely fast, I must say — by the founder of the sportswear company Fanatics, Michael Rubin, with funding from his friends, entrepreneurs and venture capitalists Alan Tisch and Gary Vaynerchuk. According to the website, it's aiming to be the "world's largest digital fundraiser in history" by trying to raise "tens of millions" for charities that address food scarcity due to the coronavirus pandemic.
"Food insecurity is a mounting issue but never more important than during COVID-19," the organization's website said.
To do this, the foundation has launched this enormous campaign to have the biggest stars on the internet auction off IRL experiences with them at some point in the future with safer conditions. Kim K is auctioning off a chance for fans to spend time with her during the filming of a Keeping Up with the Kardashians episode, David Beckham is auctioning a soccer match with him and his Inter Miami CF team, and Sway House TikTokers are offering to fly a fan out to feature them in their TikToks, give them merch, and generally hang out with them for a day.
There are over 300 experiential things you can bid on. The organizers say all of the proceeds go toward nonprofits like Meals on Wheels, No Kid Hungry, America's Food Fund, and World Central Kitchen. A spokesperson for Fanatics told me the foundation has raised over $26 million as of Thursday afternoon.
During a time when famous rich people are, well, still famous and rich but incredibly bored and probably pining both for attention and to be a good influence, this seems like a perfect opportunity. This challenge benefits both the influencer and the causes they'll serve. Even though people have asked some of the richest celebrities, like Kim, to give out of their own deep pockets without self-promotion, this is the best they're doing right now, I guess. Famous people have a lot of time these days, and that time is apparently valuable.

I also wonder if this new foundation will consider distributing money to other causes related to COVID-19. Is there a timeline for the All In Challenge? Will the organization exist and thrive after our climate recovers? Or will it reinvent its celebrity charity strategy for the next cause? Is this for longevity — or is this a more well-established and large-scale loop-type of giveaway venture?
I've also asked the foundation these questions and will give you an update if I hear back.
Until then, if you or someone you know has won an auction, please get in touch with me when the day comes that you get to eat a salad with the Kardashians, or direct a movie with Jonah Hill (??), or appear on The Ellen DeGeneres Show (especially this, big-eyeballs emoji). I need to know everything.
~We're all in this together~,
Tanya
Taza's disastrous return to paid content was completely avoidable
About a month ago, New York City parenting blogger Naomi Davis went mega-viral for fleeing the city with her family in violation of CDC recommendations and received immediate backlash.
After the dust settled from the initial outrage, I became curious about how Naomi and her brand, the blog and Instagram account Love Taza, would recover from it, asking in this newsletter if these scandals would be the tipping point for the influencer industry. This week, I discussed this issue with Kate Kennedy on the Be There in Five podcast, and she made a great point: Many influencers try to operate like a business, but when they get criticized, they revert to handling said criticism as if they were a private person. I think Naomi is a prime example of this. Her response to the backlash was to try to get people to see herself as a private person, not a public figure, who therefore couldn't be criticized for the decisions she made for her own life.
For a few weeks after, Naomi went fairly dark on social media. She apologized in an Instagram story and in a comment on her post, and has put up a few photos of her children. But she stopped her usual prolific Instagram stories, ads, and typical mommy blogger fare. However, I knew she would have to return to her normal content, including ads, sooner or later. Naomi's blog is a full-time job for both her and her husband, Josh, and they need to continue to post ads to maintain their revenue.
Unfortunately for the Davises, their return to posting ads marked yet another severe misstep in their handling of this scandal. After posting the few innocuous family photos, Naomi charged back into business as usual by posting an ad for the vitamin startup Ritual this week. Looking at the photos and the ad copy, you would never even know anything had happened in Taza land, besides a brief acknowledgment that they were no longer in New York. Naomi wants to go back to normal, but her followers weren't ready for it.
Commenters soon flooded her post with negative messages and also criticized Ritual. They also replied to a post Ritual had done the same day with comments about the Taza partnership.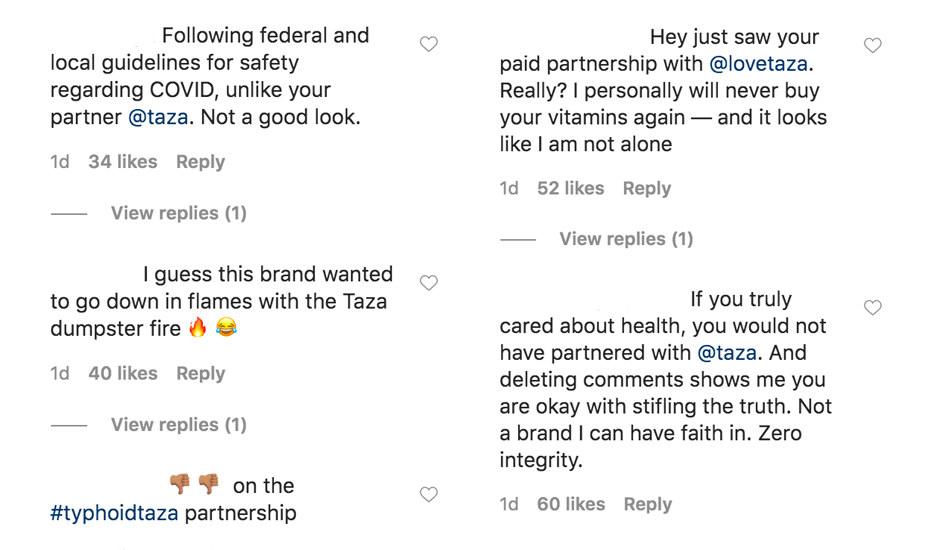 Within hours, Naomi had deleted the ad from her feed. Ritual responded on social media to the angry commenters, writing that the brand and Naomi "mutually decided to take down her post and story." Sources familiar with the matter told BuzzFeed News that the deal was only ever meant to be one post, and it had been made in early March. Naomi didn't return a request for comment.
Naomi and Josh are in a tough spot. They have to continue to maintain their brand for their livelihood, but they haven't done the work to win back the approval of their audience. In this confusing and challenging climate, I think followers are looking for authenticity and truth from the influencers they follow. Followers accept that influencers need to pay the bills, but they also want some accountability. If Naomi would truly acknowledge her mistakes, admitting she let down the followers who pay her bills and slowly win their trust by being open and honest, she probably could return to paid content eventually. But instead, she seems to have swept it under the rug and expects her followers to continue to support her livelihood without issue. That's a problem.
The people who built Naomi's brand and gave her the opportunities she has today deserve better than this. And if they want to survive, Naomi and Josh should hold themselves to a higher standard too.
—Stephanie