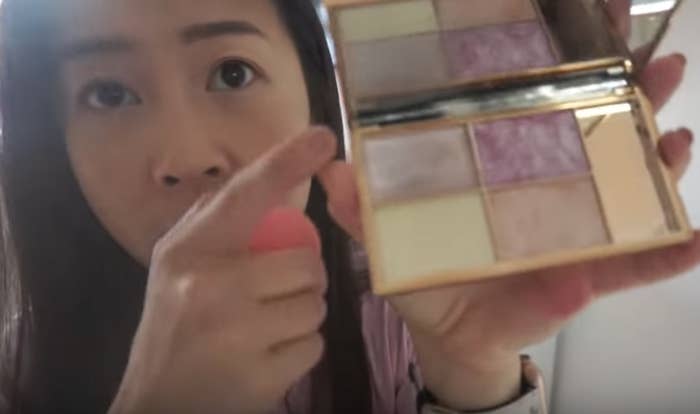 A popular beauty guru and mom influencer is being called out for trying to defend a video, specifically one scene in it that has spurred online attacks, by saying celebrities are affected by criticism — and then using the recent death of K-pop idol Goo Hara as an example.
Lindy Tsang, who goes by Bubzbeauty and has over 2.8 million subscribers on YouTube, only further angered fans of hers and Goo's by equating the two situations.
The whole saga started with a penis-shaped soap.
On Tuesday, a clip from Tsang's latest vlog sent a wave of negative comments her way. Some people took issue with a scene in which her young son played with the phallic object, saying it was inappropriate to allow it to happen and then publish it on the internet.
Tsang tried to respond to the comments in a series of Instagram posts, which have since been deleted.
"To those who are butthurt about this being inappropriate, don't worry and chill!" she wrote in one. "The guy has never seen an erect penis in his entire life. To him, it's a cannon."
Tsang told BuzzFeed News she was "never upset about the soap incident," and that people are making the issue to be more serious than it is.
"I just learn[ed] to look at the soap with my son's innocent lenses," she said. "I think life is too short to be serious all the time."
The issue only exacerbated when Tsang continued to defend herself as a parent via Instagram stories. She began talking about cyberbullying and made mention of the K-pop star's untimely death as a potential result of incessant online attacks.
In late November, Goo was found dead in her home, following the death of another K-pop star and her close friend, Sulli, a month prior. While the circumstances of Goo's death are still being investigated, reports of online harassment and domestic abuse were tied to their life and deaths.
Tsang angered a lot of her followers and avid fans still mourning Goo's death when she claimed she was being unfairly attacked, and that Goo killed herself as a result of the same thing.
"Celebrities and influencers are not immune to your judgment even though you expect them to suck it up. They're people. With feelings," she wrote in a follow-up Instagram post. "You cut them open and they will bleed the same colour as you."
Then, in another screenshot of a message defending the "penis soap," Tsang added, "Recently I heard in the passing of yet another Korea[n] Idol Goo Hara and was so saddened by the news. Now I look at idols who are popular today and wonder which one is next to suicide."
In one recent Reddit thread, people called the comparison "disgusting" and opportunistic.
"It's so interesting how she mentioned Goo Haras suicide only when it pertained to her, but didn't say a single word about it on the day she died," one user wrote.

"That was outright disrespectful of her," wrote another. "It's like she's using the tragic incident as a way to guilt-trip anyone that points out her questionable actions."

When asked if she understood people's issues with the equivalency, Tsang reiterated her original point and added that she was not trying to "use such a sad incident" to manipulate the situation.
"After the passing of two recent K-pop idols that I grew up loving and respecting, it's hitting me that cyberbullying is detrimental," she told BuzzFeed News. "I would never use such a sad incident to 'manage' or justify my criticism. I was and still [am] genuinely sad for Goo Hara and Sulli."
She added, "Things could've been different for them if they received more encouragement and love."
Online, people continue to express concern about her statements — but they seem to have at least moved on from the soap.