In a lengthy Instagram post on Sunday, rapper Azealia Banks said that she was harassed with "pre-planned colorist jokes" by the cast of Wild 'n Out during a taping of the show, which caused her to cry.
Banks said she was not scheduled to be part of the battling, which is the portion of the show where guests and the cast roast each other. However, she said she received heated insults about how she looked, like being called "ugly." She criticized the jokes as "colorist."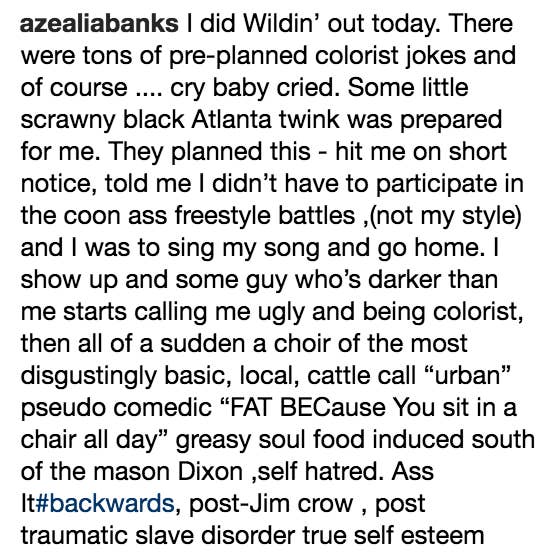 After attacking the cast for its "highly UNimpressive resumes," she said she's "never felt so much hate and rage for anyone else" in that moment.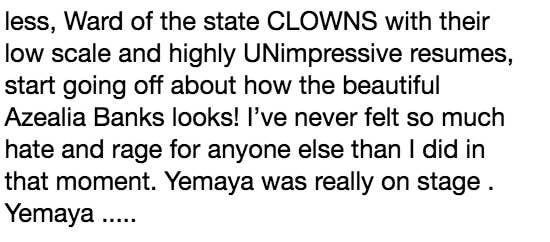 However, people on social media fired back. They said that Banks has "bullied" others herself and that she willingly went on a show known for comedic and sometimes brutal roasts.
They didn't have a lot of sympathy.
In fact, some seemed into it.
"Wild 'N Out has been on for over a decade going on Season 12 and there has NEVER been a problem until ... wait for it, Azealia Banks gets invited," one person, whose tweet has gone viral, commented.
However, some people are coming to her defense, and saying it wasn't right for Banks' skin color to be criticized. Others quickly pointed out that Banks has herself slammed other black women for their complexions in the past.
The show's creator and host Nick Cannon also responded to Banks's claims. "Don't you hate when you create your own storms but forget your umbrella???" Cannon wrote on Instagram.
Recurring cast member of Wild 'n Out Emmanuel Hudson not only took the time to respond, but also continued to roast her.
BuzzFeed News has reached out to MTV for comment.