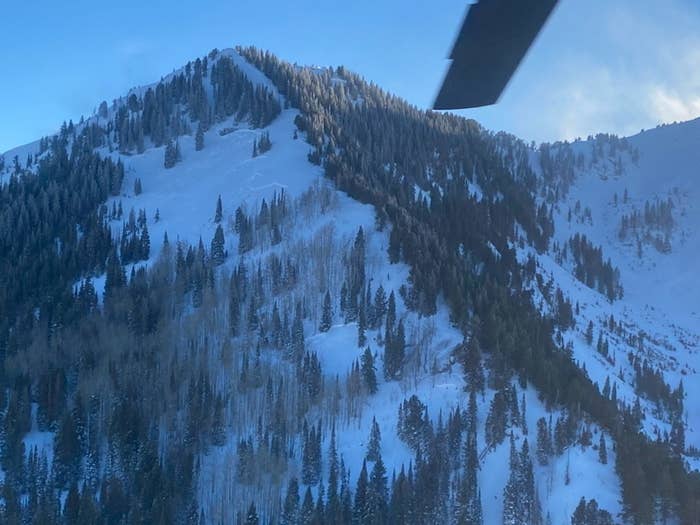 Four skiers died in an avalanche in Utah on Saturday, bringing the total number of US avalanche fatalities to 15 over the last week — the deadliest seven-day period since 1910.
An expert with the National Avalanche Center told BuzzFeed News he suspects that the coronavirus pandemic, and the rise of people doing outdoor activities, could be "playing a role in this accident cluster."
"In the past seven days, we have had 15 avalanche fatalities in the US and many close calls that could have resulted in more deaths and serious injuries," said Simon Trautman, national avalanche specialist at the center.
It was the deadliest week for avalanche accidents in the US in more than 100 years. In March of 1910, an avalanche in Wellington, Washington, killed 96 people.
On Saturday, police in Salt Lake City responded to a call about an avalanche in Millcreek Canyon that had trapped two groups of skiers. According to the Unified Police Department of Salt Lake City, four skiers were able to dig their way out of the snow, but four others died from the impact. All of them had been well prepared and had the right equipment for conditions, authorities said.
The four survivors were men in their twenties and thirties and did not have any life-threatening injuries, police said. The four skiers who died were identified as Sarah Moughamian, 29, Louis Holian, 26, Stephanie Hopkins, 26, and Thomas Louis Steinbrecher, 23.
On social media, family members and friends of those who died have begun sharing posts in their memory. Social media profiles of some of the victims showed they were frequent skiers.

Over the past week, avalanche-related accidents and deaths have also happened in in mountains across the US.
A 60-year-old man was killed in Montana's Swan Range while he was snowboarding on Saturday. A 41-year-old man died while skiing Thursday in Colorado's East Vail Chutes. A 35-year-old man died skiing in the mountains of Siskiyou County, California on Wednesday. Three men in their forties and fifties died hiking near Bear Mountain in Alaska on Tuesday. Three men died while backcountry skiing in an area known as the Nose in Colorado, and a 54-year-old man died skiing in New Hampshire on Monday.
Last Sunday, rescuers recovered the body of 57-year-old Kurt Damschroder from Park City, Utah.
He was buried in the snow from an avalanche the day before, but due to dangerous conditions and a lack of sunlight, a rescue crew was unable to recover his body until the next morning.
Trautman told BuzzFeed News that this recent string of fatal accidents is due to "weak snowpack" across the country.

"The accidents are geographically wide-ranging and are indicative of a widespread weak snowpack across the US," he said. "Much of the western US saw very little early season snow, and recent snowstorms are overloading this older, weaker snow and leading to elevated avalanche danger."
A video from the Uinta Mountains in Utah captured one avalanche taking a group of people by surprise. Everyone was OK, but the poster said they had gotten lucky.
In addition to snowpack conditions, Trautman said he believes there could also be a link between the ongoing coronavirus pandemic and the number of fatalities.
"The pandemic plays a huge role in the number of people recreating outside," he said. "Both the US and Canada have seen backcountry use spike since last spring, and it's possible that the behavioral ramifications of COVID are playing a role in this accident cluster."
He added that the accident victims of the last week appeared to be experienced, some with decades of backcountry skiing under their belts. It highlights the danger that even small avalanches can pose.
"Large avalanches are obviously dangerous. However, small avalanches are also dangerous in terrain where we can be pushed over cliffs, banged into trees, or buried in depressions," he said.

Trautman advises people who are eager to do outdoor winter activities, like skiing or snowboarding, to assess conditions in their area.
"Current avalanche information, rescue gear, and training are all essential for safe trips to the backcountry."
UPDATE
An image in this story has been updated