In a lengthy Facebook post that's gone viral, 20-year-old Malina Wu said her dad was given "terrible customer service" by Zara in a mall in Edmonton, Alberta. The incident led to her dad's face being "battered, bloody and bruised" by mall security, she alleged.
Malina detailed the alleged events over the weekend, and included images of her dad's injuries. The incident apparently transpired and escalated after she said Zara double-charged her mom's purchase and her dad tried to get a refund.
Xiabo said he followed the instructions and returned to the Zara store, but employees said nothing could be done.
He said he then no longer cared about the refund amount, but grew "frustrated" over what was supposed to be a simple transaction.
Xiaobo said the store's employees seemed both confused and skeptical about the double charge, even after he provided them with the case number. Eventually, they told him they could not authorize a refund.
"They said 'How do we know it's a genuine number you got?'" he said. "It seemed like they looked at me like I was looking for trouble."
When contacted about the refund, the Zara store employees directed BuzzFeed News to Zara headquarters, where a rep refused to comment.
After Xiabo refused to leave unless they corrected the double charge, the store called mall security. Xiabo claims the officers used excessive force to arrest him with trespassing.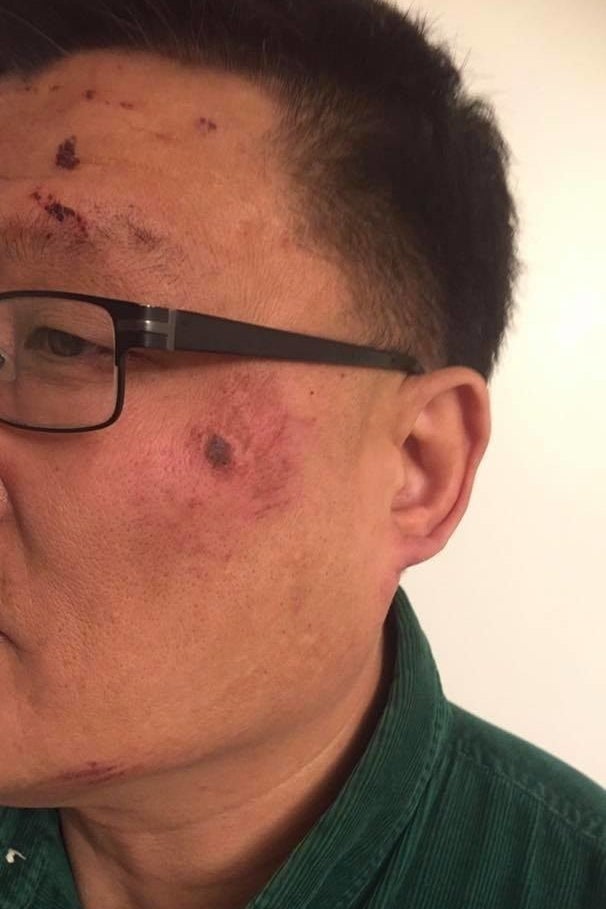 Earlier, Zara employees told CTV News security was called after Xiabo was loud and causing a scene in the store on Friday.
Xiabo told BuzzFeed News he was intentionally trying to cause a scene so other people in the store would know why he was frustrated.
"I spoke louder, my voice was getting louder," he said. "I wanted people to hear why I'm here."
Xiabo said four guards escorted him out of the store to the mall parking lot and forced him to the ground, allegedly causing the cuts and bruises in the photos Malina shared on Facebook.
West Edmonton Mall security declined to comment on the incident. West Edmonton Mall sent BuzzFeed News a statement saying per their policy, the mall "does not comment on incidents under investigation."
Xiaobo said he's in the process of filing assault charges against the security officers involved.
He added that there are several witnesses to the incident, some of whom followed him out of the Zara store as he was being escorted.
"I want to make it clear that this is not about the money anymore. It's the experience I was going through," he said. "Nobody should have to be going through this."
The local police did not immediately return a request for comment from BuzzFeed News.