25-year-old Troy G. from Washington, DC, has the internet feeling all kinds of ways over an old text exchange with a woman who had asked him out to dinner. He made the fatal mistake of responding in a series of "OK" texts, according to some passionate netizens.
Basically, in July, Troy woke up to a text from a woman he'd been seeing casually asking him to dinner that week — her treat. His blasé "Ok" response launched them into a conversation about tone, and ultimately led his date to retract the offer.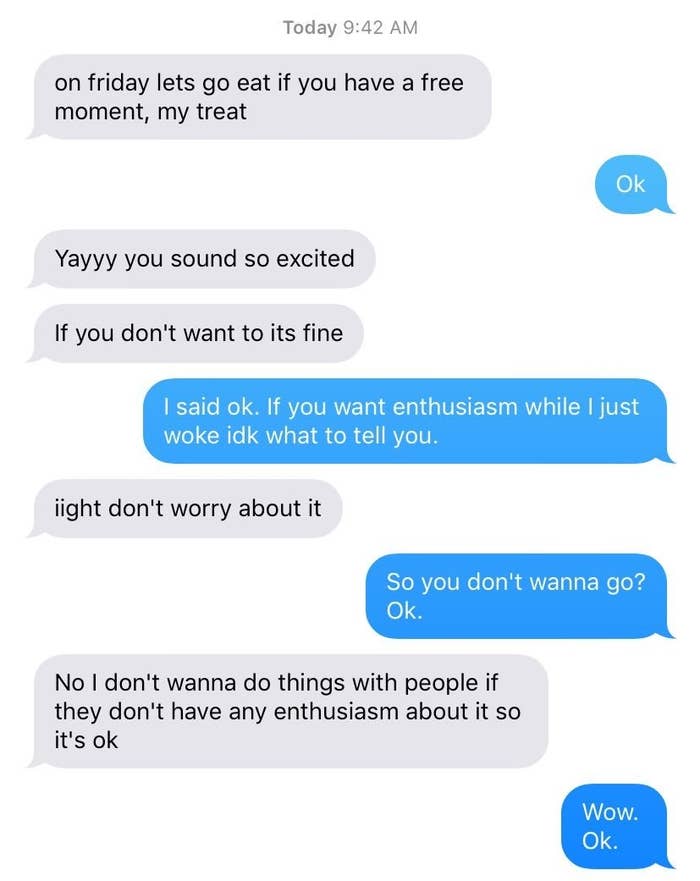 He shared the texts to Twitter at the time and it was immediately met with conflicting reactions. Some said he deserved the rejection and others defended him and his texts.
Over the next few months people continued to dissect the texts and debate who was truly in the ~wrong~.
"A lot of people say I could've faked it, but I don't get that. Why would you want someone to fake enthusiasm?" Troy asked. "It's honestly either yes or no. I said yes."
Recently, however, the conversation has not only amplified, but it's gone international, after Raymond Hernandez, 19, of Hesperia, California, tweeted his position on it all. His response has independently gone viral.
Hernandez explained to BuzzFeed News that something like "matching excitement" over text is that serious.
19-year-old Mason Hill of Sugar Land, Texas, disagrees wholly. "Text doesn't convey attitude, simple," he told BuzzFeed News after tweeting his own thoughts about it. "If you get mad, that's on you. Because that means you only care about your feelings and is not mature enough to understand the concept."
Jozea-Marie Martin, 19, from San Fernando in Trinidad and Tobago, has a more moderate take on it all. She said she identified with Troy and explained that her friends have often complained about her own "lack of enthusiasm" over text. But she sees where other people are coming from.
23-year-old Sateena from England felt the same. She told to BuzzFeed News that she's felt slighted, or hurt, by people's curt texts.
Keion Adams, 16, from Florida, thought Troy was "seriously tripping" and said he would have handled the situation "the exact same" as his date did.
People are so passionate about it that they have even taken to direct-messaging Troy. "To all the people who felt how I felt in that it wasn't that deep: you are 100% correct that it wasn't," Troy told BuzzFeed News. "I will admit that I could've waited [to respond] though."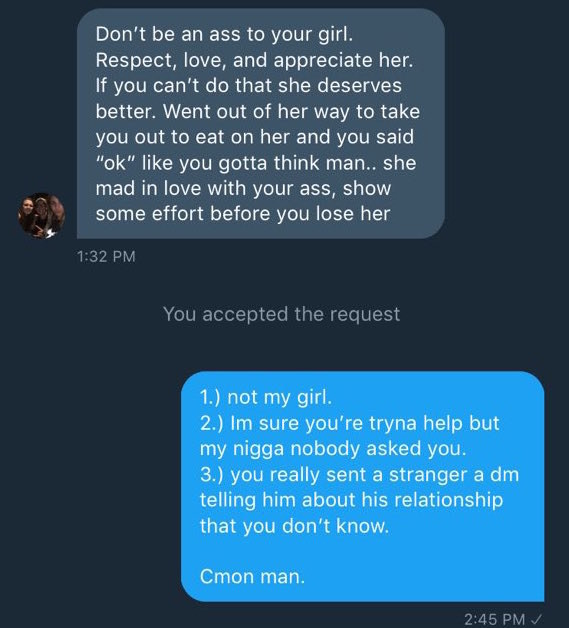 In the court of public opinion...the jury is still out on this one.