A charter school in Memphis is reviewing their policies after a note from one of their eighth-grade teachers to her students went viral. In it, the instructor, identified as "Mrs. White," wrote that students are only permitted two hall passes a month to use the bathroom, get water, or see the nurse.
A mother of one of the students at Aspire Hanley Middle School first posted the note last week on Facebook, but it appears to have been taken down.
The note quickly went viral after being reposted across social media.
Memphis native Jaadee Sykes told BuzzFeed News she's Facebook friends with the parent, and felt compelled to reshare the note on Twitter because she thought "it was abhorrent."
"This shows someone with control issues who has no power or authority at home, so they bring what little power they have to the one place where they will have no resistance: the classroom," Sykes said.
Her tweet has prompted others to also share the image.
BuzzFeed News has reached out to the parent who first shared the note.
The note, dated Aug. 20, states that students must understand they "will ONLY have 2 passes for the ENTIRE month ... to go to the Bathroom, Nurse, speak with Admin or to get water."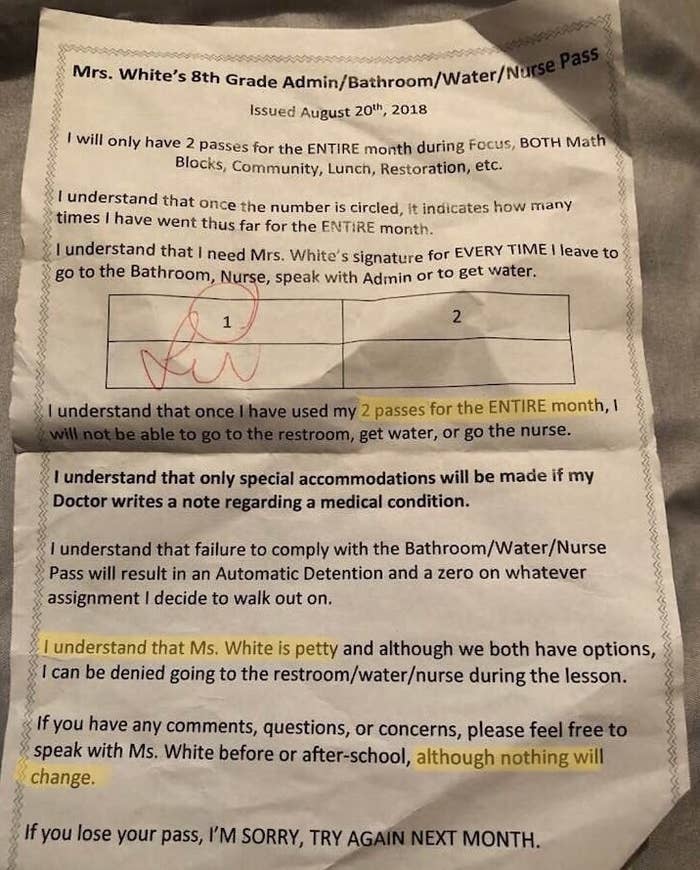 The agreement asked students to acknowledge that if they do not comply with the terms, they may face detention or "a zero on whatever assignment [the student] decide[s] to walk out on."
"Mrs. White" ends the note acknowledging that she is "petty," and that if any students have issue with her policy, they can speak with her but "nothing will change."
Superintendent Nickalous Manning told LocalMemphis.com the note has prompted an internal investigation. The regional director of the charter school told BuzzFeed News "there is no policy in place at our school that restricts students' access to the bathroom or to the nurse's office."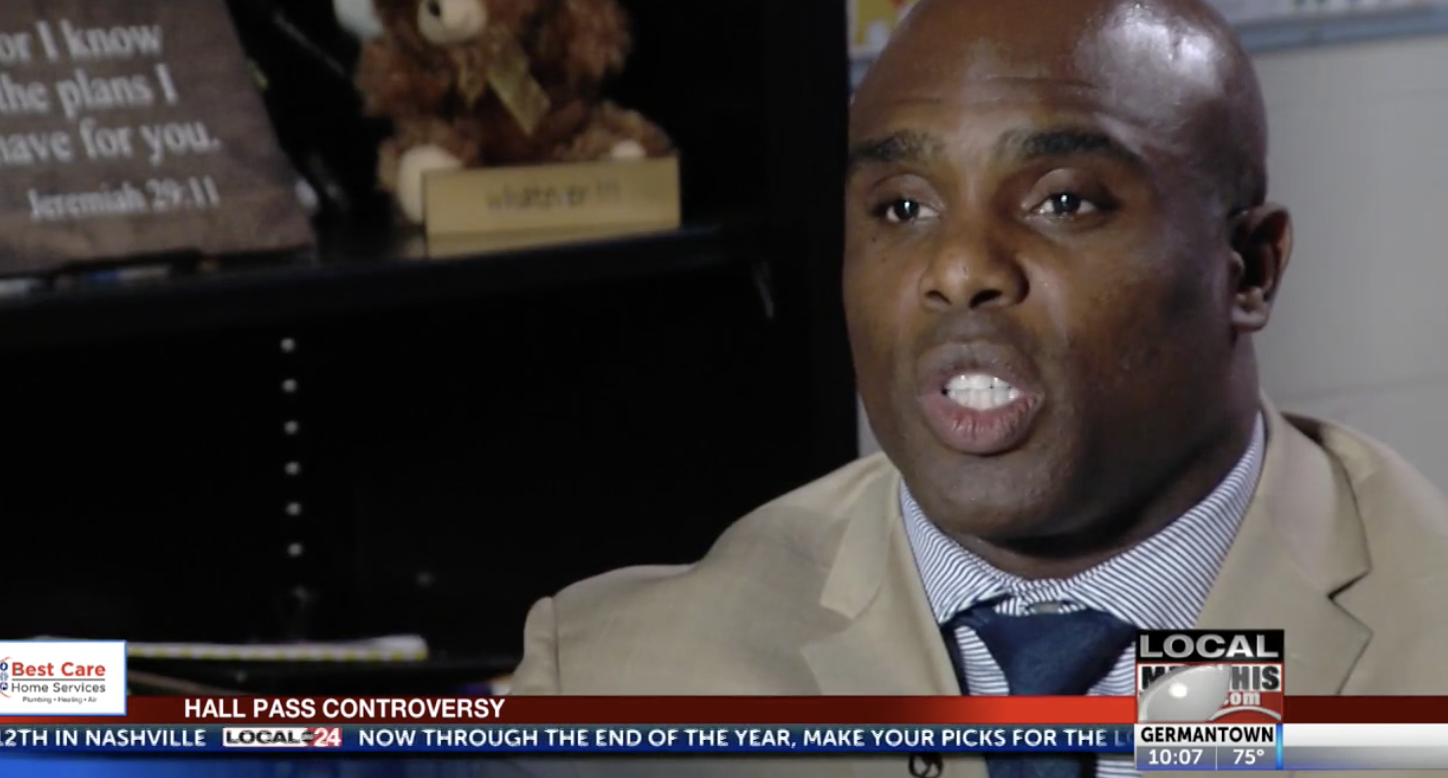 "On August 29, 2018, it was discovered that 8th grade students at Hanley Middle School were given a document restricting bathroom and nurse visits that was inconsistent with our school's actual policies, our mission, and our values," Manning said in a statement.
He said the school then began "reviewing the circumstances under which the document was prepared."
In a statement to BuzzFeed News, Altovise Boyd, the regional director of student services, said the investigation is ongoing and that they have "convened [the] full team to review all relevant policies and procedures."
Boyd did not provide any answers to questions about the teacher or the status of the investigation.
Online, people are saying this teacher's attempt to control her students bathroom behavior is downright wrong.
Others recalled times their teachers refused them necessary trips to the restroom or to see a nurse because they'd used up all of their allotted passes.
Some who identified themselves as current or former teachers said they understand the "frustration" of having kids use bathroom passes as an excuse to slack off, however they felt this was not the right way to respond.
Others, however, are defending the teacher. "My god, people. Teacher makes a mistake in handling a situation that is obviously very frustrating for her and you folks are prepared to destroy her," someone wrote.
The note has ignited a lot of heated opinions and grade school memories for people.