On Oct. 29, a user who only wanted to be identified as "Pitbull Updates" tweeted what appeared to be a screenshot of an ad that ran on Instagram from a company called Self Lender.
Self Lender is a real company. It is a mobile app that helps people "begin their financial journey with a credit builder account" while saving them money, its website touts.
The screenshot that Pitbull Updates shared on Monday, however, was faked. "Instagram ads are getting out of hand," he wrote in a tweet that's gone viral.
The attached photo showed an apparent text exchange for an ad for Self Lender — but with a hilariously crass conversation.
"Just got declined for not having credit," read the first text. "Get self lender," said a text in response. "How the fuck would I know what that is," the first texter responded. The conversation concluded: "Don't catch an attitude with me bitch I'm trying to help you build your credit."
Pitbull Updates' original tweet had been retweeted and liked thousands of times because people believed a professional company had actually conceived this conversation for an ad pushed on Instagram.
People cracked up and called it "great marketing."
The screenshot was even reshared by other accounts, whose tweets have independently gone mega-viral. "I'm still screaming at this," read one tweet with the screenshot of the fake ad. It's been retweeted more than 40,000 times.
"Advertising is getting a little too realistic," said another person, impressed and wildly entertained by the purported ad.
Others were simply baffled and confused by the whole marketing strategy. Some even pointed out the "Tiffany" identified in the texts had an "M" denoted in the phone, as opposed to a "T."
People mostly applauded Self Lender for having (presumably) a young PR team who wanted to genuinely speak to young people.
"You can always tell the difference between an adult led PR team trying to appeal to the youth and a PR team of actual youth," one person tweeted, and included an old tweet from Hillary Clinton's account as an example.
Their tweet has been retweeted thousands of times.
Well — we hate to break it to you — but when reached, Brett Billick, the chief marketing officer for Self Lender, told BuzzFeed News it was a fake ad. The company had nothing to do with it. This was its actual, original Instagram ad.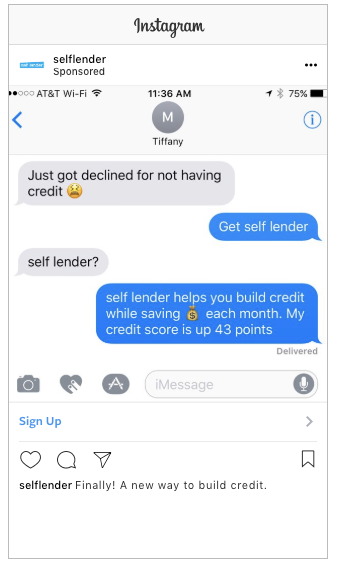 And, as you can see, the ad features a...much different text conversation. (Although note that "Tiffany" is still denoted with an "M.")
"It turns out that we can't take responsibility for this creative version of an existing ad that we've had running on Instagram," Bilick said.
He told BuzzFeed News that the company was not sure who was responsible for photoshopping the ad, but that they "definitely appreciate the conversation."
"Our mission is to help people build credit, but naturally as a [financial technology] company we typically would need to be a bit more conservative in the language we use."
On Wednesday, Pitbull Updates confirmed he did in fact photoshop the ad, but he claims he did not anticipate it making any impact.
"I decided to photoshop it because the original ad was like 'eh,' and I was like, it'd be pretty funny if the ad looked like how people actually talk," he said. "I literally didn't know people would think it would be real. I thought it'd just get like a couple retweets."
Not only did it garner "a couple of retweets," but it actually drove a significant increase in customer interest to Self Lender and traffic to its website.
"We have seen an increase in traffic and have had people reaching out quite a bit," Billick told BuzzFeed News.
"We definitely think that some of the increase in traffic is from how viral it has become. There are clearly people who are now asking 'Who the bleep is Self Lender?' And there are people who are chiming in laughing but also responding who are customers," he added.
"Millennials are a huge part of our customer base, and we know they want to have real conversations, which is why we think those tweets are resonating," said Billick.
Pitbull Updates told BuzzFeed News he finds the accidental (but extremely effective) PR push for the company "pretty funny."
"I'm not even getting compensated," he joked.