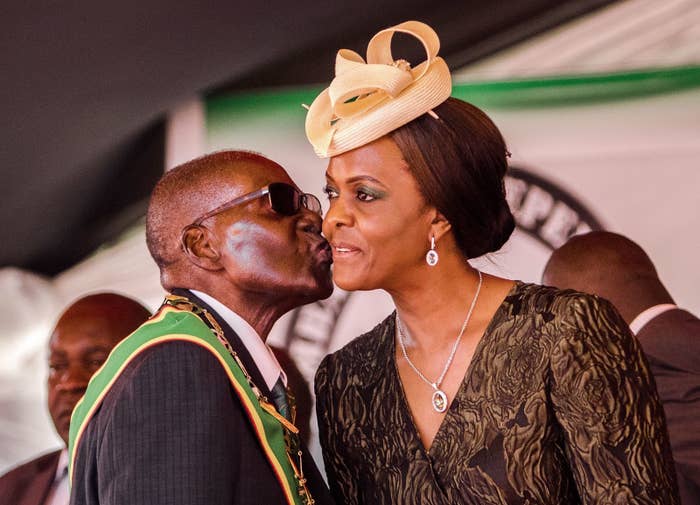 NAIROBI — Grace Mugabe, the first lady of Zimbabwe who has long been rumored to take over for her husband as the country's next president, it turns out may or may not have actually turned herself in to South African police on Tuesday after a model accused her of physical assault.
According to a statement by the South African Police Service, a 20-year-old woman filed a case of assault with intent to cause bodily harm. Officials have not specified when the alleged assault took place.
A local journalist tweeted Tuesday afternoon that South African Minister of Police Fikile Mbalula confirmed that Mugabe, 52, had turned herself in, and that no arrest had been made because she had cooperated with authorities.
"[She is] not under arrest because she cooperated, and [handed] herself over to the police. That is cooperation more than any necessity to go and arrest a person," Mbalula said.

Conflicting stories from the South African Police Service and the Zimbabwean government brought into question the first lady's whereabouts in light of the charges.
South African authorities released a statement Wednesday saying that Mugabe did not show up for the previously agreed upon meeting at the police station, and that her attorneys and government representatives "wished to invoke diplomatic immunity cover" over the case.
The police maintained that Mugabe "remains in South Africa and has not departed the Republic," adding that she still had private matters to attend to in the country.
But anonymous Zimbabwean officials told Reuters that Mugabe had traveled back to her home country.
"Yes, she is back in the country. We don't know where this issue of assault charges is coming from," one official said.
Another confirmed that Mugabe "is around now."
Calls to the South African Police Service and the Zimbabwean government were not immediately returned.
Gabrielle Engels, the woman pressing charges against Mugabe, shared a photo of one of the injuries she suffered from the alleged assault and described what happened in a series of tweets.
Engels wrote that she and her friends had been spending time with Mugabe's two sons, Robert Mugabe Jr. and Chatunga Bellarmine Mugabe, in their hotel room one night. "She split my head open in three places. With an extension cord and used the plug to hit me," Engels tweeted on Aug. 13.
She said that the Mugabe sons were not present while the alleged assault took place, and added that at least 10 of the first lady's bodyguards were present while she beat her.

BuzzFeed News has reached out to Engels for comment.

A Zimbabwean intelligence official told Reuters that the first lady had not been traveling on a diplomatic passport, which would have opened up the possibility of her receiving immunity.

"She was here on business," the official said.
People were quick to react to the news online, where they expressed concerns that Mugabe's political status would result in a lesser sentence. Many shared the example from last week when Mduduzi Manana, a South African deputy minister, was freed on $375 bail after allegedly assaulting a woman at a nightclub.
Grace Mugabe married Zimbabwean President Robert Mugabe in 1996 and has since carved out a prominent role for herself in the country's political circles. She was elected as the leader of the ZANU PF Women's League in 2014, and is considered one of the top candidates to succeed the 93-year-old president.
CORRECTION
The Twitter handle for the Zimbabwe African National Union Patriotic Front (ZANU-PF) is @ZANUPF_Official. A previous version of this article mistakenly quoted @Zanu_PF, a parody account.