Black men came forward about their experiences with suicidal thoughts and depression on social media Wednesday using the hashtag #YouGoodMan, one day after Kid Cudi announced that he had checked himself into rehab for similar issues.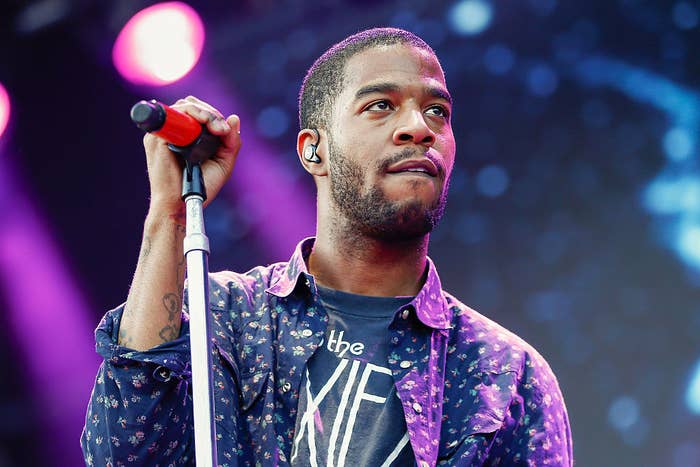 In a Facebook post, the hip-hop artist and actor said that he felt ashamed about what he needed to share, to "be a leader and hero to so many while admitting I've been living a lie."
The artist, whose real name is Scott Mescudi, said he checked himself into a facility on Monday, and that if he hadn't, he "would've done something" to himself.
The hashtag being used on Wednesday was created by Dayna Lynn Nuckolls and her friend — who asked to be identified only by his Twitter handle, @TheCosby. Both told BuzzFeed News they wanted to create a space for black men to connect on the topic of mental illnesses.

Nuckolls, an artist and musician who lives in Chicago, said that Kid Cudi's statement Tuesday night resonated with her.
"I had just been having a conversation with a black man close to me about getting professional help about his trauma," she said.
"When I saw that someone with so much to gain, but also so much to lose in sharing something personal like that came forward, it made me happy because it opened the door and gave others permission to do the same," she added.
Nuckolls tweeted at @TheCosby Wednesday morning, and the two publicly brainstormed a name for the hashtag, settling on #YouGoodMan.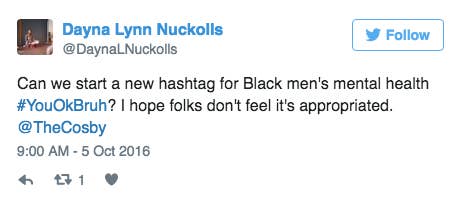 @TheCosby told BuzzFeed News that he feels "black men are the least equipped to deal with their mental health" and attributed their lack of preparedness to notions of hypermasculinity, as well as broader stigmas around mental illnesses.
"Hypermasculinity calls for us to act like it's OK," the Brooklyn-based attorney said.
"We get [a mental illness] as children, it continues as adults, and it causes us to die young. It sends us to prison, sends us to the hospitals because we don't talk about it. I think that the more normalized mental health care, even if it's not professional, will help," he added.
Since the hashtag started, black men, and some women, took to Twitter to share their thoughts and feelings on the topic.