Recording artist Wyclef Jean was put in handcuffs by Los Angeles sheriff's deputies early Tuesday near his recording studio after authorities said he was mistaken for an armed robbery suspect.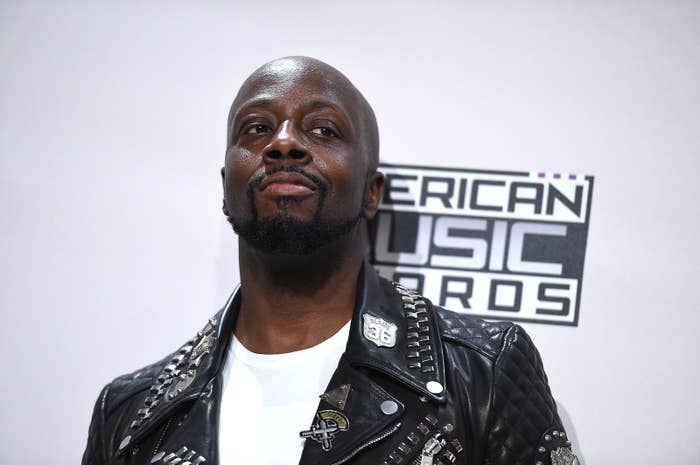 In an interview on ABC's Good Morning America that aired Wednesday morning, Jean said that officers approached the vehicle he was in with their guns drawn.
"I was scared for my life to the point where I could have acted different," he said. "And if I acted different, something else would have happened, you know?"
Jean also said that his experience made him worry about the message it sent to his daughter, with whom he has had conversations about what to do if she was stopped by police.
"So if I'm telling you my name, and I'm saying to you I'm not that person, what do you think happens, once you put me in cuffs, what do you think happens when my daughter sees me in cuffs, and I tell her, 'When the police stop you, this is how you have to act. You have to be civil, you cannot curse,'" he said.
A video recorded as he was arrested shows the former Fugees member saying, "I'm in LA right now coming from the studio with T Baby, and y'all see the police have handcuffs on me. They just took off my Haitian bandana."
While he was in handcuffs, Jean can be heard telling officers that he planned to sue the Los Angeles Police Department for the way they were treating him.
Hours after the incident, Jean tweeted that he had been "asked by the police to put my hands up. Then I was told do not move. I was instantly handcuffed before being asked to identify myself."
Jean added that he had not been told why he was being detained. He said his name and told the officers they had the wrong person.
"They proceeded to ignore me and I was treated like a criminal until other police showed up and pointed out they had the wrong person," he added.
A spokesperson for the Los Angeles Sheriff's Department in West Hollywood, which handled the case, told BuzzFeed News that Jean and the vehicle matched the description of a suspect who had been involved in an armed robbery earlier that night.
"All the way down to the detail of being in the front seat and wearing the red bandana," the spokesperson said.
The Haitian flag has the colors red, blue, and white.
"While he was being detained, officers communicated with other deputies that were still contacting that victim," the spokesperson said.
After about 10 minutes, Jean was released. Shortly after, the perpetrator was found four blocks away from where officers put Jean in handcuffs.
"I am sure no father wants his sons or daughters to see him in Handcuffs [sic] especially if he is innocent," Jean said on Twitter. "As some one [sic] who has law enforcers in my family, I was appalled by this behavior of the LAPD."
Melanie A. Bonvicino, a spokeswoman for Jean, said in a statement that the music artist was subjected to "police brutality, racial profiling, police bias, and the ongoing discriminatory practices of law enforcement officials."
Jean is requesting a formal investigation into racial profiling by Los Angeles Mayor Eric Garcetti, LAPD Chief Charlie Beck, and the LA County Sheriff's Department. He is also calling on the ACLU and Black Lives Matter "to join him in defense of civil liberties and racial bias," Bonvicino said.
In his Wednesday morning interview, Jean said that while he felt he was profiled, the issue was about more than race.
"At the end of the day, I have family on both sides of the lens, but I got a chance to see what happens with a citizen versus a police firsthand," he said.
"I do believe in law enforcement doing their jobs. This is not a conversation about Wyclef versus the police at all, but it's a conversation about treating citizens right."