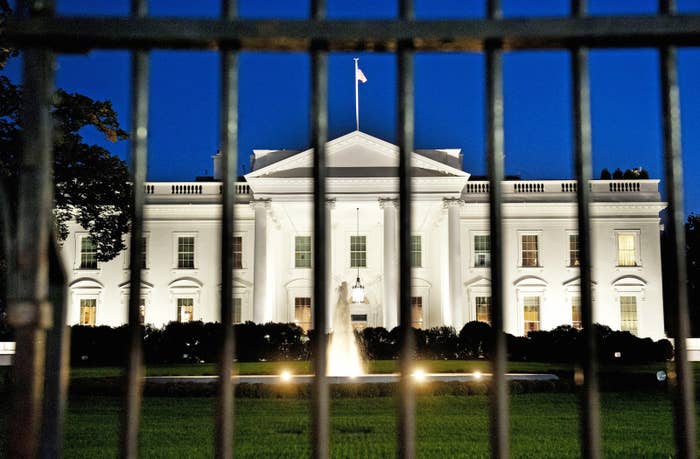 A 26-year-old man who climbed over a White House fence and came near the executive mansion was arrested on March 10 night by the Secret Service.
The following Friday, a Secret Service source told CNN that the man — who has since been identified by the Washington, DC, Metropolitan Police Department as Jonathan Tran — was on White House grounds for 15 minutes or more before agents apprehended him.
According to CNN, which first reported the news, Tran told authorities, "No, I am a friend of the president. I have an appointment."

The security breach occurred around 11:38 p.m. on the south grounds of the White House, according to the Secret Service. Uniformed officers arrested Tran, who is from Milpitas, California, without incident.

A backpack Tran was carrying did not contain hazardous materials, officials said. However, NBC News reported that he had two cans of mace with him.
A source with knowledge of the situation told BuzzFeed News that Tran does not have a criminal record.
Tran appeared at a DC court Saturday and was charged with entering restricted grounds with a weapon, NBC News reported. A judge determined that Tran was a flight risk and ordered that he remain in custody until Monday, when he is scheduled to appear in DC District Court.
President Donald Trump was spending the weekend in Washington, DC, and was alerted of the breach Friday night, according to CNN.

Trump commended the Secret Service for doing a "fantastic job last night," and added that "it was a troubled person" who breached the premises, according to a White House press report.
White House press secretary Sean Spicer echoed the president's comment, saying the Secret Service "did a phenomenal job," and that they "continue to provide phenomenal protection to the president and the first family, and the president was very appreciative of their efforts."
The last notable White House security breach took place in 2014, when 42-year-old Omar Gonzalez jumped a fence and overpowered a Secret Service officer before he was tackled in the Green Room. He had been carrying 800 rounds of ammunition in his car.
In June 2013, Joseph Clifford Reel crashed a driverless jeep into the White House security gate with the intention of distracting security so that he could paint a sign on the side of the building.
Reel claimed in court to have been diagnosed with bipolar disorder, and was sentenced to nearly three years in prison, according to the Washington Post.
BuzzFeed News has reached out to the Secret Service for more information.