This video clip of a black demonstrator's powerful response to a Fox News reporter in Charlotte, North Carolina, asking, "Why are you here?" is going viral.
The woman in the video, Allegra Williams, told BuzzFeed News that she had been participating in a peaceful protest at Marshall Park following the death of Keith Lamont Scott, who was shot and killed by police in Charlotte on Tuesday.
Scott's family has said that the 43-year-old had been holding a book when police shot him, but authorities maintain that he had a handgun.
"It was a peaceful protest," Williams said of the event Wednesday night. "Everyone was out there supporting one another, spreading knowledge, spreading love, brainstorming ways to prevent these events that are constantly happening."
Williams, 21, said that at some point, she heard that someone had been shot at a shopping center about 10 minutes away on foot. She joined other demonstrators to walk over and see what happened.
Authorities have said that one person was shot during a non-police-involved incident and is currently in critical condition.
Williams told BuzzFeed News that when Fox News reporter Steve Harrigan approached her at the protest, she had been yelling about black people dying.
"He was shot just like everybody else. Black people get shot every day, right? It's OK for that, right? It's OK for our brothers and our fathers not to come home, right?" she was heard saying on camera.
Then Harrington approached her and said, "May I ask you one question: Why are you here? If a man was shot about 50 yards over there, and we don't know by who, why are you here?"
Below is a transcript of the exchange that followed.
Williams: Because I serve a purpose, sir. I serve a purpose. I serve a purpose, my father serves a purpose, my brother serves a purpose. I'm here because guess what? Whether I'm here, I'm in school, I'm in my car — you said, OK, a man got shot over here, right? So you're basically saying why would I put myself in danger, right?

Harrigan: Exactly.

W: But guess what? I can be at work, at school, in my car — I could still get shot by the police. I can get shot anywhere. Do you see this? [Williams points to her skin] Do you see that? [Williams points to Harrigan, who is white] Do you see me? Do you see you? We are not the same. We are human. But I am black and you are white. So don't tell me not to come over here after someone—

H: I'm certainly not telling you — I appreciate you — I think you have an important point of view.

W: You are using sarcasm. Let me tell you why: You know what events have happened. Black men have been killed. Black women have been killed, sir.
Williams told BuzzFeed News that she considers all news biased, "but [with] Fox News, I get a deep, deep sense of prejudice when it comes to a lot of things they broadcast on their news channel."
She said that a lot of people have asked why she was shouting as she answered Harrigan's questions.
"I was yelling from emotion. I was yelling from pain. I was yelling because I was angry," she said. "I'm not angry at white people. That's where a lot of people get it misconstrued."
Williams said she hoped that the demonstrations in Charlotte would not result in violence; she would rather people support black businesses and uplift one another.
"But I can't tell anyone how to protest," she said. "They're doing what they feel is right. Everyone is impacted by different feelings."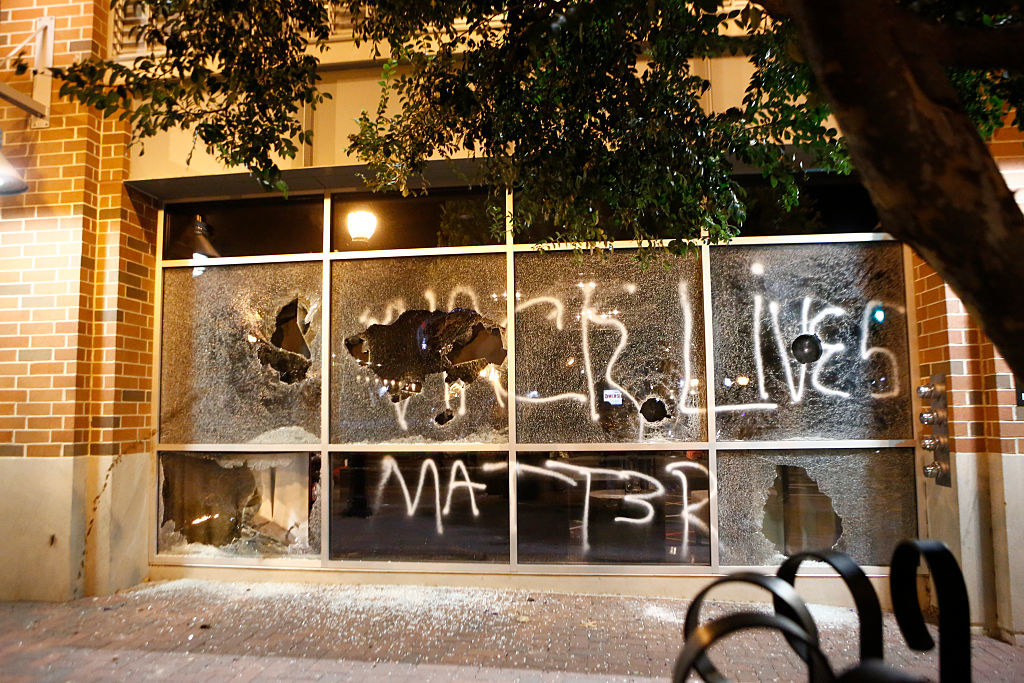 Civilians have taken to the streets in the wake of Scott's death, and the clashes between demonstrators and police have turned violent.

On Tuesday night, police were seen firing what appeared to be smoke or gas canisters at protesters, while some protesters reportedly threw rocks at officers.
The Charlotte-Mecklenburg Police Department later announced that 16 officers had been injured in Tuesday night's clash.
The next day, North Carolina Gov. Pat McCrory declared a state of emergency in Charlotte and called upon the National Guard and highway patrol to assist. Authorities are currently considering imposing a curfew on the city.