Coast Guard Calls Off Search For Man Filmed Falling Overboard A Cruise Ship
The 35-year-old passenger appeared to have lost his grip and tumbled into the Atlantic Ocean approximately 17 miles off the coast of Turks and Caicos.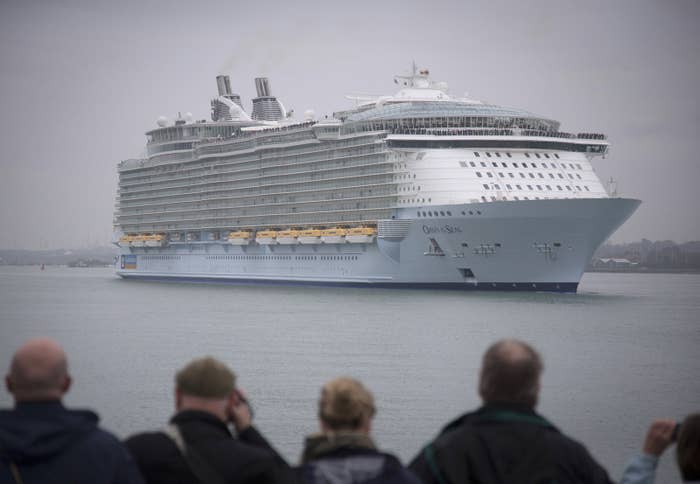 The U.S. Coast Guard on Saturday morning called off its search for a passenger on the Royal Caribbean ship Oasis who fell overboard and into the Atlantic Ocean on Friday.
The man was initially identified as a 35-year-old from Brazil.
The Oasis was on its way back to Port Everglades, Florida, after a seven-day cruise through the eastern Caribbean.
Video footage taken by another passenger, Jennifer St. Laurent, that captures the man's fall was obtained and published by Yahoo.

The video footage shows the man shouting, "Let go of me!" and "You don't touch me!" shortly before losing balance and falling from the lifeboat into the ocean.
In a statement sent to BuzzFeed News, the cruise ship company said Oasis crew members were the first to see the man "intentionally going over the side of the ship."
A care team dispatched by Royal Caribbean international has also been deployed to provide support to the passenger's family.
Before falling overboard, the man had been standing on the seventh deck of the ship and jumped onto a lifeboat one deck below, the U.S. Coast Guard told the Sun Sentinel.
The search and rescue effort began Friday, and included one aircraft with seven crew members that took flight at 4 a.m.
The plane was flying "all the low search patterns in the area," Coast Guard Petty Officer David Schuhlein told the Sun Sentinel Friday.