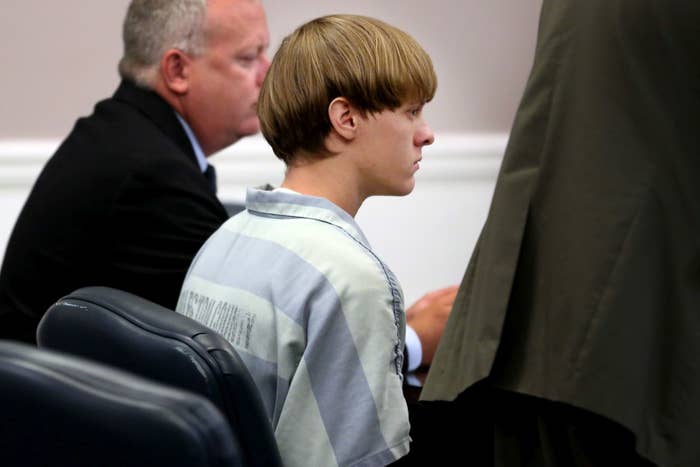 The video of self-declared white supremacist Dylann Roof confessing to shooting and killing nine black churchgoers in Charleston, South Carolina, was played in court on Friday.
"I went to that church in Charleston, and uh, I did it," Roof can be heard saying in the video after FBI Special Agent Michael Stansbury asked what he did the night of June 17, 2015.
When pressed on exactly what he did, Roof replied, "I just really don't like saying it," eventually adding, "I killed, I guess."
In the courtroom Friday, Stansbury — who works for the Columbia branch of the FBI — called Roof's responses "extremely unusual," and noted that it was clear during the interview that he was interested in speaking directly and immediately about the shooting.
In his interview, Roof appeared to show excitement as he described the way he entered the church that Wednesday night. He recalled sitting with the churchgoers for anywhere between 10 and 20 minutes, not speaking to any of them. He also made hand gestures in the video reenacting how he pointed his Glock .45 at them.
Roof said he felt compelled to kill the nine churchgoers at Emanuel AME Church "because somebody had to do it."

He talked about black people "killing white people everyday in the streets," and said that what he did "is so minuscule to what they do to white people everyday." Nobody was "brave enough to do anything about it," he added, not even the Ku Klux Klan.
Roof acknowledged that the people he gunned down were "not criminals or anything," but said in his interview that he chose to target a church because he "knew that would be a place to get a small amount of black people in one area."
He also said that he was "not in a position, by myself, to go into a black neighborhood and shoot up drug dealers."
In the video, Roof also said he "didn't like what black people do," and that only Chinese and Japanese people are "equal" to whites.
Roof added that he didn't start to think about race until recently.
"The first thing that woke me up...I would probably say the Trayvon Martin case," he said, adding that he "couldn't understand what the big deal was."
Soon after, he began searching "black-on-white crime" online.
When asked in the interview if he considered himself a neo-Nazi, Dylann said no, but talked about his admiration of Hitler.
Stansbury asked Roof what he thought should happen to him. Roof said he didn't know how to answer the question, and then started laughing.
"I am guilty," he said in the video. "We all know I'm guilty."