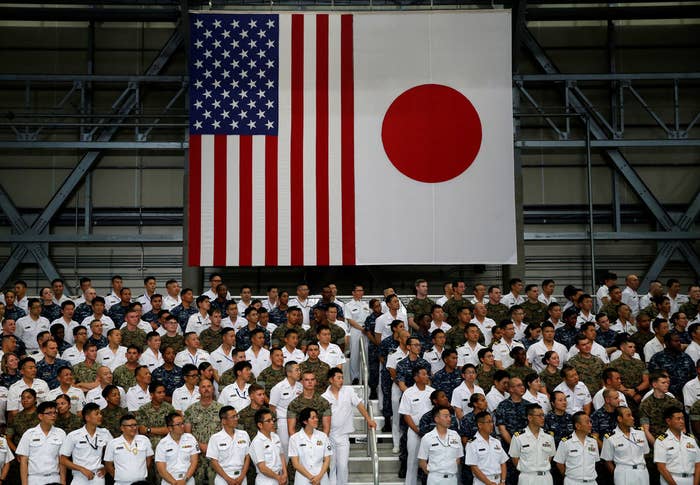 Japanese police said Thursday that an American Marine veteran is the prime suspect in the kidnap, rape, and murder of a young Japanese woman in Okinawa.
Kenneth Gadson — who uses his Japanese wife's last name, Shinzato — was arrested on May 19 as a suspect in the disappearance of 20-year-old Rina Shimabukuro, who went missing on April 28 on the Japanese island and was later found in a forest.
Shinzato, 32, later allegedly told Japanese police that he had harmed Shimabukuro and directed them to where he had hidden her body.
Okinawa police served an additional arrest warrant to book Shinzato, who had been working on Kadena Air Base as a contractor, on charges of rape, murder, and dumping her body, according to Japanese publication Kyodo News.
Japanese Prime Minister Shinzo Abe delivered sharp criticism to President Obama for his handling of the incident when the American president visited Japan in May.
"In the onset of our small group discussion, I have firmly lodged a protest against President Obama as the Japanese Prime Minister with regard to the most recent case in Okinawa," he said.
"I feel profound resentment for this self-centered and despicable crime," he added. "This case shocked...Japan."
The advancement in the investigation comes amid several other recent incidents that have fanned the flames of anti-U.S. military sentiment in Japan.
On June 6, the Navy barred all 18,600 sailors stationed in Japan from drinking alcohol and limited their off-base privileges after 21-year-old Aimee Mejia, a petty officer, was arrested the day before for driving against traffic and crashing into two other cars.