Donald Trump tweeted an image Saturday morning that accused Hillary Clinton of being the "most corrupt candidate ever" by showing her face over a pile of money and next to the Star of David.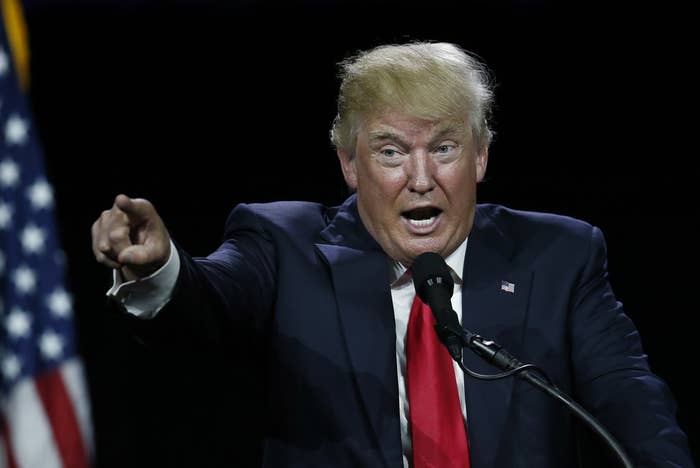 The presumptive Republican presidential nominee wrote "Crooked Hillary -- Makes History!" above the image.
Beneath the image were part of the results from a Fox News poll on June 29 that reported 58% of respondents described Clinton as corrupt.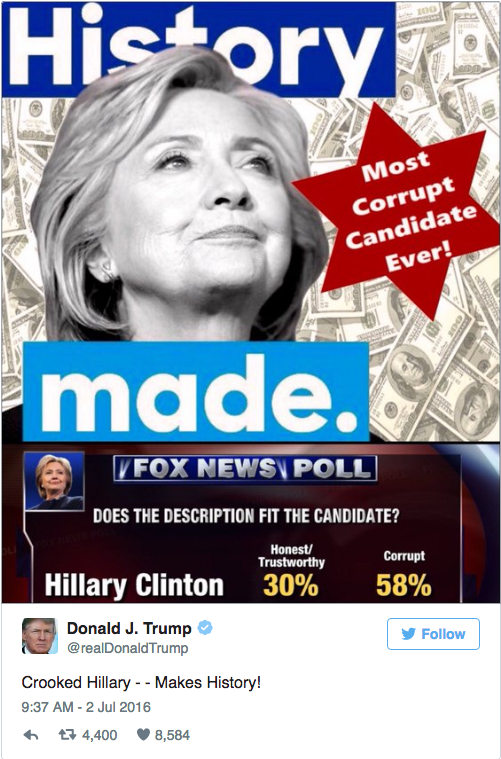 The image immediately ignited a firestorm of angry responses.
As Mic first reported, the image was posted on June 22 to a now-deleted political forum for right-wing white supremacists. (The forum has been archived here).
The forum is littered with anti-Semitic and racist language posted by anonymous users.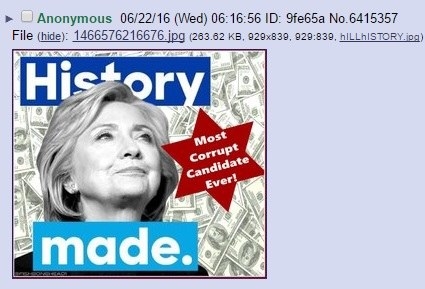 Trump's former campaign manager, Corey Lewandowksi, told CNN on Sunday the symbol was similar to a sheriff's bade.
"This is political correctness run amok," he said.
However, Trump called the accusations of anti-Semitism "ridiculous" Monday and suggested Clinton was behind the negative response to the image.
In a statement, Trump referred to "these false attacks by Hillary Clinton trying to link the Star of David with a basic star." He also said the "basic star" is "often used by sheriffs who deal with criminals and criminal behavior."
"Clinton, through her surrogates, is just trying to divert attention from the dishonest behavior of herself and her husband," Trump said.
Trump added that the "real questions" have to do with Bill Clinton "meeting secretly with" Attorney General Loretta Lynch, who is investigating Hillary Clinton's use of a private email server while serving as secretary of state.
Dan Scavino, Trump's social media director, also addressed the issue in a statement Monday.
Like Trump, he compared the image to a sheriff's badge, and insisted it wasn't "sourced from an anti-Semitic site."
"It was lifted from an anti-Hillary Twitter user where countless images appear," Scavino said in the statement, adding that the star "is available under Microsoft's 'shapes.'"

Scavino went on to say that he deleted the image because "as the social media director for the campaign, I would never offend anyone."
A short time after sending the first tweet, Trump reposted the tweet with the Star of David modified to a circle. He later deleted the original.
On Monday, Clinton's director of Jewish outreach, Sarah Bard, released the following statement about Trump's attempt to cover up the tweet by saying the shape depicted a sheriff's star, rather than the Star of David.
Donald Trump's use of a blatantly anti-Semitic image from racist websites to promote his campaign would be disturbing enough, but the fact that it's a part of a pattern should give voters major cause for concern.

Now, not only won't he apologize for it, he's peddling lies and blaming others. Trump should be condemning hate, not offering more campaign behavior and rhetoric that engages extremists.

The president should be someone who brings Americans together, not someone who sends signals and offers policies of division.