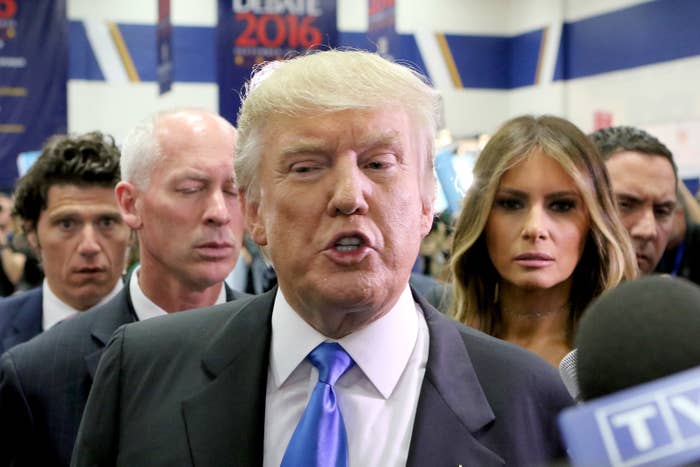 Donald Trump on Tuesday morning said that a Miss Universe contestant from Venezuela brought up by Hillary Clinton during Monday night's debate had "gained a massive amount of weight" and was "the worst contestant we've had" in the competition.
On Fox and Friends, Trump responded to Clinton's comments about the way he speaks about women and his past comments about 1996 Miss Universe winner Alicia Machado.
According to Trump, Machado "was the winner and she gained a massive amount of weight, and it was a real problem."
Clinton said during the debate that "one of the worst things he said was about a woman in a beauty contest. He loves beauty contests, supporting them and hanging around them, and he called this woman 'Miss Piggy,' then he called her 'Miss Housekeeping' because she was Latina."
"Donald, she has a name. Her name is Alicia Machado," Clinton said, "and she has become a US citizen and you can bet she is going to vote this November."
After the debate, Clinton tweeted a video of Machado talking about Trump and her experience in the Miss Universe pageant.
Machado said that Trump was "overwhelming," and that she was "very scared of him."
The former Miss Universe winner added that Trump yelled at her all the time, and often told her "You look ugly" or "You look fat."
In Clinton's tweeted video, Machado said, "Sometimes he'd 'play' with me and say 'Hello, Miss Piggy,' 'Hello, Miss Housekeeping.'"
On Tuesday morning, Trump said that Machado "was a Miss Universe person, and she was the worst we ever had," adding that she was "impossible."
He went on to say that "she was a Miss Universe contestant, and ultimately a winner, who they had a tremendously difficult time with as Miss Universe."