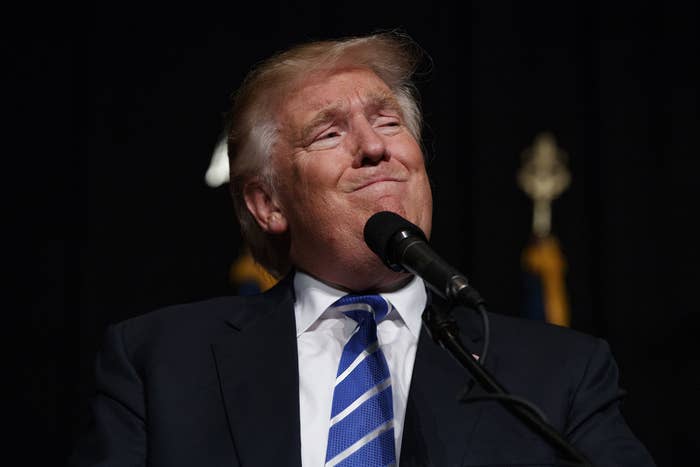 Donald Trump responded to the father of Muslim American soldier killed in the line of duty who criticized him for lack of sacrifice for country at the Democratic National Convention, telling ABC News "I've made a lot of sacrifices."
The Republican presidential nominee was responding directly to a moving speech given by Khizr Khan at the DNC, in which he looked directly into the camera to address Trump.
"You have sacrificed nothing and no one," he said.
Khan's son, Humayun, was killed by a car bomb in Iraq.
Khizr also asked Trump if he had ever read the Constitution or visited Arlington Cemetery.
In an interview with ABC News' George Stephanopoulos, Trump rebuffed Khan's remarks.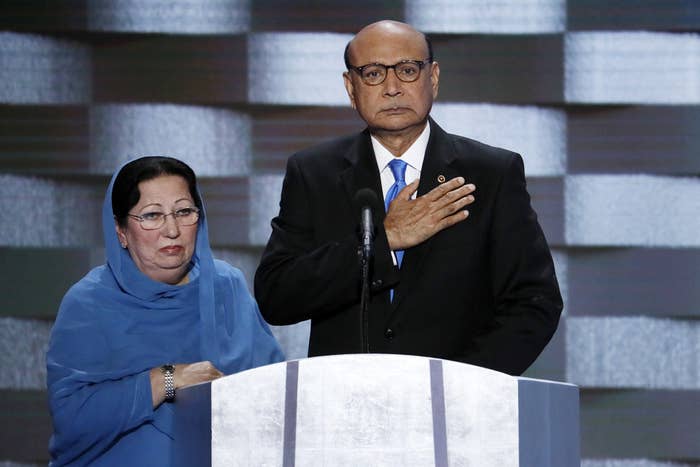 "I think I've made a lot of sacrifices. I work very, very hard," he said. "I've created thousands and thousands of jobs."
When asked if those should be considered sacrifices, Trump pointed to his business experience once again.
"I think when I can employ thousands and thousands of people, take care of their education, take care of so many things, even in military," he said.
He also mentioned his role in advocating for the Vietnam Memorial, and said that he had raised "millions of dollars" for military veterans.
Trump also commented on Ghazala Khan, Humayun's mother, who appeared on stage with her husband.
"If you look at his wife, she was standing there, she had nothing to say," he said. "Maybe she wasn't allowed to have anything to say, you tell me."
People have pointed out that she did not speak because she was overcome with grief, and that she has indeed spoken publicly about her son's death.
In an interview Saturday, Ghazala Khan told ABC she didn't speak at the convention because she was in pain.
"Please. I am very upset when I heard when he said that I didn't say anything," she said. "I was in pain. If you were in pain you fight or you don't say anything. I'm not a fighter, I can't fight. So the best thing I do was quiet."

Her husband said he asked her to speak, but she declined because she knew she would become too emotional.
"She said, 'You know how it is with me, how upset I get,'" he said.
In a statement issued Saturday night, Hillary Clinton praised her later speaking about the loss:
I was very moved to see Ghazala Khan stand bravely and with dignity in support of her son on Thursday night. And I was very moved to hear her speak last night, bravely and with dignity, about her son's life and the ultimate sacrifice he made for his country.

This is a time for all Americans to stand with the Khans, and with all the families whose children have died in service to our country. And this is a time to honor the sacrifice of Captain Khan and all the fallen.

Captain Khan and his family represent the best of America, and we salute them.
After a rally in Pittsburgh later that night, part of a three-day bus tour through Pennsylvania and Ohio, Clinton declined to elaborate when asked to directly address Trump's comments about the Khans.
Clinton's husband and running-mate, however, both stopped on the ropeline to rebuff Trump as fundamentally uncaring and unfit for office.

"If you don't have any more sense of empathy than that, then I'm not sure you can learn it," said Kaine, appearing alongside his wife, Anne Holton, and Bill Clinton at their sixth event of the joint bus tour over the weekend.
"Can you believe that he would criticize a mother for not speaking about her son?" said Kaine, whose eldest son Nat serves in the Marines. "That he was kind of trying to turn that into some kind of ridicule — I mean, it just demonstrates a kind of temperamental unfitness."
"I cannot conceive of how you could say that about a Gold Star mother," Bill Clinton added later. "I think the remarks stand for themselves."